Planned Parenthood Suspected Shooter Disrupts Court Hearing, 179 Charges Filed Against Him
One hundred and seventy-nine felony charges have been filed against Robert Lewis Dear, the accused gunman behind last month's shooting at a Planned Parenthood clinic in Colorado, District Attorney Dan May said on Wednesday. The charges filed against Dear, 57, included eight options of first-degree murder and 131 counts of attempted first-degree murder, CNN reported.
In his first in-person court appearance since his arrest, Dear interrupted the hearing on Wednesday with at least 17 outbursts. During his eruptions, Dear reportedly declared, "I am guilty. There is no trial. I am a warrior for the babies," and, "Protect the babies."
"Could you add the babies that were supposed to be aborted that day? Could you add that to the list?" Dear shouted as Judge Gilbert A. Martinez deliberated a pretrial publicity order, the New York Times reported.
In another outburst, Dear also reportedly said the state's Public Defender's Office wants to seal documents and limit discussion of his case to hide what he saw inside the clinic.
"You'll never know what I saw in that clinic. Atrocities. The babies. That's what they want to seal," Dear said, the Associated Press reported.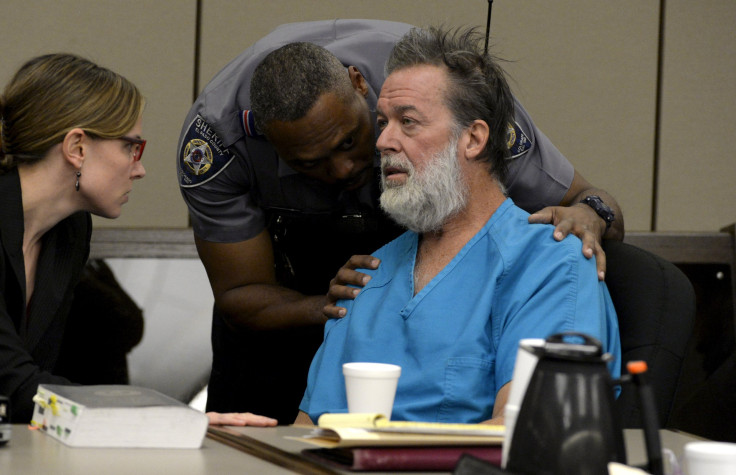 Dear also made references to his public defender Daniel King, who also represented James Holmes, the convicted gunman in the theater shooting in Aurora, Colorado, in 2012.
"Do you know who this lawyer is? He is the lawyer for the Batman shooter, when they drugged him all up and that's what they want to do to me," Dear said.
Dear has been accused of killing three people, including a police officer and wounding nine others in a shooting rampage on Nov. 27 at a Planned Parenthood clinic. After the shooting, Dear had reportedly mentioned "baby parts" and expressed anti-abortion and anti-government views, according to a law enforcement official briefed on the investigation, CNN reported.
A preliminary hearing and arraignment have not yet been scheduled, but a decision on whether to seek the death penalty will come within two months after the arraignment, May said.
© Copyright IBTimes 2023. All rights reserved.