'Point Break' Spoof Writer Wins Legal Battle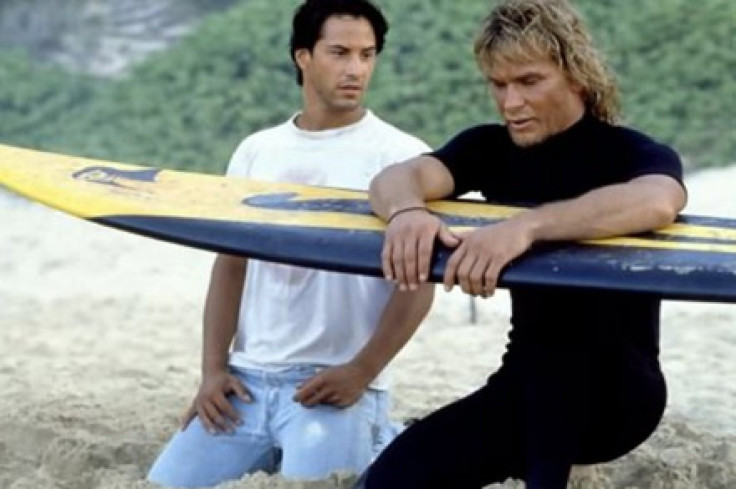 Before Kathryn Bigelow became the first female director in history to take home the Best Director Academy Award for "The Hurt Locker," one of her best known films was the 1991 action flick "Point Break."
The so-bad-it's-good hit tells the story of Johnny Utah, a former football player turned FBI agent (Keanu Reeves) who learns to surf in order to infiltrate a group of surfing bank robbers, led by the shirt-shy Bodhi (Patrick Swayze).
The film contains quotable gems like, "You're sayin' the FBI's gonna pay me to learn to surf?" and "You're about to jump out a perfectly good airplane…"
Despite "Point Break's" cult popularity, few anticipated that the film would inspire a stage adaptation. But that's exactly what happened. In 2003, playwright Jamie Keeling released "Point Break Live!"
Marketed as "The Best Stage Adaptation of an action movie in the history of the world," the show casts Reeve's role from the audience and reenacts the film's most absurd scenes (many of them set in a baby pool) while poking fun of it's homoerotic undertones. "Point Break Live!," which debuted Off-Broadway in New York, went on to gain a major following, leading the production to tour throughout the nation.
In a twist far more shocking than any plot points in the film, New Rock Theater Productions, the company behind "Point Break Live! stopped granting Keeling royalties from the show--making the case that since the material was ripped from the film, she did not have the rights to the revenue generated by the play.
According to the Hollywood Reporter, a New York federal court has sided with Keeling, awarding her $250,000 in damages.
"Point Break's" impact on pop culture no doubt factored into Warner Bros.' decision to green light a remake of the film last year. Deadline reports that the plot of the new version is largely similar to that of the original film. The studio has yet to announce production dates or the talent attached to the project.
Prior to "Point Break," Bigelow began her career in the 80's and primarily directed action dramas like "The Loveless," with Willem Dafoe, and "Blue Steel," starring Jaime Lee Curtis. She went on to release the little-seen indies "The Weight of the Water" and "Strange Days."
The director is currently earning raves for "Zero Dark Thirty," which chronicles the 10-year hunt for Osama Bin Laden. In 2009, she directed the war thriller "The Hurt Locker," which went on to earn the Academy Award for Best Picture.
© Copyright IBTimes 2023. All rights reserved.
FOLLOW MORE IBT NEWS ON THE BELOW CHANNELS