Colorado Governor Hickenlooper's Chief Of Staff Returning To Lobbying Firm Working For Gov's Office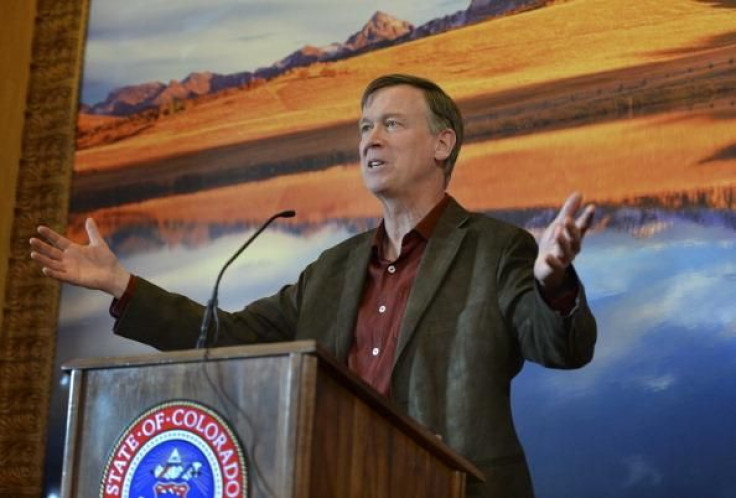 In one of the clearest examples of the revolving door between government and lobbying firms in recent years, Colorado Gov. John Hickenlooper's office announced Monday his chief of staff is leaving the position to return to his previous job at a lobbying firm hired by the governor's office earlier this year.
In 2015, Hickenlooper, a Democrat, hired attorney Doug Friednash to oversee his staff. Friednash came to the governor's office straight from lobbying powerhouse Brownstein Hyatt Farber Schreck (BHFS). According to a bio page on the governor's website, Friednash was a shareholder at the firm, which has seen its revenues and influence grow dramatically over the last decade.
BHFS made $13 million in 2007, nearly doubling to $25 million in 2015 and $20 million through three quarters of 2017, according to the Center for Responsive Politics. In its list of D.C.'s top lobbying firms in 2017, The Hill said BHFS "has rocketed into the stratosphere" by growing revenue and adding clients. One of those clients is Hickenlooper's office.
In February, two years after Friednash started working for Hickenlooper, the governor's office hired Friednash's former firm to lobby for the state in the nation's capital at a cost of $210,000 a year, or $17,500 a month. Federal lobbying records show BHFS lobbied Congress and a variety of executive agencies on fiscal year 2017 and 2018 appropriations as well as "issues related to federal funding for national service programs" and "issues related to health care."
The contract between the governor's office and BHFS, signed by the governor February 24, said Lt. Gov. Donna Lynne and Friednash would "serve as the primary points of contact for the Office." Lynne, who is running for governor in 2018, was an executive at Kaiser Foundation Health Plan before she was tapped to join the Hickenlooper administration last year.
Online lobbying records show no other instances in which the Colorado governor's office hired a lobbying firm. The governor's office confirmed to International Business Times that the current administration has never hired any other lobbying firm.
On Monday, the governor's office and BHFS announced Friednash would be rejoining his former firm on January 2 of next year and will chair a new political strategies practice group.
Democratic congressman Jared Polis, a candidate for Colorado governor, responded to the news on Twitter, saying, "I think the revolving door of politics is terrible."
Jacque Montgomery, the governor's press secretary, said BHFS was hired to help Colorado build relationships with the Donald Trump administration and noted BHFS was the only federally registered lobbying firm with an office in Denver.
In an August email responding to initial IBT questions about the firm, Montgomery said: "Our office hired a lobbying firm after the new administration came in, anticipating that we would need to build key relationships with the new administration.
"We recognized we would be navigating possible changes in the federal approach to issues of importance to states including energy policy, health care, marijuana and the environment to name a few. We wanted to ensure Colorado had a voice as these issues were discussed."
Monday, the governor's office declined to comment on Friednash, his new job or when Friednash received a job offer from BHFS. The office also declined to make Friednash available for comment. When asked if Friednash was behind the decision to hire BHFS, Montgomery told IBT: "As you know, the decision to hire the firm was to help build relationships with the new administration."
BHFS did not answer specific questions sent to the firm's press office, but a spokeswoman did say the firm would not be renewing its current contract with the governor's office.
"As part of Doug's transition to private practice, Brownstein, together with Governor Hickenlooper and Doug, have mutually agreed that Brownstein will not seek to renew its federal lobbying contract when the terms end on February 1, 2018," Lara Day, chief culture and communication officer at BHFS, told IBT in an email.
Pat Meyers, a veteran of restaurant chains Quiznos and Smashburger, will replace Friednash as Hickenlooper's chief of staff. Next year, Colorado voters will decide who will replace the term-limited Hickenlooper, who has been mentioned as a possible 2020 presidential candidate.
This story was updated to include comment from BHFS.
© Copyright IBTimes 2023. All rights reserved.
FOLLOW MORE IBT NEWS ON THE BELOW CHANNELS