Democratic Governor Hires Health Care Industry Lobbyist To Push Obamacare Fixes In Congress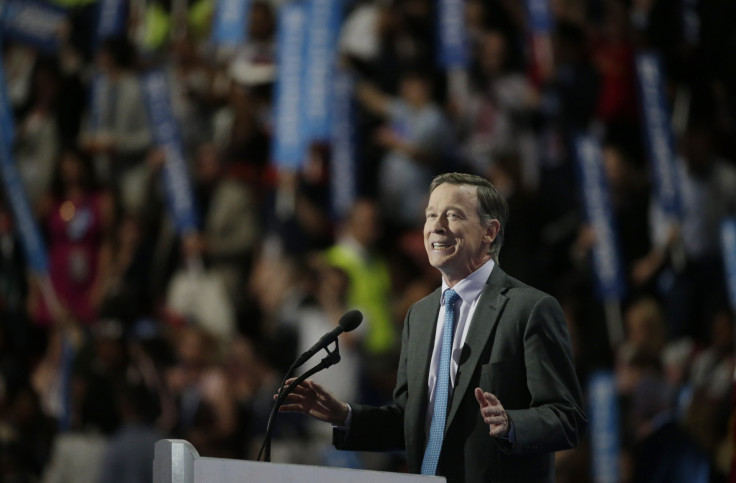 Colorado Gov. John Hickenlooper (D) has hired a Washington lobbying firm that represents insurers and other health care industry companies and groups opposed to single-payer health care to lobby in favor of his insurer-friendly alternative to Bernie Sanders' "Medicare for All" proposal. The firm was hired by Hickenlooper's government office and is slated to receive a total of $210,000 in taxpayer funds from the Democratic governor's office budget to lobby on health care after it helped bankroll his election campaign, a spokesperson for Hickenlooper's office confirmed Wednesday.
According to federal records reviewed by International Business Times, the Colorado governor's office in February hired Brownstein Hyatt Farber Schreck — a lobbying powerhouse whose lobbyist Doug Friednash became the governor's chief of staff in 2015 — for $17,500 monthly from February 2017 to the same month of 2018. Friednash, according to the spokesperson for Hickenlooper, helped select Brownstein Hyatt from a pool of bidding lobbying firms, as did Lt. Gov. Donna Lynne, a former Kaiser Permanente executive who launched her gubernatorial campaign early in September, former Department of Regulatory Agencies Executive Director Joe Neguse, who kicked off his congressional bid in June, and Hickenlooper himself. Lynne and Friednash served as "the primary points of contact" for Brownstein Hyatt at the governor's office, according to the firm's lobbying contract, which was obtained by IBT.
The firm's work for the governor has involved lobbying Congress, the Interior Department, the Justice Department and the Environmental Protection Agency on "issues related to federal spending and national service programs." Brownstein Hyatt has also lobbied federal lawmakers on health care on behalf of Hickenlooper, and the governor's spokesperson, Jacques Montgomery, confirmed that the firm has been advocating for Hickenlooper's proposed alternative to Obamacare and single-payer health care measures.
In recent weeks, Hickenlooper's administration has approved a 27 percent insurance premium increase for Colorado's Affordable Care Act (ACA) exchanges for next year. At the same time, he has been working with Ohio Republican Gov. John Kasich on a plan to stabilize the ACA by offering more public money to the private insurance industry. The initiative proposes preserving taxpayer subsidies to insurers and passing a Republican-sponsored measure to create an additional $15 billion fund to further subsidize private insurers when they cover sicker people.
Hickenlooper said the health care initiatives he is working on will not involve proposals for a single-payer health care system — the kind adopted in many other industrialized nations in which the government is the sole sponsor of universal health care benefits. Drugmakers and private health insurers have long opposed single-payer because it would put more price pressure on the former and threatens to fully eliminate the latter's business model.
Federal filings show that the same specific Brownstein Hyatt lobbyists working for Hickenlooper also are lobbying for insurance, pharmaceutical and health care interests that have traditionally opposed Medicare-for-all proposals. The lobbying contract between the firm and Hickenlooper's office states, using an acronym for the company name, "to the extent there are any potential conflicts that could arise during the period in which BHFS represents the Office, those will be addressed on a case by case basis if and when they arise."
Brownstein Hyatt did not respond to requests for comment from IBT.
Clients represented by the eight Brownstein Hyatt lobbyists registered to lobby for Hickenlooper include: insurers Blue Cross and Blue Shield Association and Amerihealth Caritas Health Plan; drugmakers Novartis Corp., AbbVie Inc. and Marathon Pharmaceuticals LLC; medical products conglomerate Baxter Healthcare Corp.; health services firms Ardent Health Services and Borrego Health; and health products conglomerate Johnson & Johnson Services Inc. and the trade group Consumer Healthcare Products Association.
Hickenlooper's office hired Brownstein Hyatt to advocate for the governor's interests in Washington after the firm and its partners collectively delivered more than $85,000 to groups supporting the Democratic governor's election campaigns, according to data from PoliticalMoneyLine.com, the Center for Responsive Politics and the National Institute on Money in State Politics.
That included more than $10,000 to the Colorado Democratic Party; $45,000 to the Democratic Governor's Association and $20,000 to a Colorado independent expenditure committee that boosted Hickenlooper's 2014 reelection bid. Brownstein Hyatt health industry clients Novartis, Blue Cross and AmeriHealth were among the DGA's big donors as the group supported Hickenlooper's 2014 campaign, as was the drug industry's lobbying group PhRMA.
During his two gubernatorial campaigns, Hickenlooper received more than $10,000 in direct donations from Brownstein Hyatt lawyers. Three of the lawyers were appointed to his 2014 campaign's "Business Leaders for Hickenlooper" committee. Brownstein Hyatt also kicked in at least $10,000 for Hickenlooper's inauguration, and contributed to an organization that fought the unsuccessful 2016 single-payer health care ballot initiative in Colorado. Hickenlooper opposed the measure, as did his lieutenant governor Donna Lynne, who he appointed to the position from her job as a top executive at the healthcare conglomerate Kaiser Permanente.
Luis Toro, the executive director of the nonprofit Colorado Ethics Watch, said that while the hiring of private lobbying firms is common among municipalities, it is practically impossible to avoid some conflict of interest in choosing corporate lobbying firms to advocate for taxpayers.
"I think it's fair to surmise that whatever they're pushing is not going to be adverse to the other clients of the lobbyist," he said. "The lobbyist is not going to undercut their clients by promoting a health care plan from somebody else."
Careful vetting of private lobbyists ahead of their employment by public officials, Toro added, was not likely a "feasible" answer, as "pretty much all lobbyists are going to have connections like this."
"You could have an in-house lobbyist, if you had the budget for it," he said, citing general concerns related to taxpayer dollars going to private lobbying firms. "I suppose, with whatever you're spending on these outside lobbyists, you could try to have an in-house lobbyist do the same thing."
Brownstein Hyatt is a major player in Washington, ranking second among lobbying firms by revenue for the past two years, a status "almost unheard of for a Denver-based firm," according to its website. A recent Denver Post profile noted that Norm Brownstein — who is one of the firm's three founders and is registered to lobby for Hickenlooper — has been dubbed "our 101st senator" by members of the Senate.
This story was updated at 5 PM on Wednesday with a response from Gov. Hickenlooper's office.
FOR FREE to continue reading
✔️ Unlock the full content of International Business Times UK for free
offer available for a limited time only
✔️ Easily manage your Newsletters subscriptions and save your favourite articles
✔️ No payment method required
Already have an account?
Log in
© Copyright IBTimes 2023. All rights reserved.