Donald Trump Jr. Russia Meeting Violated Campaign Finance Laws, Government Watchdog Alleges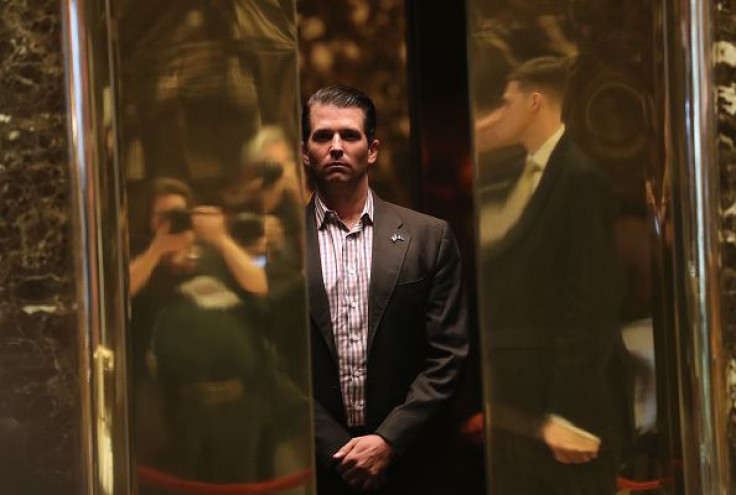 President Donald Trump's eldest son, Donald Jr., admitted yesterday to The New York Times that he met with a Kremlin-linked lawyer on June 9, 2016, with the understanding that he would receive compromising information on his father's general election opponent, Hillary Clinton. This revelation, which could prove key in terms of potential collusion between the Trump campaign and Russia, has been met with widespread criticism. Former President George W. Bush's former ethics attorney, Richard Painter, told MSNBC that Trump Jr.'s action "borders on treason."
Whether Trump's son — or the president's son-in-law Jared Kushner and former campaign manager Paul Manafort, who also attended the meeting — committed treason, he appears to have broken campaign finance law. Government watchdog Common Cause filed complaints against Trump Jr. and the Trump campaign with the Department of Justice and the Federal Election Commission on Monday, accusing Trump Jr. of illegally soliciting a campaign contribution from a foreign national.
"The prohibition on foreign nationals contributing to U.S. political campaigns is one of our most important campaign finance laws," Paul S. Ryan, vice president of policy and litigation at Common Cause, told IBT. "It's a critical safeguard against foreign influence."
Federal law prohibits any person from soliciting "a campaign contribution, donation or other thing of value" from a foreign national in connection with any U.S. election. "No person shall knowingly solicit, accept, or receive from a foreign national any contribution or donation prohibited by paragraphs (b) through (d) of this section," the law reads. Foreigners are even prohibited from "expressly or impliedly" promising to make such a contribution.
One day after offering a different explanation, Trump Jr. admitted to accepting a meeting, facilitated by a contact he knew through the 2013 Miss Universe pageant in Moscow, with Natalia Veselnitskaya, believing that she would provide "damaging information about Hillary Clinton." Based on the legal definition of solicitation, it's likely Trump, Jr. broke campaign finance law.
Brendan Fischer, federal and FEC reform director at the nonpartisan Campaign Legal Center, tweeted Monday morning that such opposition research would constitute an "in-kind" donation—something of value given free of charge—and that arranging a meeting to receive that information qualifies as solicitation.
If the Federal Election Commission (FEC) takes up the matter, it will conduct its own investigation, Ryan said. Then, if it concludes a law was broken, it will urge Trump Jr. and certain campaign officials to enter into a settlement agreement, which would likely involve a fine. If Trump Jr. and the campaign refuse to negotiate, the FEC would have to conduct a civil lawsuit against them.
In contrast, the Department of Justice (DOJ) has criminal enforcement authority, Ryan said, which could also include monetary penalties as well as jail time, although the latter is exceedingly rare. Common Cause is urging the DOJ to give this investigation to special counsel Robert Mueller, who is investigating potential ties between the Trump campaign and Russia, because Attorney General Jeff Sessions, having been part of the campaign and having misrepresented his own meeting with the Russian ambassador, is conflicted and has recused himself from any investigation into Russian meddling.
The Trump campaign itself was the subject of an earlier complaint from last June by the Campaign Legal Center, alleging that the campaign violated this same prohibition on soliciting foreign donations by sending out fundraising emails to dozens of foreign politicians. The case is still pending before the FEC, which is gridlocked.
In 1996, a controversy arose over whether Chinese officials had allegedly funneled money to the Democratic National Committee and individual Democratic campaigns, seeking to influence the presidential and congressional elections. The Department of Justice found no proof of the allegations, and congressional investigations were inconclusive.
Last year, two Chinese citizens living in Singapore sent $1.3 million to a pro-Jeb Bush super PAC through a U.S.-based firm called American Pacific International Capitol, as reported by The Intercept.
Since 2016, Democratic FEC commissioner Ellen Weintraub has been raising the alarm about foreign money potentially flowing into American elections, imploring her own colleagues to join her in writing new regulations dealing with lax campaign finance law and foreign money. This May, Weintraub said Russians may have paid for Facebook ads attacking then-candidate Clinton.
The FEC has not acted on recent concerns of Weintraub and others regarding foreign influence. Weintraub said that opposition to implementing greater protections on foreign influence began with then-commissioner Donald McGahn, who was on the FEC from 2008 to 2013 and is now chief White House counsel.
The Trump Jr. revelations add to the growing list of legal and ethical questions surrounding both the Trump campaign and administration.
"These laws exist to safeguard U.S. national security and Donald Trump Jr. appears to have violated the law in order to obtain information helpful to his father's campaign for the presidency," said Karen Hobert Flynn, president of Common Cause, in a press release. "Trump's family and inner circle are not above the law, and we urge the Justice Department and the FEC to fully investigate this apparent violation and hold Trump Jr. and the campaign accountable if appropriate."
© Copyright IBTimes 2023. All rights reserved.