Donald Trump Said Goldman Sachs Had 'Total Control' Over Hillary Clinton — Then Stacked His Team With Goldman Insiders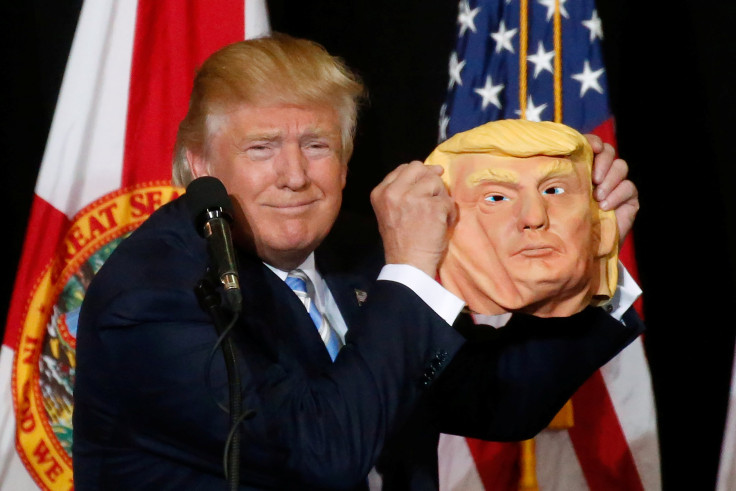 On the campaign trail, Donald Trump was no fan of financial industry giant Goldman Sachs. One of his campaign ads in the days just before the vote even featured Goldman CEO Lloyd Blankfein. The voiceover didn't name him, but as his image flashed onscreen, the narration described "a global power structure that is responsible for the economic decisions that have robbed our working class, stripped our country of its wealth and put that money into the pockets of a handful of large corporations and political entities."
Trump had already attacked Republican rival Ted Cruz and Democratic opponent Hillary Clinton for their ties to Goldman Sachs. Clinton famously pocketed $675,000 for three private speeches to Goldman employees. (Blankfein was a Clinton supporter.) Cruz's wife worked at Goldman, and he'd taken a loan from the bank to help fund his campaign.
"I know the guys at Goldman Sachs," Trump said last February. "They have total, total control over him. Just like they have total control over Hillary Clinton."
The president-elect doesn't seem worried that the multinational finance company might try to control him: At least four key members of his transition team — including Steve Bannon, the chief White House strategist — are either former employees or former lobbyists for Goldman Sachs.
Here's a rundown of the Goldman Sachs heavyweights poised to wield influence in the Trump administration.
Steve Bannon is most famous for his tenure at the helm of the conservative website Breitbart, but he began his career at Goldman Sachs in the bank's mergers and acquisitions division. Though he broke off to form his own firm, Bannon maintained close ties with Goldman. In 2006, he persuaded the bank to invest $60 million in a company called Internet Gaming Entertainment, a startup that sold virtual items in the videogame World of Warcraft. Though his Breitbart news site often takes aim at financial elites, Bannon reserves some respect for his former employer: "Goldman Sachs isn't the firm it once was when I worked for it," he said back in 2010, but it "is still one of the building blocks of our capitalist society."
Trump's national finance chair during the campaign, Steven Mnuchin is now considered a front-runner for the Treasury Secretary job. His father Robert worked at Goldman for over 30 years, eventually heading up the equity trading division. Steve Mnuchin spent 17 years at Goldman himself, working his way up to the rank of managing partner. He left in 2002 to found his own firm, Dune Capital Management. After the financial crisis, Mnuchin found a way to make money off the depressed real estate market. He took over OneWest Bank, which bought up and foreclosed on underwater homes — especially in low income minority neighborhoods — turning a profit of $3 billion between 2009 and 2014. Mnuchin visited Trump at Trump Tower on Monday. His chief rival for the Treasury job seems to be billionaire Wilbur Ross — and though Ross himself never worked for Goldman, his private equity firm teamed up with Goldman to invest $100 million in a budget Indian airline, SpiceJet, back in 2008.
A former-vice president of private wealth management at Goldman Sachs, Anthony Scaramucci — known as "The Mooch" — now runs his own private equity firm. He emerged as a key fundraiser for Trump during the campaign, and was appointed to the president-elect's transition team. Scaramucci counseled Trump on the tone of his victory speech, telling the president-elect to telegraph a "message of continuity and strength" to the financial markets. Over the past week, Scaramucci has positioned himself as a key surrogate for Trump's economic message: He's defended a proposal to cut the corporate tax rate and suggested that Trump might relax Labor Department regulations on investment managers who handle retirement savings.
A longtime GOP insider, Eric Ueland is a close ally of Trump loyalist Alabama Sen. Jeff Sessions. Ueland spent nearly 20 years as a GOP senate staffer before leaving in 2007 to become a vice president at the lobbying firm Duberstein Group. During Ueland's tenure, Goldman paid the firm over $2.5 million for lobbying services. Ueland journeyed back through the revolving door in 2013, when Sessions hired him as staff director on the Senate Budget Committee.
CEO Blankfein, for his part, didn't sound spooked about the prospect of a Goldman critic in the White House. Two days after the election, he sent a voicemail to company employees. According to a transcript published by Fortune, he acknowledged that Trump's win was a surprise and said he couldn't predict whether the effect "will be good or bad in the long-run."
But Blankfein said an orderly transition of power is "in and of itself, a stabilizing process," and he approvingly cited several Trump proposals.
"The president-elect's commitment to infrastructure spending, government reform and tax reform — among other things — will be good for growth and, therefore, will be good for our clients and for our firm."
© Copyright IBTimes 2023. All rights reserved.
FOLLOW MORE IBT NEWS ON THE BELOW CHANNELS