Elizabeth Warren And Sherrod Brown Slam Mulvaney For Conflicts Of Interest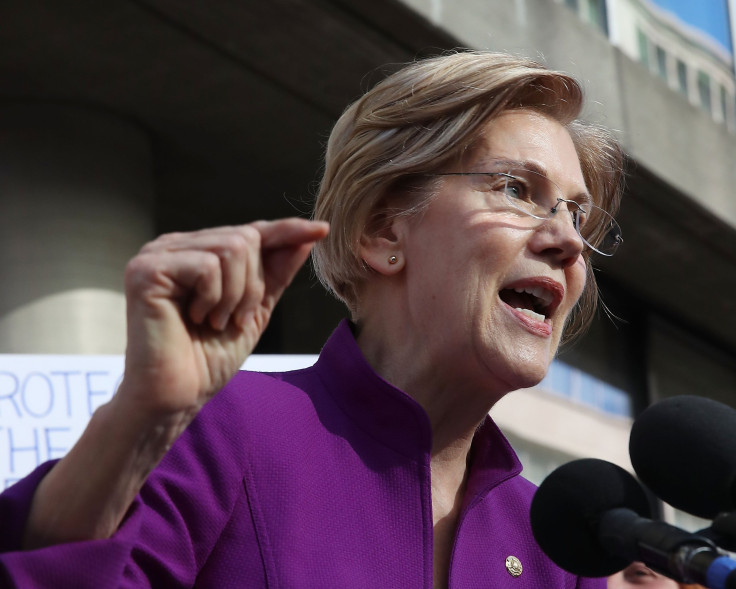 Democratic Sens. Elizabeth Warren (MA) and Sherrod Brown (OH) on Friday slammed President Donald Trump's top financial regulator Mick Mulvaney after evidence surfaced that as a Congressman he raked in campaign contributions from payday lenders just days before he pressured government officials to back off predatory lending regulations.
Warren — a potential 2020 Democratic presidential candidate — suggested the $55,000 worth of campaign donations from payday lenders was a reward from the financial industry to Mulvaney for defending their interests. Brown said Mulvaney, who is now the acting director of the Consumer Financial Protection Bureau, has a clear conflict of interest that disqualifies him from permanently serving in that role. The two lawmakers serve on the powerful Senate Banking Committee that oversees the CFPB.
The statements from the two senior banking committee lawmakers were prompted by a Friday morning IBT report that published 268 pages of correspondence between then-Congressman Mulvaney and the agency he now runs. The documents show Mulvaney twice wrote or signed letters pressuring financial regulators to help payday lenders. One of the letters, which was signed by Mulvaney and 11 House colleagues on Sept. 29, 2016, came after Mulvaney had received $18,400 in campaign donations from payday lenders and their trade associations over the previous three weeks.
In November, Trump appointed Mulvaney acting director of the CFPB, despite objections by Democrats who argued the law creating the CFPB mandated the agency's deputy director, Leandra English, be automatically promoted to acting director in the event the position became vacant. English has since challenged Mulvaney's appointment in court.
"Mr. Mulvaney spent his years in Congress trying to gut consumer protections and undermine the CFPB — and he racked up big donations from payday lenders and banks for his efforts," Warren told IBT in an emailed statement. "His illegal appointment to lead the consumer agency is a slap in the face for working families who've been cheated."
The revelations about Mulvaney's letters followed an earlier IBT report documenting how Mulvaney's former top aide is now lobbying for Santander, a megabank that, until Mulvaney took over, had faced a potential CFPB enforcement action.
Brown, the ranking Democrat on the Senate Banking Committee, said that taken together, he believes Mulvaney needs to be removed.
"Mick Mulvaney has sided with the payday industry over and over, and called the CFPB a 'sick, sad joke' before he was put in charge of it," Brown said in a statement. "His conflicts of interest with Santander, payday lenders, and other bad actors, as well as his full time job at OMB [Office of Management and Budget] should disqualify him as acting CFPB Director, even if he had been lawfully appointed. The White House needs to swiftly nominate a CFPB Director who will close payday industry loopholes and protect consumers."
A spokesman for the CFPB did not address the senators' concerns directly.
"We look forward to working with Senator Warren, Senator Brown and their 533 elected colleagues in Congress to find the most efficient, effective, and accountable ways to serve all American consumers," John Czwartacki, a senior advisor at the CFPB, told IBT in an email.
The statements from the two potential 2020 presidential candidates follow a letter sent by 44 members of the Senate Democratic Caucus to President Trump on Monday. The letter, which was signed by Warren and Brown, urged the president to "nominate a CFPB Director who will bring to the job both bipartisan support and a track record of being tough on big banks and other financial firms that rip off consumers." The letter did not mention Mulvaney by name.
Mulvaney has raised campaign funds from other a variety of financial institutions he is now in charge of regulating. In addition to payday lenders, the Dodd-Frank act gave the CFPB supervisory authority over "nonbank mortgage originators and servicers, payday lenders, and private student lenders of all sizes," as well as "banks, thrifts and credit unions with assets over $10 billion," according to the Bureau website.
The CFPB maintains a list of those institutions with assets over $10 billion on its website. An IBT review of their campaign donations showed they gave Mulvaney $164,850 over the course of his congressional career, with most of that money coming after Mulvaney joined the House Financial Services Committee in December 2012. Mulvaney has also received at least $60,000 from trade groups representing banks subject to CFPB authority. In total, Mulvaney has raised $4.6 million from donors over the course of his congressional career, according to the Center for Responsive Politics, and $567,000 of it came from donors in the commercial, banking, credit and securities/investment industries.
© Copyright IBTimes 2023. All rights reserved.
FOLLOW MORE IBT NEWS ON THE BELOW CHANNELS