Las Vegas Casinos, Aware Of Mass Shooting Risks, Lobbied For Insurance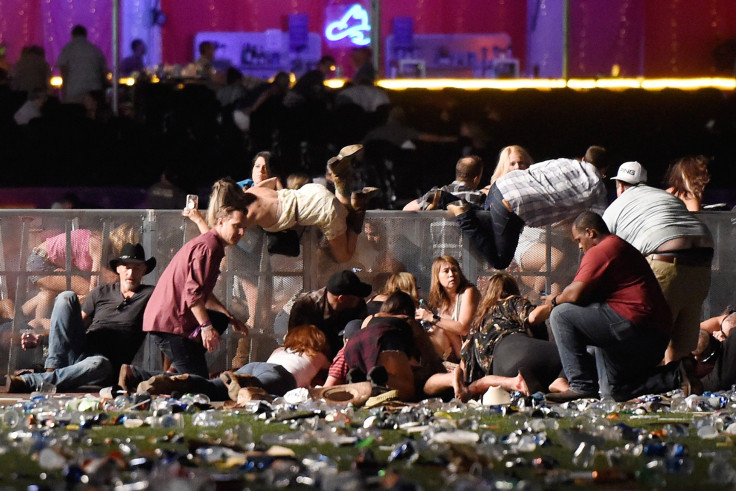 Federal officials, gaming operators and security experts were repeatedly warned about Las Vegas casinos' vulnerability to a mass shooting in the years leading up to Sunday's massacre, according to documents reviewed by International Business Times. A major insurance company mapped out the potential for such a disaster; a terrorist-linked publication cited Las Vegas as a likely target and — only a few months ago — an ISIS video promoted the idea of a lone-wolf attack on the city. The dangers led a Nevada senator to push gaming industry-backed legislation to help casinos obtain terrorism insurance, though he opposed stricter gun control measures. Even so, the Mandalay Bay Resort may be facing a significant financial hit.
Nevada law classifies as terrorism "any act that involves the use or attempted use of sabotage, coercion or violence which is intended to cause great bodily harm or death to the general population." That designation could affect any legal claims and insurance payouts that stem from the attack, which killed at least 59 people and wounded more than 500. In financial documents reviewed by IBT, MGM Resorts, the owner of the Mandalay Bay hotel where the alleged shooter was perched, warned investors that its own insurance policies "may not be adequate to cover all losses in the event of a major casualty" such as terrorism. The company added that "loss of income due to cancellation of room reservations or conventions due to fear of terrorism…may not be covered at all under our policies. Therefore, certain acts could expose us to substantial uninsured losses."
In 2014, a magazine associated with Al Qaeda listed Las Vegas as a potential terrorism target, and security experts warned that the size of casinos made them especially vulnerable to mass violence. At the same time, casino interests such as the American Gaming Association, MGM and Boyd Gaming lobbied to shape legislation reauthorizing the federal government's Terrorism Risk Insurance Act (TRIA), which provides incentives for insurers to offer terrorism coverage.
"Without TRIA, the gaming industry will face costly difficulties in obtaining coverage, often required for critical community investments," the American Gaming Association said in a 2014 letter to lawmakers. In January the following year, then President Barack Obama signed it into law; it'll expire at the end of 2020.
Nevada's Republican U.S. Sen. Dean Heller spearheaded the legislation, declaring that the TRIA program would "help ease the concerns of businesses in the hospitality and tourism industries throughout Nevada, especially Las Vegas and Reno."
But while Heller and other top Nevada politicians from both parties backed the bill, they did not couple that with support for gun control laws. Instead, Nevada has taken a largely hands-off approach to firearms: The state does not require gun permits, and in recent years Nevada lawmakers have loosened concealed-carry restrictions, preempted local firearms regulations and opposed assault weapons bans.
The opposition to gun control came amid warnings about the rising possibility of gun violence at casinos.
A 2016 edition of the industry publication Casino Journal warned gaming operators about an increasing number of mass shooting incidents in the workplace, noting that the prior two years "saw the worst rate of deaths due to active shooters in a two-year span." The publication said that to deal with the situation, "One option is active shooter insurance."
MGM did not reply to IBT questions about the type or amount of insurance it carried.
Nevada gaming facilities have experienced their share of violence, as evidenced by an insurance industry presentation reviewed by IBT.
The presentation was entitled "Active Shooter and Lessons from 21st Century Incidents for Hospitality, Amusement Parks and Entertainment Venues" and came from American International Group Inc. (AIG) and Tommy Burns, a security consultant and contractor based just outside of Las Vegas.
One section of the report was entitled "Previous Shootings in Southern Nevada Casinos." It cited the fatal 1999 shooting of a Golden Gate Hotel & Casino worker by her boyfriend; the shooting death of a man at the Stardust Resort and Casino the following year; the killing of a tourist at Harrah's Las Vegas Hotel and Casino seven months later; three people killed in a shootout at the same casino less than two years later; a woman stabbed to death at Bally's Las Vegas Hotel & Casino in 2006 and the killing of a man with a pipe bomb in the parking garage of the Luxor Resort & Casino in 2007.
"Active shooter is part of the security landscape today," the report said. "No company is immune — soft targets are most vulnerable."
© Copyright IBTimes 2023. All rights reserved.