Obama's Recent Speeches Include An Administration-Connected Private Equity Firm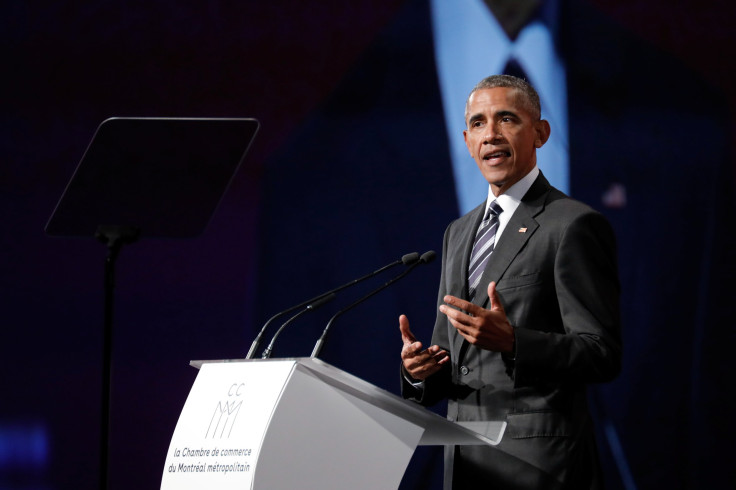 Several years after private equity firm Carlyle Group LP successfully pushed the White House to relax Environmental Protection Agency rules to the benefit of two Carlyle-owned oil refineries in Pennsylvania, former President Barack Obama, as part of a series of paid speeches, made a stop at its conference last week.
Bloomberg first reported the former president's recent paid speech rounds Monday, citing "two people who were there" at a Carlyle event in Washington, D.C., last week, where he "discussed his life and the decisions he made in the White House." It's unclear whether and how much he was paid by Carlyle, which declined to comment to International Business Times, but Bloomberg reported that he received $400,000 for a Northern Trust Corp. engagement in August, and earlier this year won the same amount from the investment bank Cantor Fitzgerald, for which he was slated to speak again next week.
Obama, whose office did not immediately respond to questions from IBT, appointed Jay Powell, who spent eight years at the private equity firm, to the Federal Reserve Board of Governors in 2011. In 2014, Obama's close friend Julius Genachowski headed over to the firm roughly half a year after leaving his post as Federal Communications Commission chair. But the former president's relationship with Carlyle, extends beyond the exchange of high-ranking personnel.
Back in 2013, Carlyle — working in tandem with Delta Air Lines, which also owned a refinery — met with Obama's economic adviser Ronald Minsk and an EPA official, and signed a letter to the EPA with Delta and a refinery union leader as part of an effort to lobby the agency to relax its steadily rising requirements for mixing biofuels in petroleum-based fuels as part of the Renewable Fuel Standard (RFS) program, Reuters reported in 2014.
While a boon for makers of corn-based ethanol, the requirement that U.S. petroleum output include 13.8 billion gallons of "conventional biofuel" each year would prove expensive for oil producers, as they'd have to either purchase the alternative fuel or buy a limited supply of compliance credits rapidly escalating in price. The following year would bring with it a 14.4-billion-gallon mandate. Following another letter to the EPA from then Pennsylvania Governor Tom Corbett and his Delaware counterpart Jack Markell, the EPA announced in November 2013 that it would lower the next year's requirement to 13 billion gallons instead of 14.4 billion, causing politicians from big corn-industry states, such as Rep. Steve King (R-Ia.), a denier of climate change, to balk. The watchdog group Citizens for Responsibility and Ethics in Washington (CREW), citing the Reuters investigation, sued the EPA "for failing to provide documents regarding oil industry efforts to influence the 2014 Renewable Fuel Standard," according to a CREW press release.
"It certainly seems as if the administration has backtracked on its commitment to renewable fuels. The question is why. Was there a back room deal orchestrated by big oil and high ranking officials in the Obama administration?" Melanie Sloan, then the group's executive director, said in the 2014 release. "Even though it is nearly 2015, the renewable fuel standards for 2014 still haven't been released. Is this to avoid potential political fallout in the mid-terms for siding with the oil industry over the biofuel industry?"
In 2015, Delta and Carlyle, along with oil giant Valero Energy Corp. and Minsk, by then no longer Obama's economic adviser, renewed their efforts to change the EPA RFS rules, this time by pushing the agency to relegate the burden of compliance with required biofuel levels to fuel blenders, rather than refiners.
Before the campaign to influence the EPA's fuel-composition requirements began, Obama's administration played a helpful role in Carlyle's acquisition of the refinery as well.
In 2012, the year before the EPA slackened renewable fuel standards at the industry's urging, the White House had sweetened the refinery purchase deal for Carlyle by modifying EPA rules on carbon emissions and promises of millions in state subsidies — à la President Donald Trump's attempt to stop hundreds of Carrier Corp. jobs from moving to Mexico. Amid rising gas prices and Obama's upcoming reelection contest, Carlyle announced it formed a joint venture with Sunoco Inc. to form Philadelphia Energy Solutions, a partnership it said would save 850 jobs at the refinery. Today, PES, now separated into separate refinery units, processes 14 million gallons of crude oil per day and "remains the largest oil refining complex on the U.S. Eastern Seaboard," according to its website.
But Carlyle's heroic intervention came with perks, as detailed in an August 2012 report by the Wall Street Journal. In addition to a $25 million state subsidy contribution from Corbett, the EPA allowed the private equity firm to transfer Sunoco's limited emissions credits from another nearby refinery, effectively raising the cap on the Philadelphia facility's permitted pollution levels, the Journal found.
When it came time to lobby the EPA to loosen its biofuel rules the following year, Rep. Robert Brady (D-Pa.), who helped facilitate the Sunoco-Carlyle deal by serving as sort of liaison between the White House and the companies, proved instrumental once more. He told Reuters he phoned both then Vice President Joe Biden and then EPA Administrator Gina McCarthy to get them onboard after fielding a call from a Carlyle executive.
Jeff Hauser, the executive director of the Revolving Door Project at the Center for Economic and Policy Research, said while Obama may be well-intentioned, his speeches for Wall Street giants left a bad taste in progressives' mouths, especially since he was first elected to assuage the economy-wide ramifications of the 2008 financial collapse. He was reelected, Hauser added, after making a point of lambasting Republican opponent Mitt Romney for the latter's private equity chops in 2012.
"What I think that these speeches unfortunately represent is that President Obama was a little too comfortable with corporate actors," Hauser said, adding that the former chief of state had plenty of other lucrative ventures, such as his books, with which to generate funds for post-presidency endeavors. "I think a lot of Americans would feel more comfortable with a president who does not feel comfortable in a room with the Carlyle Group."
FOR FREE to continue reading
✔️ Unlock the full content of International Business Times UK for free
offer available for a limited time only
✔️ Easily manage your Newsletters subscriptions and save your favourite articles
✔️ No payment method required
Already have an account?
Log in
© Copyright IBTimes 2023. All rights reserved.