Where Is Barack Obama Now? Former President, First Family Spotted Rafting During Bali Vacation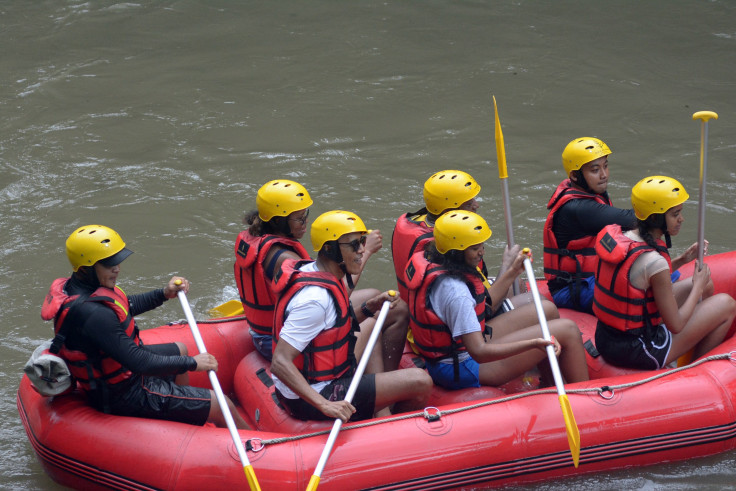 Former President Barack Obama and his family were spotted Monday on a river rafting expedition as a part of their vacation in Indonesia, where the former president lived for several years during his childhood.
Obama, his wife, Michelle, and their daughters, Sasha and Malia, were seen white-water rafting on the Ayung River in Bali, Indonesia, where the family was said to have arrived Friday.
The former first family has already visited the Agung Rai Museum of Art, the Jatiluwih rice terraces and the Ayung River on their planned five day-long stay at the island, according to the Jakarta Post.
During their museum visit Saturday, the Obamas were welcomed by Pendet and Tumbuk Padi dance performances, traditional dance forms in Bali. According to tempo.co, Obama also expressed a keen interest in a 1930s painting by I Gusti Nyoman Lempad. The Obamas have reportedly been staying at Four Seasons Resort Ubud in Bali.
Read: Obamas' $8.1 Million Worth New House In Kalorama: Who Are His New Neighbors?
Obama was invited by the Indonesian President Joko "Jokowi" Widodo who requested him to take a holiday in the country after the former president left office. They have also been invited to visit the presidential Bogor Palace in West Java during their nine-day trip to the country. Obama is also expected to speak at an Indonesian Diaspora Congress in Jakarta on July 1.
The family is reportedly said to wind up their trip in Jakarta, where the former president lived during his childhood.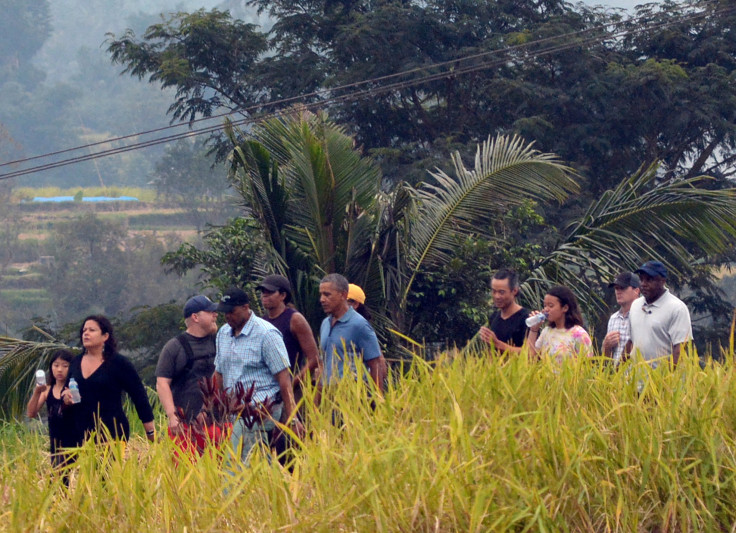 In 1967, at the age of 6, Obama moved to Indonesia, after his divorced mother married an Indonesian man. Obama returned to Hawaii when he was 10-years-old, to live with his grandparents, however his mother stayed in Indonesia even after the marriage broke up and worked as an anthropologist and development aid worker, according to the Associated Press.
The Obamas have gone on several vacations since the former president left office and this was not the first time Obama and his family hit the waves. In February this year, Obama was spotted kite surfing with British businessman Richard Branson while on vacation in the Virgin Islands, according to NBC News. The former first family has also visited destinations including Palm Springs, the Caribbean, Guam and Hawaii, where the former president was seen golfing with friends. They also went on a ride with Oprah Winfrey, Tom Hanks and Bruce Springsteen on a yacht. They have also visited the Tuscan villages recently.
Read: Obama Reacts To Trump Withdrawing From Paris Climate Agreement
Both Michelle and Barack Obama have also been writing books and have signed book deals in February with Penguin Random House. The Guardian reported that the bid reached almost $60 million, however the official financial terms for the books were not disclosed.
"We are absolutely thrilled to continue our publishing partnership with president and Mrs Obama," the publisher's CEO Markus Dohle said in a statement, according to the Guardian.
"With their words and their leadership, they changed the world, and every day, with the books we publish at Penguin Random House, we strive to do the same. Now, we are very much looking forward to working together with president and Mrs Obama to make each of their books global publishing events of unprecedented scope and significance," Dohle added.
© Copyright IBTimes 2023. All rights reserved.