Pope Francis On Divorce: Ending Marriages Can Be 'Morally Necessary' In Some Cases, Including To Protect Kids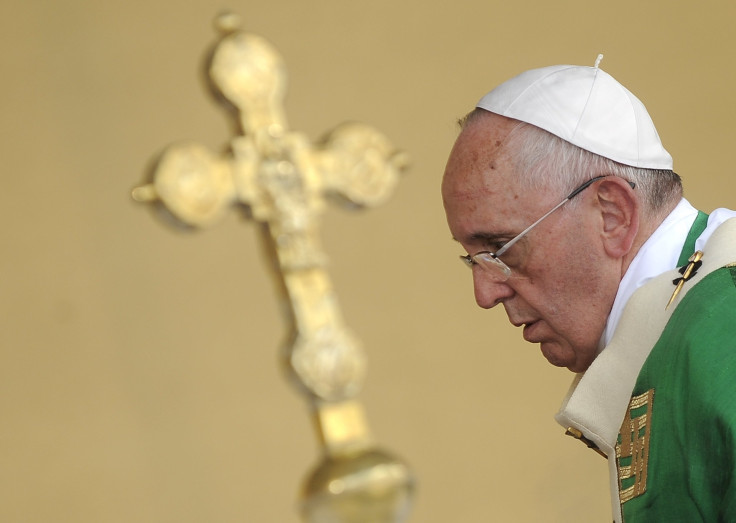 The Catholic Church has always been staunchly opposed to divorce, but Pope Francis acknowledged this week that sometimes it is "morally necessary" to dissolve a marriage, in the latest progressive message from the pontiff. Speaking at his weekly audience in St. Peter's Square, Francis conceded that there are cases that make it impossible for a couple to stay together.
While Francis' comments might be interpreted to support divorce, the pontiff avoided using the term, instead focusing on the circumstances that make such a separation between a married couple justifiable. Such cases include "when it comes to saving the weaker spouse, or young children, from more serious injuries caused by intimidation and violence, by humiliation and exploitation, by lack of involvement and indifference," Francis said, in comments reported by the Religion News Service.
"When the father and mother harm each other, children's souls suffer greatly, feeling a sense of desperation. And they are wounds that leave a lifelong mark," he added.
The pope also reiterated the message of compassion and tolerance he has emphasized since the start of his papacy, calling on Catholics to be understanding and supportive of the different types of family situations others may find themselves in. "We find many families in irregular situations around us," he said. "This poses many questions: How can we help them? How can we accompany them? How can we accompany them so the children do not become hostages to their father or mother?"
The remarks came a day after the Vatican released a document outlining its working positions on family issues, ahead of a highly anticipated global conference on the subject this October. The paper, which reaffirmed the church's moral teachings on divorce, birth control and LGBT outreach, stands in contrast to the tone on culture issues promoted by Francis and represents the kind of institutional resistance to reform within the church.
Last year's synod on family exposed sharp disagreements between bishops on the church's approach to divorced Catholics and gays, with some arguing in favor of allowing remarried Catholics to receive communion and supporting gay couples. The attempt to shift the church's longstanding position on these hot-button issues had sparked fierce resistance from the more conservative wing of the church's hierarchy, some of whom have expressed their concerns that Francis is facilitating a watering down of church teachings.
Francis acknowledged the resistance to reform within the church last year, urging top officials to pay attention to the "signs of the times" and listen to ordinary Catholics.
© Copyright IBTimes 2023. All rights reserved.