Pope Francis Hopes Turkey Trip Brings 'Fruitful Dialogue' Between Christians And Muslims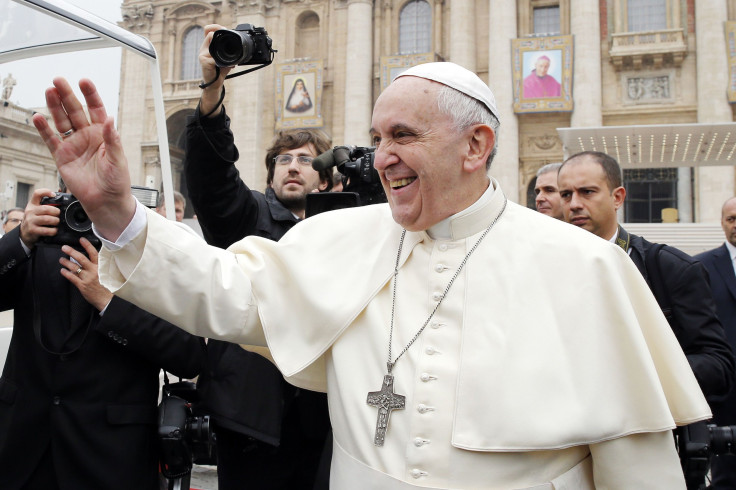 Pope Francis said Wednesday he prayed that his recent three-day trip will promote "fruitful dialogue" between the country's majority Muslims and Eastern Orthodox Christians.
"Religious belief has an important place in the life of this predominantly Muslim nation. In my visit to Ankara, I wished to stress the importance of ensuring its free exercise by all, and the need for Christians and Muslims to work together in promoting solidarity, peace and justice," Francis said in St. Peter's Square, according to Rome Reports.
Pope Francis visited Turkey, a nation of about 75 million with a Christian population estimated at around 120,000, from Friday through Sunday. He spent one day in Ankara, the capital, followed by two in Istanbul, the nation's largest city. His speeches focused on the importance of inter-religious peace among Christians and Muslims and greater unity between the Roman Catholic Church and the Eastern Orthodox Church.
The pontiff's trip came during a tumultuous time in the Middle East where hundreds of thousands of Christians in Syria and Iraq have been forced to flee due to threats from al Qaeda and the Islamic State group. Many have sought refuge in Turkey.
"An extremist and fundamentalist group" has subjected communities in Syria and Iraq to "barbaric violence simply because of their ethnic and religious identity," Francis said in a speech he made in Ankara alongside Turkish President Recep Tayyip Erdogan. While Turkey has "generously welcomed a great number of refugees," Francis said, the country also has a "great responsibility," due to its history and geographical location, to promote peace among different faiths.
In his weekly audience, Francis said this meeting was an "opportunity to reaffirm the need for states to recognize the public relevance of religious faith and to guarantee everyone the freedom of worship."
In Istanbul Friday, Francis celebrated Mass at Holy Spirit Cathedral. "We invoked the Holy Spirit so that the people of God, in the diversity of their traditions, grow in openness, docility and obedience to his divine action," Francis said.
On his final day, Francis signed a declaration with His Holiness Bartholomew I, the Istanbul-based leader of the Eastern Orthodox Church.
"Together we signed a declaration, renewing the commitment to continue along the path of the restoration of full communion between Catholics and Orthodox, aware that prayer is the foundation for fruitful ecumenical dialogue," Francis said. While the two leaders are on friendly terms, the joint declaration could be a sign the Vatican is making amends after an official recently said the end of Communist rule created tensions between the Roman Catholic Church and the Eastern Orthodox Church.
The pontiff's next visit will be to Sri Lanka and the Philippines in January. According to a Vatican press release, the trip to the Philippines will focus on "mercy and compassion" towards survivors of the Bohol earthquake and Typhoon Haiyan, both of which took place in 2013.
© Copyright IBTimes 2023. All rights reserved.
FOLLOW MORE IBT NEWS ON THE BELOW CHANNELS