'Powerless' Spoilers: Episode 4 Synopsis Teases Emily's New Romance, Van's Superhero Fantasy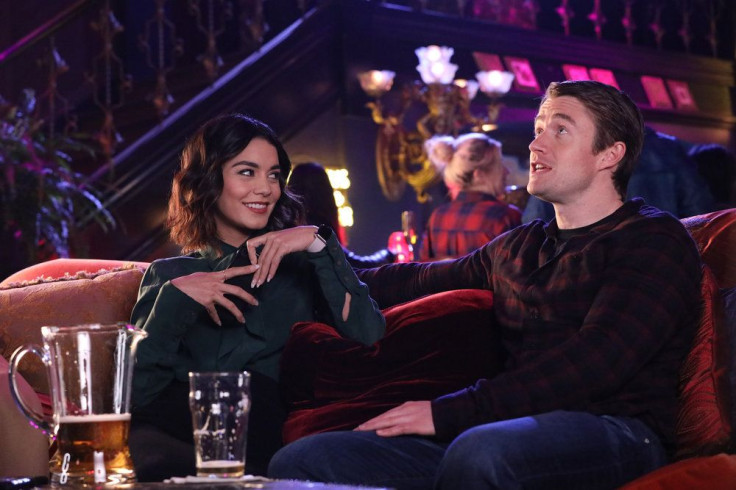 Emily (Vanessa Hudgens) falls for the wrong guy in next week's episode of "Powerless."
The synopsis for Season 1, episode 4 reveals that Emily dives into the dating world after being urged by her team at Wayne Security. She, however, unknowingly falls for one of the Riddler's henchmen.
In the comics, the Riddler is one of Batman's most enduring adversaries. As his name suggests, the Riddler takes delight in incorporating riddles and puzzles into his criminal plots, often leaving them as clues for the authorities and the Caped Crusader to solve.
At the NBC party for the Television Critics Association in January, executive producer Patrick Schumacker revealed to Rotten Tomatoes that "iZombie" star Robert Buckley was cast to play the Riddler's henchman. Earlier that month, Buckley shared a behind-the-scenes photo of him with Hudgens from the episode shoot. See the pic below:
In a Valentine's Day-themed promo clip for "Powerless" and "Superstore," Buckley's character takes Emily and Jackie (Christina Kirk) hostage and admits that he loves his job more than Hudgens' character.
The synopsis also reveals that Teddy (Danny Pudi) and Ron (Ron Funches) find a Batman artifact in the episode and eventually finds out what Van's (Alan Tudyk) superhero fantasy is.
Entertainment Weekly recently revealed that the Batman artifact is actually a batarang, a bat-shaped throwing weapon similar to a shuriken which the Dark Knight uses against his enemies. For some reason, the batarang makes the trio interested in locating Batman, who is technically their boss and Van's cousin, Bruce Wayne. Apparently, their mission to find Batman also leads Van to dress up as the superhero's sidekick Robin, which is obviously his superhero fantasy.
"Powerless" Season 1, episode 4, titled "Emily Dates a Henchman," airs on Thursday, Feb. 23 at 8:30 p.m. EST on NBC.
© Copyright IBTimes 2023. All rights reserved.