Pregnant Peta Murgatroyd Slams Amber Rose And Maksim Chmercovskiy 'Seriously Jealous' Rumors On Instagram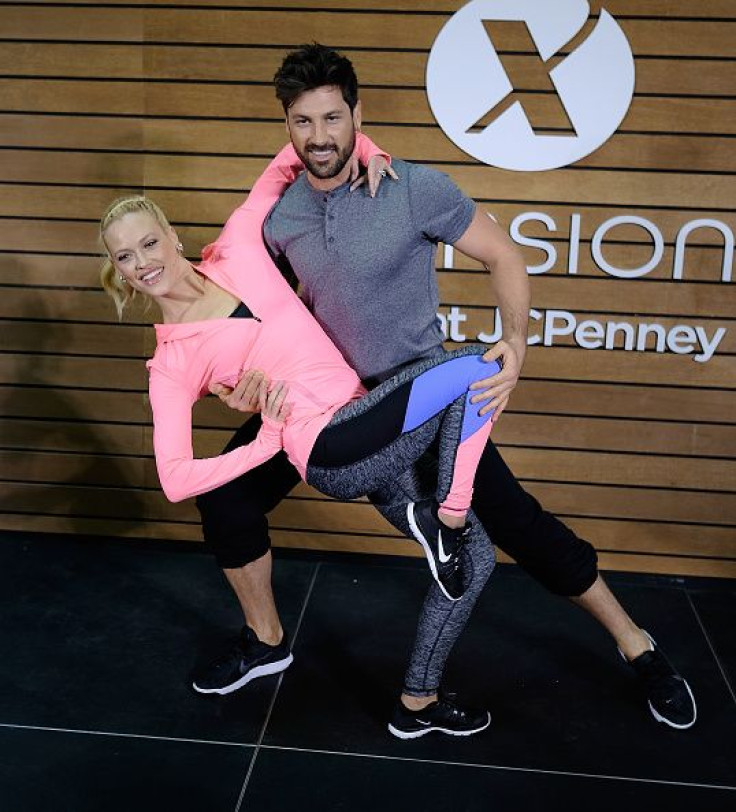 Pregnant professional dancer Peta Murgatroyd took to Instagram to slam rumors there was anything shady going on between her fiancé, Maksim Chmercovskiy, and his "Dancing With the Stars" Season 23 partner Amber Rose. Peta responded to the gossip with in a sarcastic manner.
She posted a screen shot of a Radar Online story, which had the headline: "'DWTS' Love Triangle! Amber Rose At War With Maksim's Pregnant Fiancée. Find out why sources say Peta Murgatroyd is seriously jealous!" She captioned the post: "They finally got it right. @AmberRose boo you better watch out I'm watching… Props for finding a great side eye pic of me!"
Peta was apparently jealous of Amber for dancing with Maks. "Peta does not seem happy about how close Maks and Amber have become," an insider told Radar Online Monday. "It seemed to make Amber really uncomfortable having Peta there watching her rehearse with Maks."
"Amber and Peta are complete opposites and Maksim loves Amber's energy and how carefree she is," the source continued. "Peta's jealousy got even worse because she saw how close Maksim and Amber really are."
Despite the jealousy accusations, Peta didn't have to worry about Maks' fidelity. " She really has no reason at all to worry about losing her man to Amber," the source told Radar Online. "People on set just think that it is Peta's hormones that is causing her to freak out."
Peta and Maks attended Amber's Slut Walk in Los Angeles Oct. 1. The model created the festival to raise awareness about gender inequality and sexual injustice. Her mission statement reads: "The Amber Rose SlutWalk aims to impact and uplift while shifting the paradigm of rape culture. The event provides a safe, all-inclusive space to entertain, educate and empower."
Follow me on Twitter @mariamzzarella
© Copyright IBTimes 2023. All rights reserved.