Premier League 2014-2015: Title Predictions, Betting Odds For Arsenal, Chelsea, Manchester United, Liverpool And Manchester City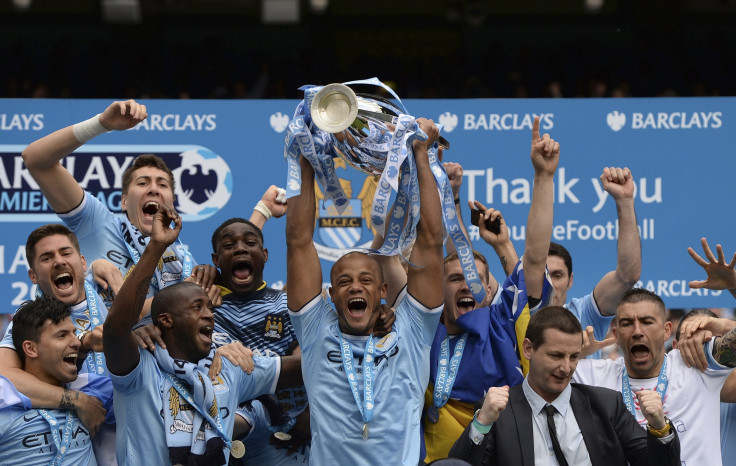 It's been a tough few weeks following the climax of the World Cup in Brazil, but the 2014-2015 Premier League season is now under a week away. And the upcoming title race promises to be as equally turbulent and unpredictable as the last. Champions Manchester City, along with Chelsea, have flexed their considerable financial muscle in an effort to come out on top come next May. Continuing to break with tradition, Arsenal have done likewise as they seek to build on the ending of their trophy drought by claiming a first Premier League title in over a decade.
Liverpool's drought has been even longer but, after coming so closer to glory last season, the Merseysiders will be desperate to show they are back to being a regular force at the top of the table. And then there is the specter of the winner of 13 Premier League titles Manchester United looking to immediately rebound from their spectacular fall from grace under legendary manager Louis van Gaal.
Here's how -- with three weeks of the transfer window still remaining -- each of the leading five contenders, according to the odd makers, are shaping up and predictions of where they will stand in nine months' time.
Chelsea (7/4 -- via Bovada.lv)
Jose Mourinho's first season back at Stamford Bridge at one point promised much but ultimately ended with significant disappointment. Mourinho's safety-first tactics coupled with the lack of a top quality striker proved their undoing against several of the Premier League's lesser clubs. Chelsea have moved impressively to try and insure there is no repeat by spending big, notably on Cesc Fàbregas and Diego Costa to give Mourinho a squad that means he will have no excuses should he fail to deliver the title this time around. Costa should be an ideal fit for Mourinho's system, but there is much responsibility on his shoulders to instantly deliver, with only 36-year-old Didier Drogba and the unshiftable shadow of Fernando Torres as alternatives. Fàbregas's place in the side remains uncertain and whether he is trusted with a deeper role or instead played further forward could say much for how proactive Mourinho is prepared to be with his style.
Prediction: 1st
Manchester City (9/4)
Manuel Pellegrini brought welcome calm to the Etihad after replacing Roberto Mancini and, although everything didn't always go smoothly, he impressively delivered a title in his first season. And they have accomplished their goals this summer by addressing the two obvious deficiencies in an otherwise supremely gifted squad. Fernando gives Pellegrini with a natural holding midfielder to complement the natural attacking tendencies of Yaya Toure and Fernandinho, while his former Porto teammate Elliaquim Mangala should provide Vincent Kompany with a more stable partner at the center of defense. Meanwhile, up front, if he can stay fit, Stevan Jovetic will be every bit as good as a new signing. The doubts about City come from whether the focus this season will be on finally making a breakthrough into the latter stages of the Champions League, while Pellegrini was found tactically lacking in some big games last season.
Prediction: 2nd
Manchester United (9/2)
Last season was a disaster from start to finish for the defending champions and things can only get better this time around. In Van Gaal, Manchester United have a manager utterly undaunted by the scale of the club and his task. And, while his recent success has not quite matched that which he enjoyed in the early part of his managerial career, this summer's World Cup showed that they now have in charge one of the game's sharpest tactical minds. It may take time for the players to adjust to Van Gaal's style both on and off the pitch, but the veteran Dutch coach will greatly benefit in that regard from the absence of Champions League action at Old Trafford. Results in preseason have encouraged that that process is already underway. Yet, unless some major arrivals are forthcoming before the end of the transfer window, Van Gaal may ultimately just lack the tools at his disposal to take United back to the top at the first time of asking.
Prediction: 3rd
Arsenal (6/1)
No team spent longer at the top of the Premier League last season than Arsenal and, thus, it was a disappointment that by the end they only finished fourth. Still, there was also the major boost of lifting the FA Cup and a first trophy in nine years. That piece of silverware should provide a major psychological lift as should a major new arrival for the second summer running in the form of exceptional Chilean forward Alexis Sánchez. There is a genuine sense of optimism around the Emirates Stadium, in sharp contrast to this time last year, and, if the likes of Aaron Ramsey and Jack Wilshere can be kept fit, then it may be warranted. However, Arsenal have yet to sign the authoritative presence at the base of their midfield that has long been lacking, while another established center-back is also required before the end of August. Rather than the players, though, what could ultimately decide whether Arsenal can truly challenge for the title right to the very end, is whether manager Arsène Wenger is prepared to mediate his attacking, free-flowing philosophy when it comes to matches against the very best sides. The failure to do so last season led to crushing defeats away at each of the top three clubs and the end of their title challenge.
Prediction: 4th
Liverpool (10/1)
While there was crushing disappointment for Liverpool as they fell agonizingly short of their first title in 24 years, last season was still a tremendously positive one for Liverpool. Brendan Rodgers proved himself one of the league's most astute managers in guiding his side to finish above clubs with significantly superior squads. Still, they were also helped greatly by having one of the world's great players and one of the very few who can single-handedly decide a match at their disposal in Luis Suárez. As things stand, Liverpool have yet to directly replace the now Barcelona forward, putting huge responsibility on the shoulders of Daniel Sturridge, who, while a fine player and with an exceptional strike rate at Anfield, is not in Suarez's class. While Rodgers's acumen and the strengthening of the squad with several signings means Liverpool can again be a threat, they don't have the outright quality of some of their rivals and the players and manager will be stretched by a return to the Champions League.
Prediction: 5th
© Copyright IBTimes 2023. All rights reserved.