President Donald Trump Not Invited To December Paris Climate Change Summit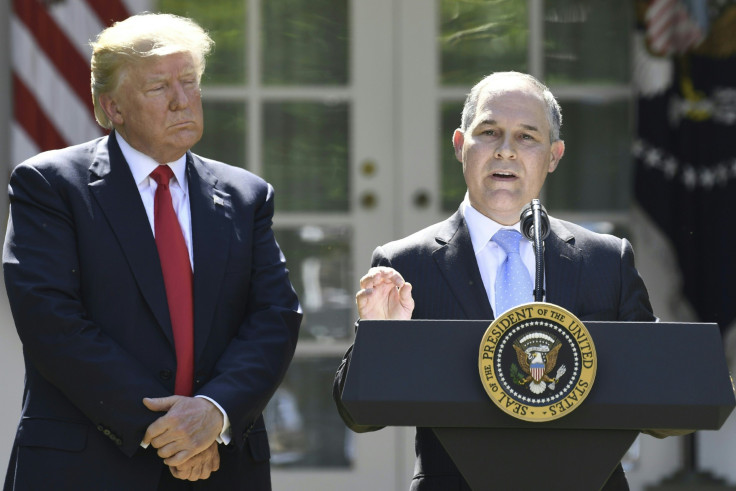 At a December climate change summit there will be one person missing from the discussions. President Donald Trump is not invited to the summit "for the time being" that is scheduled to be held in France next month, Reuters reported Tuesday.
The guest list for the summit features more than 100 countries and nongovernmental organizations committed to implementing the 2015 Paris Climate Agreement that President Trump pulled the United States from back in June. The information about the invitation was told to Reuters by an official from France's President Emmanuel Macron's office. While President Trump won't be invited to represent the U.S. a lower-level official might be able to make the list if they wished, according to Reuters.
President Trump made the decision to withdraw the U.S. from the agreement because he believes it is bad for America. In his speech during which he announced that the country would no longer agree to the terms of the agreement he called the accord, "the latest example of Washington entering into an agreement that disadvantages the United States to the exclusive benefit of other countries, leaving American workers -- who I love -- and taxpayers to absorb the cost in terms of lost jobs, lower wages, shuttered factories, and vastly diminished economic production."
The same day that news broke that Trump would not be invited to the December summit, Syria, a country that had previously opposed the accord announced that it would sign the agreement. The only other country that has abstained nearly this long was Nicaragua, which initially didn't agree to the accord because it wanted a more aggressive agreement, but Nicaragua signed last month. This means the U.S. is now the only country that hasn't signed the non-binding deal.
What is the Paris Climate Agreement?
The agreement was the first to unite the countries of the world against human-induced climate change and set emission goals for countries around the world to help keep climate change under 2 degrees Celsius by the end of the century. While the agreement did require countries to have a plan for lowering emissions it allowed countries to lower emissions in whatever way it saw fit and included no legal consequences for not meeting such goals. The agreement was reached at the 21st Conference of the Parties, or COP21, that happened in 2015.
Actually withdrawing from the agreement will take some time though. Article 28 of the agreement states that only three years after a country enters the agreement can the official withdraw be filed, and then a year later it will be made official. President Barack Obama signed the agreement in November of 2016, so officially, the United States will be part of it until November 2020, whether President Trump agrees to abide by it or not.
© Copyright IBTimes 2023. All rights reserved.