Presidential Debate Schedule 2016: Will Gary Johnson, Jill Stein Make It On Stage For Events?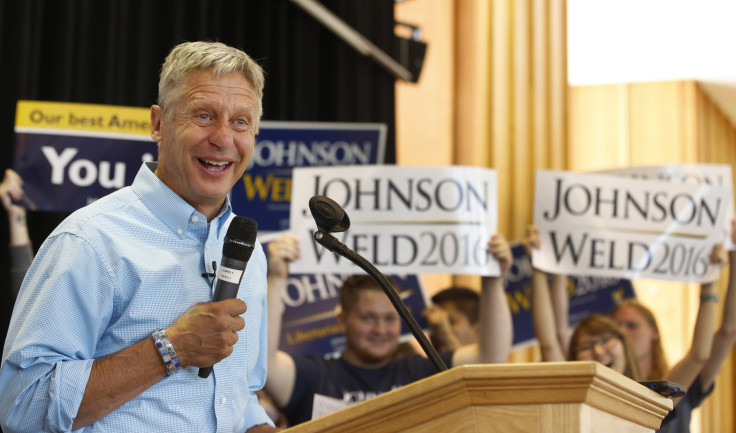 The scheduled presidential debates are nearing, but a couple of big questions still remain. One major unknown: Will outsider candidates like Libertarian Gary Johnson and the Green Party's Jill Stein — averaging Monday about 8 percent and 3 percent support nationally, respectively — make it on the event stage?
It could be a long shot. The current rules dictate that a candidate needs to register an average of 15 percent support nationally in the polls to earn a spot on the stage. Both Johnson and Stein remain a ways off. And they're running out of time. Here's the schedule for the three debates that would, as of Monday, feature between Democratic nominee Hillary Clinton and Republican nominee Donald Trump, although he has expressed reservations about showing up for the events:
- Sept. 26, at Hofstra University, New York, 9 p.m. EDT to 10:30 p.m. EDT
- Oct. 9, at Washington University in St. Louis, Missouri, 9 p.m. EDT to 10:30 p.m. EDT
- Oct. 19, at the University of Nevada, Las Vegas, 9 p.m. EDT to 10:30 p.m. EDT
RCP Poll Average - Clinton vs. Trump vs. Johnson vs. Stein | InsideGov
Getting on the debate stage is a major opportunity and one that the third-party candidates believe could be a turning point. "The object is to win outright," Johnson has said on television, via the Wall Street Journal. "And it's not impossible if we go into the presidential debates with the polarization of Clinton and Trump that we might actually run the table on all of this."
There are some grass roots efforts to include the candidates outside the big two. A Change.org petition to open up the debates has registered just north of 7,000 signatures. A number or editorials in places like the Nation, Newsweek, the L.A. Times and the Charleston Post and Courier have called for debates with more than just two candidates.
Johnson likely has a better shot of making it on the stage than Stein. And the debate venues have gone as far as drawing up plans for a three-podium stage. With just about a month to go, however, Johnson needs to gain about 7 points in the polls to get on the stage and Stein about 12. Otherwise, Johnson admitted on TV, it might just be "game over."
© Copyright IBTimes 2023. All rights reserved.