Presidential Election Odds 2016: What Are Donald Trump's, Hillary Clinton's Chances As Voters Prepare To Go To The Polls?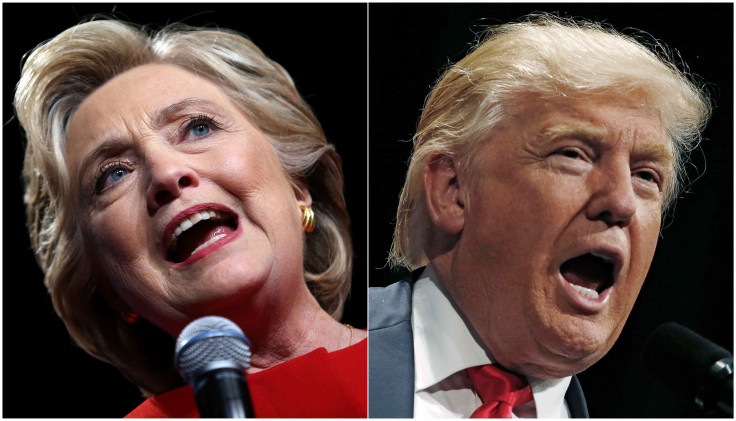 A day before America goes to the polls, oddsmakers are increasingly confident that it will be Hillary Clinton heading for the White House.
Over the past two weeks, the odds had shortened on a Donald Trump presidency, following the FBI announcing it was analyzing newly discovered emails that might be relevant in the case against Clinton. However, there was nothing in the emails to warrant charges, so Clinton was once again a resounding favorite on Sunday amongst bettors.
Online betting site Bovada makes Clinton a -550 (2/11) favorite to come out on top in Tuesday's presidential election. Trump's price, meanwhile, has slipped to +375 (15/4). That equates to an 84.62 percent chance of Clinton getting to the 270 electoral votes and a 21.05 percent chance for Trump.
Those probabilities are similar to those of the New York Times' Upshot model, which gives Clinton an 84 percent chance of winning and Trump a 16 percent chance. However, polling data from Nate Silver's FiveThirtyEight has made little readjustment since the second announcement from FBI director James Comey on Sunday. Probability of a Trump presidency has risen sharply in the past two weeks to the current mark of 31.8 percent.
As for the betting markets, they shouldn't just be written off as mere speculation from bettors. After all the markets have real money on the line. And, while polls and prediction models are now widely cited as the most accurate informers of election results, that wasn't always the case.
Indeed, before polls came along betting markets were the sole method of gauging public opinion for 16 elections between 1880 and 1932. They were wrong just once, when Woodrow Wilson beat Charles E. Hughes in one of the closest elections in history.
Many of those going to the polls on Tuesday will be casting their vote for the candidate who they believe will leave their bank balance better off. But for those interested in making an immediate return off the election result, there are many potential avenues even beyond simply predicting the winning candidate.
Spread betting is also available on the number of Electoral College votes each candidate will achieve. For Trump, the spread is set by Bovada at 238.5, a long way short of the 270 required. For Clinton, the spread is 299.5. As for the key state of Florida, Clinton is currently a -220 (5/11) favorite to take a state that Trump likely needs to claim the presidency.
© Copyright IBTimes 2023. All rights reserved.
FOLLOW MORE IBT NEWS ON THE BELOW CHANNELS