'Pretty Little Liars' EP I. Marlene King Teases Series Finale: 'It's A Movie'
The end is here for "Pretty Little Liars," but it won't be a quick goodbye. Showrunner and executive producer I. Marlene King wanted a long last episode, so Freeform granted her request for a two-hour series finale. King told International Business Times that it was at the top of her wishlist for the final episodes.
"To me, if you ask me what do you wish you could've done in a finale, it's always have more time. So this is really — it's a movie. It's a movie," King told reporters at ATX Television Festival earlier this month in Austin, Texas.
Luckily, they had plenty of time to plan the perfect "Pretty Little Liars" ending. Freeform, then known as ABC Family, told her that seven seasons would be likely several years ago.
"Originally, the show was going to be five seasons," King recalled. "But I want to say it was our third season — maybe our fourth season, but probably our third — it was still such a big hit that the network and the studio called me after a premiere and said, 'Figure out how to make this seven seasons.' So we knew we had four years to plan for this basically."
READ: I. Marlene King Wants A "Pretty Little Liars" Revival
Still, plans can change. King didn't actually have the finale completely figured out until the writers sat down to plot Season 7. "I would say we didn't know the real ending-ending until the season began," King revealed. "We always know the ending before we know the beginning of each season."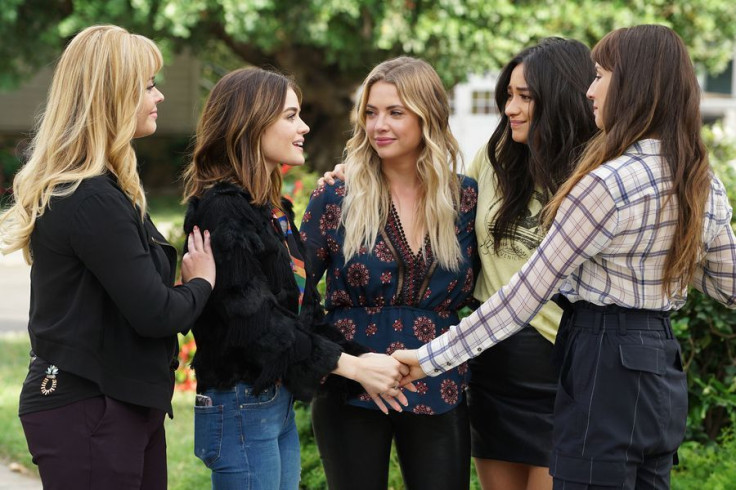 With all that time to plan, King knew that she wanted to give fans moments in the series finale that weren't just action. She noted that the extra time in the finale gives her characters a minute to relax after all the excitement in last week's episode. The gang will gather for Aria's wedding in the finale, but they haven't reached happily ever after just yet.
"This was a unique season for us because the penultimate episode really feels like a finale. A lot gets wrapped up in that episode. So in the finale, there's a big chance for the characters to breathe and have real life before the poo hits the fan," King teased.
The "Pretty Little Liars" series finale will finally reveal what fans have been waiting for: A.D.'s identity. After much speculation, the fans all have their theories, but they'll have to tune in to the final episode, titled "Til Death Do Us Part," to see who really is the evil mastermind.
READ: Will Aria Make It Down The Aisle?
Of course, that might not be the last fans see of the Liars. As previously reported, King said that she hoped a revival would happen in several years.
"I hope someday because it's really hard to say goodbye to these characters," King told IBT. "I think of 'Gilmore Girls' and shows like that where a long time goes by. People do their own thing and they find another passion, and then we find a way to come back together," King said. "That would be my goal."
"Pretty Little Liars" Season 7, episode 20, the series finale, will air Tuesday at 8 p.m. EDT on Freeform.
© Copyright IBTimes 2023. All rights reserved.