'Pretty Little Liars' Season 6 Spoilers: Episode 18 Synopsis Released Online; What Will Happen In 'Burn This'? [VIDEO]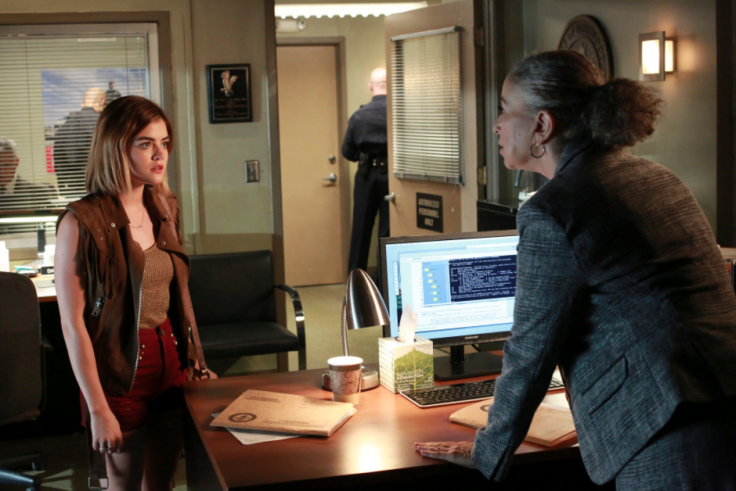 Hello, drama! Aria (Lucy Hale), Emily (Shay Mitchell), Hanna (Ashley Benson) and Spencer (Troian Bellisario) are not the same girls from five years ago, but the synopsis for episode 18 of "Pretty Little Liars" reveals that they might be returning to their old ways.
With Caleb's (Tyler Blackburn) help, the girls got the jump on the new "A" by crashing their mysterious stalker's computer. However, episode 17 of the Freeform series revealed that they have more than one person coming after them. While their initial tormentor wanted answers about Charlotte's (Vanessa Ray) death, this new one is working very hard to make sure that they don't find out who the murderer is.
The synopsis for Tuesday's episode, titled "Burn This," explains that the four friends will "keep their mouths shut" after Emily was almost run over outside the diner. They don't want anyone else getting hurt. But is keeping quiet the best move? "Pretty Little Liars" viewers can't forget that Detective Tanner (Roma Maffia) is suspicious and thinks that they're somehow involved in Charlotte's murder.
Meanwhile, Spencer and Caleb must deal with the fallout of him taking the blame for leaking information about Yvonne's (Kara Royster) high school abortion. Spencer knows that he didn't do it and wants him to tell the truth. But a promo video hints that Toby (Keegan Allen) doesn't believe — or know — that Caleb is innocent. A quick clip appears to show Toby punching his former friend, presumably for leaking details of his new girlfriend's personal life.
Episode 18 will also follow Emily as she attempts to track down the person who tried to kill her. Elsewhere, Aria and Ezra (Ian Harding) will move forward with the novel, hinting that they seem to have come to some sort of agreement on how to handle the delicate situation of Aria writing the first three chapters for him.
But it sounds like the most drama will involve Hanna. The synopsis concludes that Hanna will "avoid dealing with her personal life." Does that mean that something happened with Jordan? Viewers can't forget that episode 17 ended with Hanna finally deciding on a date for her wedding. She left a voicemail for her fiancé, but maybe he had a change of heart?
"Pretty Little Liars" Season 6, episode 18 will air on Freeform on Tuesday, March 1, at 8 p.m. EST.
© Copyright IBTimes 2023. All rights reserved.