'Pretty Little Liars' Season 7, Episode 16 Sneak Peek Hints Aria May Hurt Hanna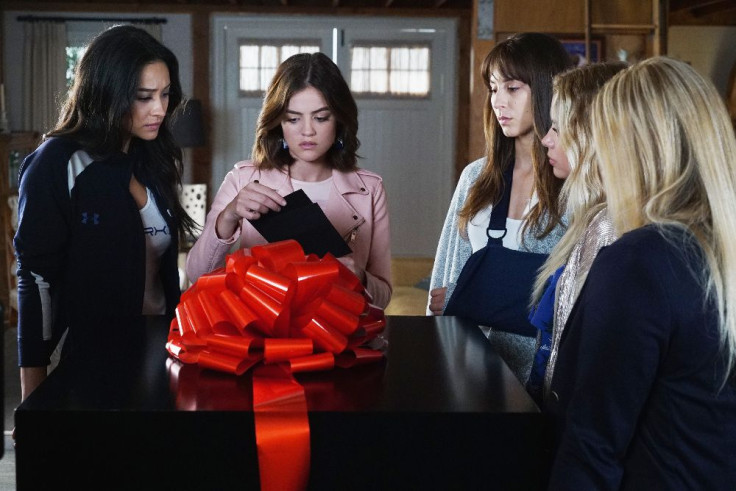 Although she is desperate not to lose A.D's new game, Aria has dug herself into quite a hole, and at the rate she is betraying her friends, her guilt just may get the best of her on "Pretty Little Liars" Season 7, episode 16.
In a sneak peek for the upcoming episode, "The Glove that Rocks the Cradle," Aria (Lucy Hale) is informed that she will be forced to betray her friends once again.
READ: Aria chooses to join the "A" team on "Pretty Little Liars" Season 7
In the video, the Liars and Caleb (Tyler Blackburn) can be seen in the middle of a conversation when the school bell from Liar's Lament begins to ring, which sends Hanna (Ashley Benson) into a panic. She was previously chosen to play the game again in episode 14, "Power Play," even though Aria has yet to have her own turn.
In the new sneak peek, the group rushes over to the table where the game is and Hanna picks up the phone to reveal what she will be forced to do during her turn. "Pick up my homework or go to detention. Remember prison food makes you fat," the phone reads.
In the past, those in charge of the "A" game have constantly tortured Hanna forcing her to relive the time when she was an overweight teenager and referred to as "Hefty Hanna." Some of her punishments consisted of forcing her to eat large amounts of high-calorie foods, making her flashback to days when she would binge eat.
Following the message about the task, Hanna is then given the address to a computer shop, where she will have to pick something up for A.D. and bring it to Rosewood High School. While the group is trying to figure out what A.D. could have at the computer repair shop, Aria receives a text from the villain.
"Hanna thinks it's her turn, but yours isn't up yet and you're playing for me," the text reads.
In a seperate promo for "Pretty Little Liars" Season 7, episode 16, Hanna can be seen telling her friends that she knows in her heart that they would never hurt her, though Aria can be heard replying "That's not true."
Previously, after telling "A" that she wanted out, Aria had a sit down with Sydney (Chloe Bridges), who offered an opportunity to come to the "A" team. After Sydney confessed to shooting Spencer (Troian Bellisario), Aria still decided that it was best for her to join the winning team.
Will Aria finally tell her friends that she is working for "A"? She already betrayed them after A.D. forced her to steal the comic book that Charles (Vanessa Ray) and Lucas (Brendan Robinson) made together, hinting that they are the ones who created the idea of "A."
READ: Lucy Hale is excited to move on from "Pretty Little Liars" Season 7
Furthermore, in the promo for "The Glove that Rocks the Cradle," Aria can be seen destroying what looks like a nursery. Could she be in Ali's (Sasha Pieterse) house? How far will she go to win the game?
"Pretty Little Liars" Season 7, episode 16, airs Tuesday at 8 p.m. EDT on Freeform.
© Copyright IBTimes 2023. All rights reserved.