'Pretty Little Liars' Season 7 Spoilers: What Happened In Episode 8? Grunwald Returns With A Dark Warning [RECAP]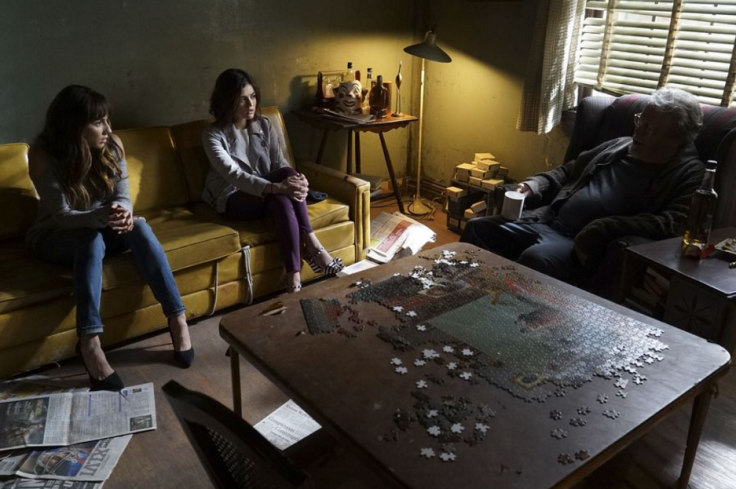 Is Noel Kahn A.D.? Is Nicole still alive? Who burned down the storm cellar? And who is Charlotte's biological sibling? The questions keep coming on "Pretty Little Liars."
Episode 8 of the Freeform series kicks off with the entire gang walking through Rosewood discussing A.D. Hanna (Ashley Benson) is certain that Noel Kahn (Brant Daugherty) is their mysterious tormentor, but everyone else isn't so certain. She storms off and Caleb (Tyler Blackburn) goes after her. However, their chat is cut short when a car speeds at them. Caleb pushes Hanna out of the way and is struck by the vehicle. When Hanna looks up she discovers Noel Kahn behind the wheel — smiling.
Fortunately Caleb's not really hurt. It was all a dream, but scary enough to get Hanna to go to Caleb's hotel room first thing in the morning. She clutches him close before realizing how awkward things are. Although they're not a couple, it's still clear that they care for each other. In fact, Caleb really cares about the entire group. He got them brand new cellphones that are bug-free to prevent them from getting harassed.
The new phones might solve future problems, but it can't help Aria (Lucy Hale) right now. She deleted the call from Nicole (Rebecca Breeds) on Ezra's (Ian Harding) phone and is now regretting it after learning that she might be alive. Aria tells Emily how guilty she feels about lying to Ezra and he walks in just at that moment. She's forced to reveal what happened, and he's not happy about it.
As things unravel in Aria's life, Alison (Sasha Pieterse) is working on putting the pieces back together in hers. With her bank account emptied, Alison reveals to Emily (Shay Mitchell) that she's returning to work at the school. Emily thinks it's a little too soon, but Alison reassures her that her doctor's released her with a clean bill of health.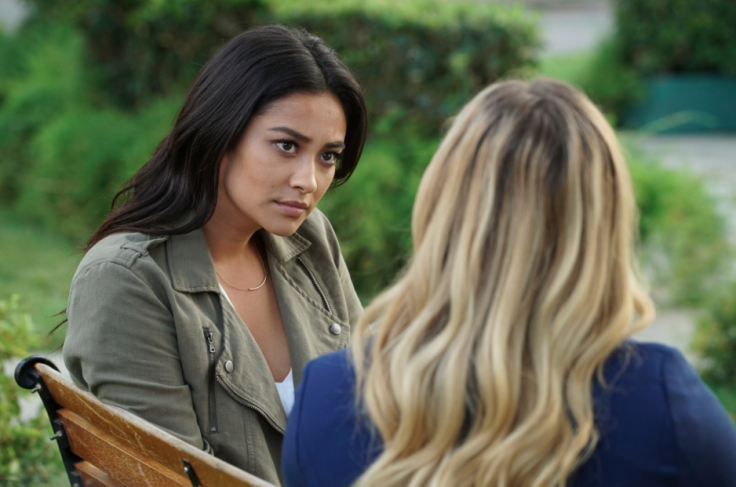 Alison might think she's ready, however, she can't anticipate how things will play out in school. On her first day back her students play a prank on her. She walks into the classroom and finds them all wearing black hoodies. It shakes her up, but she reassures her principal that she made the right decision to come back — especially since it will be easier to access files on her old classmates.
Alison might not be the only Rosewood alum returning to the high school. Emily runs into her old high school principal, who reveals that the head swim coach position is open. He thinks that she would be perfect for the job — if she's interested in sticking around Rosewood. After thinking about the job, Emily decides to apply. However, when she walks in, she discovers that the principal is already interviewing a candidate. It's none other than Paige (Lindsey Shaw), her ex girlfriend.
Paige's return isn't the only blast from the past. Mrs. Grunwald (Meg Foster) shows up at Lucas' (Brendan Robinson) apartment looking for Hanna. She had a dream that left her unsettled and compelled to come to Rosewood. She tells Hanna that "darkness" is surrounding her and Caleb.
Hanna opens up to Mrs. Grunwald about what's been happening to them. She explains that she thinks she knows who the person responsible is, but that her friends aren't so sure. Mrs. Grunwald tells her that the "source of the threat" against her is "very close" — and Noel Kahn just happens to be right behind her. He comes up to Hanna, which makes Mrs. Grunwald clutch her. Blood begins to run from her nose as she watches Noel.
As Hanna meets with Mrs. Grunwald, Spencer (Troian Bellisario) and Aria follow a lead on the doctor that delivered Mary Drake's (Andrea Parker) babies. They find his daughter, who reveals that her dad lost his license a long time ago, and that she doesn't know where she is. However, she calls Spencer the next day when she finds her office ransacked. Spencer tries to tell her that she's not responsible, but the woman doesn't listen. She gives Spencer her dad's address and tells her to leave her alone.
Aria and Spencer pay a visit to the old doctor, who doesn't appear too thrilled to talk. A bottle of whiskey definitely encourages him though. He reveals that he was the on-call doctor at Radley and that the patients weren't treated well. He was the person in charge of making the "problems" go away.
The doctor delivered both of Mary Drake's children. The first was a boy, which he remembers giving to Mary's sister, Jessica (Andrea Parker). The second baby was a "fighter and underweight, but tenacious." He doesn't remember if it was a boy or a girl, but knows that it was put into temporary custody of county family services. He doesn't know what happened to the baby after that. Eventually he became a liability for Radley and lost his license after that.
The information is interesting, but not too helpful. Spencer has to look into every person who worked at county family services during the 90s. But Alison has another idea how they can keep digging into Noel Kahn. She breaks into her principal's office to find his old school file. Unfortunately it looks as if A.D. is one step ahead of her. Inside is a sheet of paper that reads: "I warned you b------. Do you really want to end up dead?"
The note causes Hanna to lose her cool. She makes a call to a mysterious person to tell them that the "deal is on." She'll give this person money in exchange for keys — after that she warns them to forget her name and that she ever called.
What's Hanna up to? It's not clear, but it's definitely dark. She even goes to Caleb to warn him that she'll be off the grid in New York for a couple of days doing things for her fashion line with Lucas. He wants to go with her, but she tells him no. She does turn back for a hug though, and the two almost kiss.
Episode 8 of "Pretty Little Liars" ends with Aria cashing in her and Ezra's tickets to Italy to elope in order to get him a ticket to fly to Columbia. He appreciates the gesture and gives her a passionate kiss goodbye. But Aria's not so sure she made the right decision. She zips up her wedding gown, seemingly giving up on the idea of her and Ezra getting their happy ending.
Elsewhere, Paige spies on Emily with Sabrina (Lulu Brud). Is she jealous of their relationship? Or does she have something else up her sleeves?
The one to watch though is Hanna. She's seen taping newspapers to the window in a dark apartment.
© Copyright IBTimes 2023. All rights reserved.
FOLLOW MORE IBT NEWS ON THE BELOW CHANNELS