'Pretty Little Liars' Season 7 Spoilers: Jenna's Dark Secret Revealed; Another Death Rocks Rosewood In Episode 6 [RECAP]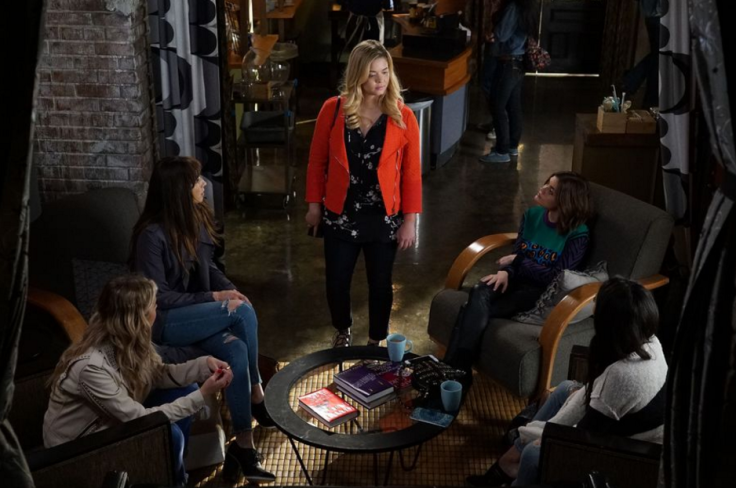 What do you do when you throw one friend under the bus to save another? The secret is out on "Pretty Little Liars," and Alison isn't happy about it.
Fans of the Freeform series will remember that Spencer (Troian Bellisario), Aria (Lucy Hale) and Emily (Shay Mitchell) decided to give Alison (Sasha Pieterse) to A.D. in order to save Hanna (Ashley Benson). The girls truly thought that Alison was the person responsible for killing Charlotte (Vanessa Ray), and believed that she was safe while locked in the mental institute. Of course, what they didn't know was that Alison's twisted doctor husband, Elliott Rollins (Huw Collins), was the person pulling the strings.
Alison showed up at The Brew in episode 6 wearing the red jacket that they left for A.D. As soon as they see their old friend in it, they know that their tormentor leaked their dark secret to her. Needless to say, she's pretty upset.
"You thought that Hanna's life was worth more than mine," Ali says to Spencer after storming out of The Brew.
Spencer insists that they thought she was safe and that they tried to save her too. Unfortunately for Spencer, Alison holds a grudge.
The two are interrupted by a text from Mary Drake (Andrea Parker), who informs Alison that Detective Furey (Nicholas Gonzalez) is waiting for her at the house to give an update on Elliott. Spencer tags along, although Alison clearly wants to be alone. When they get to the house, Furey reveals that Elliott's real name is Archer Dunhill. He's 31 years old and originally from Wales. He's wanted in the U.K. for petty theft and fraud. What's really juicy is that they think that Archer planted the rental car and bought the train ticket to divert their attention. In fact, Fury is pretty certain that he's still close by because he has "unfinished business."
While all of this information is interesting, Spencer's focused on clearing the air with Furey after their steamy hookup in the elevator. She tells him that she doesn't want things to get complicated and he's OK with that.
Elsewhere, Hanna's freaking out. She's certain that Elliott is still alive, and a call to his burner phone does nothing to ease her worries.
"Next time you bury someone make sure they're dead," the mystery caller says. It's a male with a British accent — but is it really Elliott?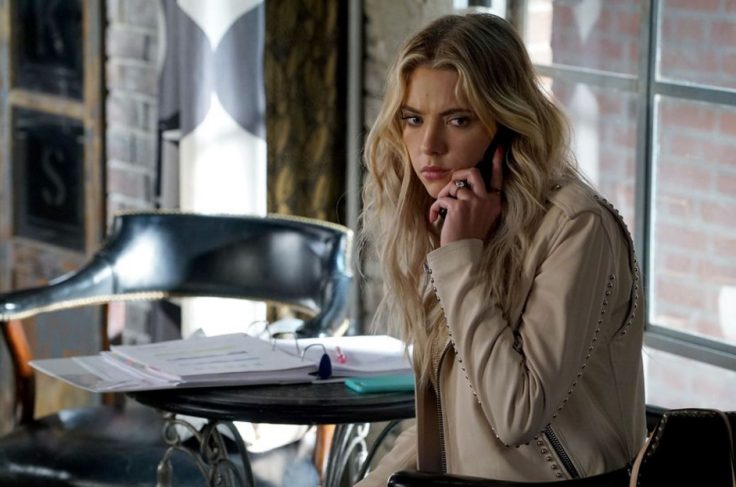 Hanna goes to Aria to tell her that they need to go to the police, but Aria is distracted thinking about Ezra (Ian Harding) and his proposal. Hanna leaves her house in a hurry and Aria finds her outside of the police station. She didn't go in to tell the police, and the two finally come clean about what's eating at then. Aria explains Ezra's proposal and how she doesn't want to say yes if she could end up behind bars. Hanna encourages her to tell him, sharing that she ended things with Jordan (David Coussins) because they weren't meant to be together like Aria and Ezra are. The two leave the police station feeling a little bit better, but a bald police officer is suspiciously watching them from across the street.
Elsewhere, Emily watches as Sara Harvey (Dre Davis) enters the elevator at the Radley with a gift in her hand. When the bar receives a call to deliver drinks to Jenna's (Tammin Sursok) room, Emily jumps at the chance. She quietly enters the room, dropping off the drink without saying a word. When Jenna starts playing her flute, Emily snoops on her computer and finds a website for car rentals in Baltimore up on the screen. She manages to minimize the tab and find a folder titled "Charlotte DiLaurentis" on the computer, but Sara enters the room before she can find out what's in it.
"Someone is threatening us again," Emily fires at Jenna. "And I think it's you."
Sarah interrupts and says that they're in Rosewood looking for the same thing, but Jenna quiets her before she can say anything else. It's only when Emily threatens to go to the police to tell them that Jenna knew Archer that Jenna decides to come clean.
According to Jenna, she was Charlotte's friend. She was the one that set her up with Archer and got him his fake passport. Archer loved Charlotte and was trying to get her out of the mental hospital, but they needed Alison to vouch for her in front of a judge. Jenna wasn't just responsible for setting up Charlotte and Archer. She was also helping Charlotte look for her birth mother.
Sara tells Emily that she should go and never come back. Emily thinks that Sara is threatening her, but in reality Sara is trying to warn her. She tells her that it's not Jenna she needs to be worried about, it's … Jenna cuts her off before she can tell Emily who she should be watching.
That's a lot of information to process, and Mary Drake is revealing more dark secrets. When she returns to Alison's after collecting some things from the Lost Woods Resort, she finds her niece going through her belongings. Alison is holding a ballerina necklace that used to belong to her mother, and she found it in Mary Drake's things. She tells her aunt that there are gaps in her story and she wants answers.
Mary Drake claimed that she never knew Charlotte, yet when Alison first met her, Charlotte was going by the name CeCe Drake. If Mary didn't know about her, then how did CeCe have her last name? Mary has no explanation other than that maybe Charlotte knew about her. As for why she stole the ballerina necklace? Mary Drake claims that Jessica (Andrea Parker) stole everything from her, including the necklace that she had as a child.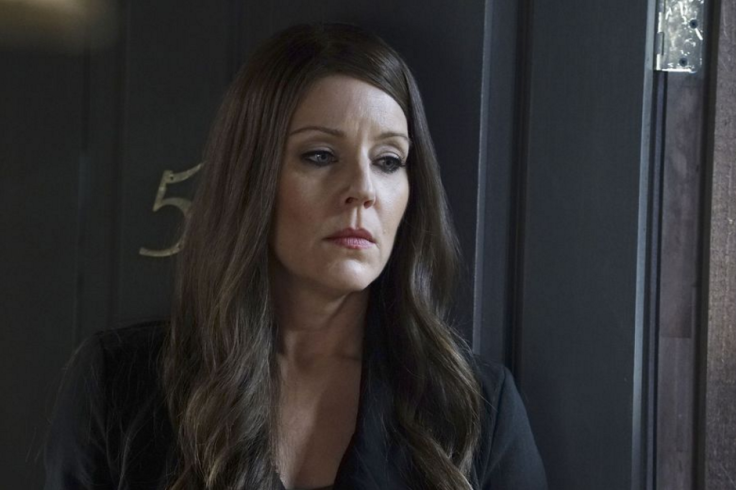 Speaking of taking things back, Hanna finally confesses to Spencer that she ended things with Jordan. Spencer takes the news OK because she officially ended things with Caleb (Tyler Blackburn) earlier that day. She's just disappointed that Hanna couldn't confide in her. But the sweet moment between the old friends is cut short when Elliott/ Archer's burner pone rings.
"First you turn her in, then you leave her all alone," the British caller says. "Stupid b------."
Spencer and Hanna call Alison in a panic, truly believing that Elliott crawled out of the shallow grave they dug for him. And Alison's just as worried. She goes outside to the police officer stationed in front of her house and asks that he come inside while she waits for backup to arrive. Unfortunately for Alison, the officer is the same bald man that was watching her friends earlier. But he's not really bald. He's wearing a full mask, just like Elliott used to wear when he pretended to be Detective Wilden (Bryce Johnson).
When Alison turns around, the officer is gone. She enters her bedroom to find the words "Honey I'm Home" painted on the wall. The officer grabs her from behind and starts choking her. Alison rips off a piece of his mask but doesn't get a chance to see his face. Sirens from more police cars scare him off before he can finish the job.
Episode 6 of "Pretty Little Liars" concludes with Aria getting the call at Ezra's about Alison's attack. While she's worried about her friend, she's somewhat relieved that they didn't really kill Elliott. She had just told Ezra everything that happened, and he didn't care. He once again gets down on one knee to propose to Aria and this time she says yes.
But Elliott/ Archer truly is dead. Hanna and Spencer return to the woods where they buried him to look for his body — and they find it decaying right where they left it. And that's not the only body in town. A maid enters Sara Harvey's room at The Radley and discovers her bloody body in the bathtub. She had been trying to leave town but someone had been waiting for her at the door.
© Copyright IBTimes 2023. All rights reserved.