Prince George Is Learning To Do Things For Himself At Nursery School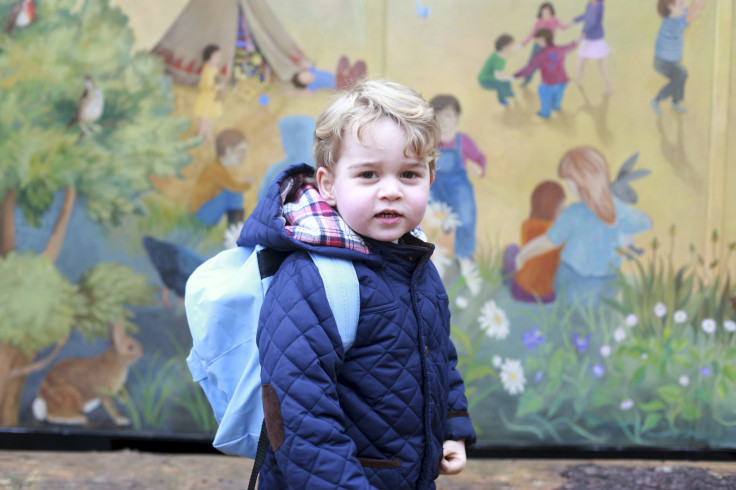 Prince George is learning to do things for himself at Westacre Montessori in East Walton. The little royal is learning "simple practical activities," like pouring, removing and replacing bottle tops and lids, fastening buttons and hooking zippers. He will also participate in group activities with other children, like story time, singing songs and learning about festivals in his nursery.
"There is a lot of focus on independence and helping children do things for themselves and make their own decisions and their own choices," said Louise Livingston, director of training of the nursery school. It has mix of age groups of students of up to five years. She added that the younger children learn by watching the older children and the older ones help the younger kids, which is beneficial for them.
She said that these small exercises teach the kids social behavior in an atmosphere where there's no competition. Little George is spending a few days a week at the preschool, starting off with a couple of hours a day to settle him in. When two-year-old George came to school, he was fully equipped with his powder-blue backpack.
His mom Kate Middleton had filled it with essentials like indoor shoes and a change of clothes, Livingston said, adding that there are many activities, like painting, where he could easily get wet. Besides, his bag also had some healthy snacks. The training head added that if the tot wanted to bring a book, he would be encouraged to do so, but he would have to leave it in a library area to be shared and read by and with the other children.
Meanwhile, it is being said that though George has just joined nursery school, his life including school has been mapped. If the little royal follows in his father Prince William's footsteps, then he could be heading off to boarding school at the age of eight.
© Copyright IBTimes 2023. All rights reserved.
FOLLOW MORE IBT NEWS ON THE BELOW CHANNELS