Prince George 'Very Protective' Of Younger Siblings, Helps Mom Kate With Chores: Report
KEY POINTS
Prince George will celebrate his ninth birthday on Friday
Prince William and Kate Middleton's eldest son is reportedly a hard worker and a "very smart" student
The young prince is reportedly a protective big brother to Princess Charlotte and Prince Louis and helps his mom with household chores
Prince George takes his role as a big brother seriously, according to a new report.
As Prince William and Kate Middleton's eldest child gears up to celebrate his ninth birthday on Friday, an unnamed royal insider shared with Us Weekly an update on Prince George and his relationship with his younger siblings Princess Charlotte, 7, and Prince Louis, 4.
"George is a hard worker. He sometimes needs a nudge like all kids his age, but he's very smart and right up there at the top of his class," the source told the outlet. "He's very protective of his younger siblings and goes out of his way to help his mother with the household chores, especially when it earns him extra time on electronics!"
The insider described the young prince as a "well-grounded down-to-earth little boy" who has similar interests to other children his age. George and his dad Prince William also frequently bond over their shared passions, including sports and helicopters, according to the source.
"He's very sociable and can chat for hours about his favorite soccer players, plus he loves rugby, cricket, all forms of sports really," the tipster told Us Weekly of Prince George. "He's definitely a daddy's boy. It's not just their physical resemblance, they've got a ton of the same interests and hobbies in common – even helicopters!"
The Duke of Cambridge, 40, previously opened up about his eldest son's love of soccer during an appearance on the "That Peter Crouch Podcast" in July 2020.
The dad-of-three, who is a fan of the Aston Villa soccer club, shared that he let Prince George choose his favorite soccer team in his own way, adding that "it's about finding what fits for him."
But though Prince William and Middleton have done their best to give Prince George a normal childhood, the 8-year-old is already aware of his future role in the monarchy, according to Us Weekly's source.
His great-grandmother Queen Elizabeth, grandfather Prince Charles and dad Prince William told the young prince from an early age about his "destiny" so Prince George is "well aware" that he will one day take over the throne and has even started preparing for his future role, the insider told the outlet.
"He sees it as a huge honor and frequently asks his dad to loan him books about history, he loves listening to stories about his ancestors and the history of the Commonwealth, not just England. It's very clear he takes it all very seriously and is dedicated to serving the Crown when his time eventually comes," the source added.
The Duke and Duchess of Cambridge have been slowly introducing their eldest to the various royal duties he would take on someday. Earlier this month, Prince George made his Wimbledon debut and watched the men's singles final with his parents.
For the outing, Prince George donned a navy blue suit and matching striped tie, which sparked concern among royal fans online. The young royal was reportedly heard telling his dad that he was "too hot" in his suit during the match. The prince was also seen wiping his head and drinking from a gray cup.
Prince George's outfit was related to the Royal Box's strict dress code. The All England Lawn Tennis Club requires all men in the Royal Box at Centre Court to wear "suits/jacket and tie," according to the tennis tournament's website.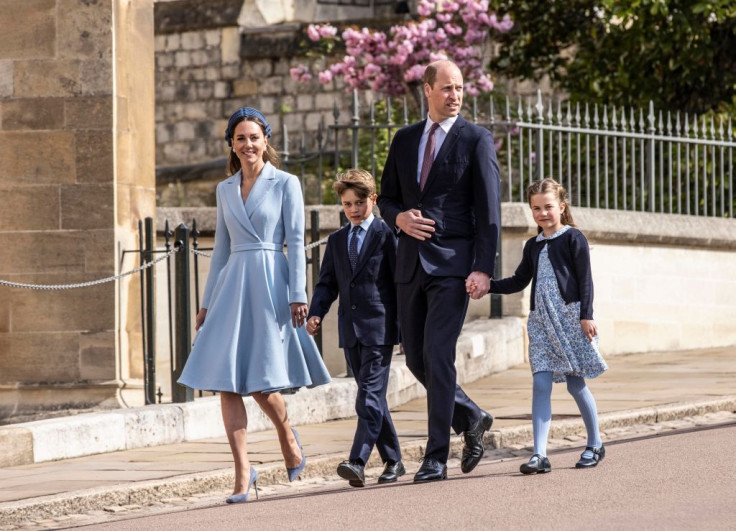 © Copyright IBTimes 2023. All rights reserved.