Prince Harry Adorably Kisses Princess Diana On The Cheek In Photo
Prince Harry was always loving and affectionate towards his mom, Princess Diana.
Years ago, the mother and son duo posed for a photograph where they showed how much they love each other. In the snap, a young Prince Harry is hugging the late royal around the neck while kissing her on the cheek.
The Duke of Sussex's eyes is half-closed in the snap, making the sweet moment between him and his mom more special. Princess Diana is also smiling from ear to ear in the snap. She is looking straight into the camera with love and in her eyes.
Prince Harry and Princess Diana were very close to each other when the latter was still alive. In fact, the Duke of Sussex only has wonderful things to remember his mother by.
For instance, he and Prince William both agree that Princess Diana was the naughtiest mom in the world. She would often embarrass her sons by sending them kinky cards and by teasing them in front of other people.
But whenever Prince William and Prince Harry needed support, the Princess of Wales was always there. In fact, when the royal siblings were much younger, Princess Diana made it a point to give Prince Harry the same treatment that she was giving to Prince William.
The late royal was aware that the members of the royal family were giving Prince William special treatment simply because he's an heir. Prince Harry also noticed how the Queen Mother would ask Prince William to sit beside her whenever they are visiting the palace.
"Charles and I worked so hard to ensure both boys receive equal amounts of our time and love, others in the family seem to concentrate on William," Princess Diana told royal reporter Richard Kay.
She also gave Prince Harry the unique nickname "GKH" or "Good King Harry" because she was convinced that the Duke of Sussex was more suited for the role than the Duke of Cambridge.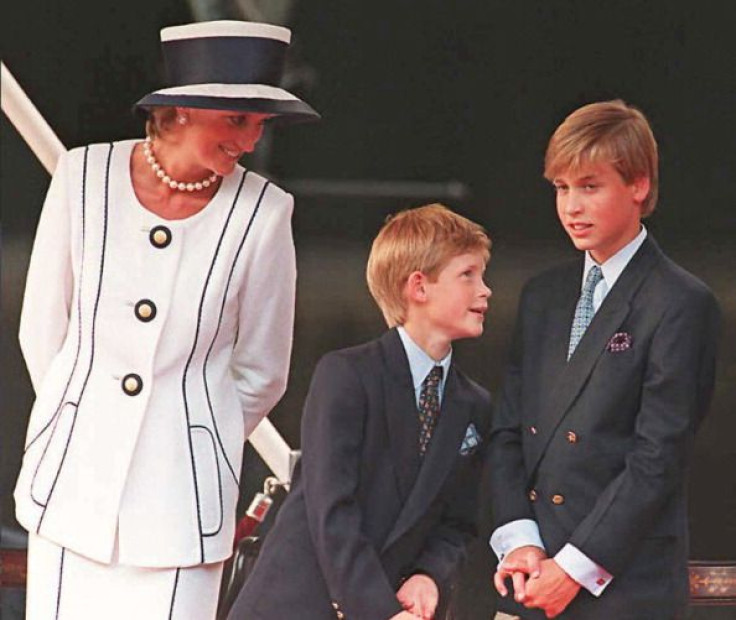 © Copyright IBTimes 2023. All rights reserved.