Prince Harry Caught Stealing Samosas At Meghan's Event; Netizens Still Praise Him
Prince Harry did a mischievous act at his wife Meghan Markle's event.
On Thursday, the Duke of Sussex was caught stealing some samosas. Chris Ship shared a clip of Prince Harry hiding the food behind her back then giving the camera a cheeky smile on Twitter.
"I could be wrong but I reckon we've caught Prince Harry red handed stealing some samosas from the Meghan's 'Together' cookbook event they were at today!! Have a watch... " Ship wrote in the caption.
Fans found the video adorable and they enjoyed seeing the royal prince's reaction.
"Hahahaha! I needed to laugh after a distressed day. Liked how he fessed up with that big, broad smile," one user wrote.
"I saw a documentary where Prince Harry did the same when he was a little boy and he visited HM his grandmother at tea time, his mom Princess Diana told him it was ok just don't get caught," another user added.
"Nothing funnier than a kid caught with with his hand in the cookie jar," another user commented.
"Never change Harry!" Mimi wrote.
Royal fans were also impressed with one of Prince Harry's acts on the same event. The Duchess of Sussex was posing for a photograph when the wind picked her hair up. Prince Harry quickly jumped into action by flattening Markle's hair. The new royal turned to her husband with a huge smile on her face.
"There is nothing like a husband attending to his wife, this is beautiful," one follower commented.
"Such a cute couple! Love them both!" another one added.
"Thanks for making sure your wife is alright, a true gentleman indeed," another follower wrote.
In related news, Princess Diana, Prince William and Prince Harry reportedly enjoyed their Saturday nights together while eating McDonald's while watching "Blind Date." The royal trio was also very involved with the show based on their reactions.
"The three of them would nip to McDonald's for a Big Mac and fries before coming back to watch [UK reality TV series] Blind Date," Paul Burrell said. "All three of them would squat on this massive, stuffed hippopotamus Diana had in her sitting room. They loved Blind Date and you'd hear them all screaming things like 'Oh don't pick him!'"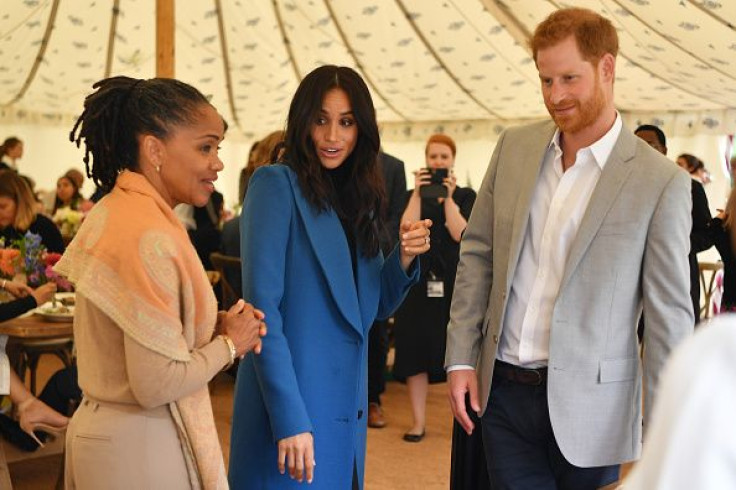 © Copyright IBTimes 2022. All rights reserved.
FOLLOW MORE IBT NEWS ON THE BELOW CHANNELS