Prince Harry 'Heartbroken' After Queen's Initials Were Stripped From Military Uniform: Report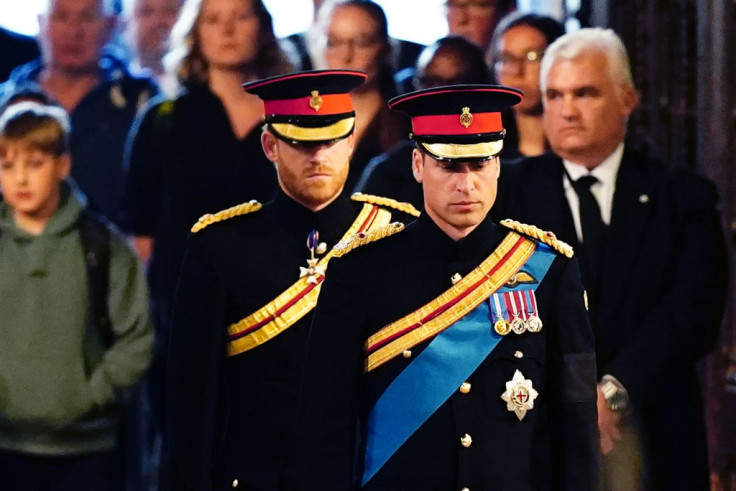 KEY POINTS
Prince Harry's military uniform during a vigil for Queen Elizabeth Saturday didn't have his grandmother's "ER" initials
Prince William's epaulet featured an embroidered "ER" on the shoulder
Buckingham Palace has not publicly addressed why Prince Harry's uniform did not feature his grandmother's initials
Prince Harry was allowed to wear his ceremonial military uniform to a special vigil for Queen Elizabeth II over the weekend, but a significant royal cypher was noticeably removed from his outfit.
After getting special permission from King Charles III, the Duke of Sussex wore the Blues and Royals No. 1 dress uniform when he joined his brother Prince William and his cousins at Westminster Hall to stand guard at the Queen's coffin Saturday.
However, eagle-eyed royal fans noticed that while Prince William's epaulet featured an embroidered "ER" on the shoulder, Prince Harry's did not. The "ER" is Queen Elizabeth II's initials, which frequently appeared on her stationary and on signed documents, Us Weekly reported.
Buckingham Palace has not publicly addressed why Prince Harry's uniform did not feature his grandmother's initials.
A friend of Prince Harry told the Sunday Times of London that the Duke of Sussex was left "heartbroken" when his military uniform was returned to him from Buckingham Palace "stripped" of the Queen's initials.
"To remove his grandmother's initials feels very intentional," the friend, who was not named, added.
The Saturday vigil marked the first time Prince Harry was able to wear his military uniform since he and his wife Meghan Markle stepped back from their roles as senior working royals in 2020.
He was initially not allowed to wear his uniform to the vigil. Buckingham Palace had announced that only working members of the royal family who hold military rank will wear military uniforms at the five major ceremonial events leading up to and including the Queen's state funeral.
However, his uncle Prince Andrew, who was forced to quit public duties in 2019 and was stripped of his honorary military titles following a sexual abuse case he settled in February, was permitted to wear his uniform during the final vigil at Queen Elizabeth II's coffin in Westminster Hall as "a special mark of respect for Her Majesty."
Following the announcement, a spokesperson for the Duke of Sussex said in a statement to royal correspondent Omid Scobie, "[Prince Harry] will wear a morning suit throughout events honoring his grandmother. His decade of military service is not determined by the uniform he wears, and we respectfully ask that focus remain on the life and legacy of Her Majesty Queen Elizabeth II."
However, days after the statement was released, the palace reversed the decision and granted Prince Harry an exception for the grandchildren's outing alone.
But while Prince Harry's uniform did not have the same "ER" emblem as his older brother Prince William's, they both wore three medals that they received from the Queen's Gold, Diamond and Platinum Jubilees.
Prince Harry had an additional ribbon to denote his service fighting on the front lines in Afghanistan, where he previously served two tours of duty.
Prince Harry and Markle will attend Queen Elizabeth II's state funeral at Westminster Abbey Monday and walk in the procession with other members of the royal family.
Both Prince Harry and Prince Andrew are expected to wear mourning suits to the funeral.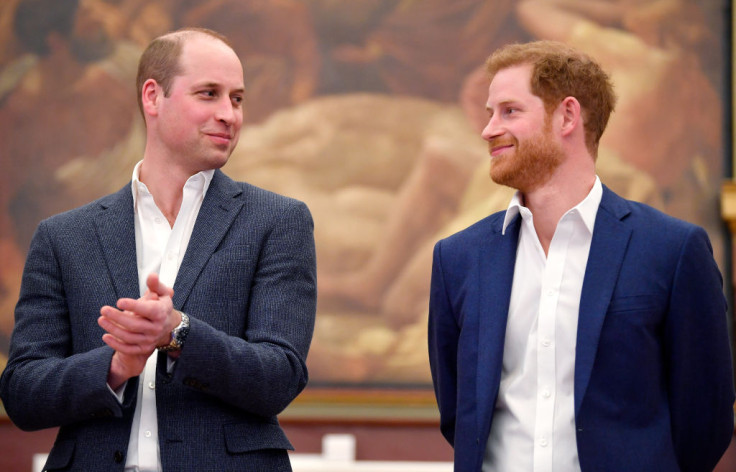 © Copyright IBTimes 2023. All rights reserved.