Prince Harry Lost Boyish 'Fun' Facial Expressions Amid Meghan Markle Pregnancy
Prince Harry has changed a lot after finding out that Meghan Markle is pregnant.
According to body language expert Judi James, the Duke and Duchess of Sussex's movements have become more mirrored. In addition, Prince Harry is more focused on Markle that it seems one has to tap his shoulder to get his attention.
"The early months of Meghan's pregnancy showed Harry has absorbed and possibly in awe of her as she had been with him during their engagement and early marriage," the expert said.
Prince Harry has been very protective of Markle since they started dating. Now that the former "Suits" star is pregnant, his vigilance has intensified. James also noticed Prince Harry's intense frowning and more serious facial expressions reflecting the sudden increase of his responsibilities.
"Harry lost the boyish 'fun' facial expressions that always made him look so naughty and adopted a more adult, serious mode as he changed states to husband and then father," James added.
On the other hand, Markle is adopting a much more openly central role based on her body language. The duchess has always shown the highest levels of confidence and it seems that she has already accepted the fact that she's a very popular royal in her own right. Her confidence shows in her completely upright posture and high-held head.
"Harry, meanwhile, shows all the signs of being a rather anxious and protective dad-to-be even though his wife isn't showing public signals of needing or wanting to be fussed over," James added.
Meanwhile, James previously commented on the fab four's reunion for the royals' traditional Christmas morning service. During the outing, Kate Middleton and Markle, who were rumored to be feuding, appeared friendly as they smiled and chatted along the way.
According to James, Middleton and Markle only put on a united front for the camera. She added that Middleton was taking her maternal role and was putting her future role as a queen in mind.
On the other hand, royal brothers Prince Harry and Prince William didn't look at each other's direction during the outing. The dukes looked distant and appeared ill at ease.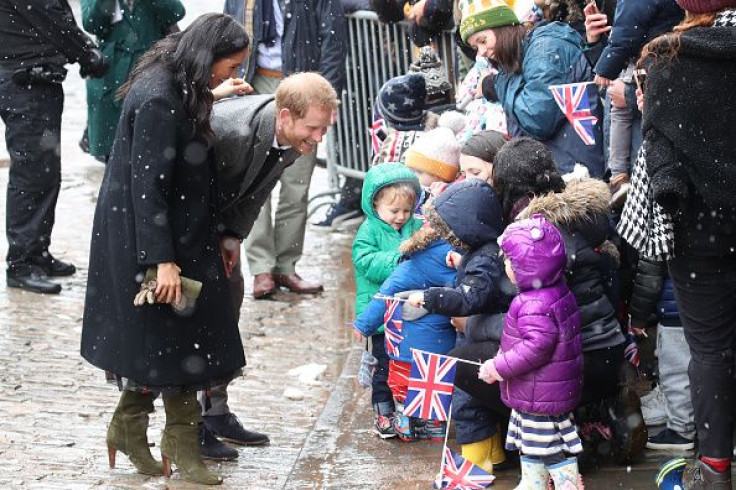 © Copyright IBTimes 2023. All rights reserved.