Kate Middleton, Prince William's Hand-Holding 'Affectionate,' Prince Harry, Meghan Markle's 'More Romantic'
An expert has explained the details about Prince William and Kate Middleton's and Prince Harry and Meghan Markle's hand-holding.
The Duke and Duchess of Sussex are very tactile and often hold hands or touch each other even if they are in official royal engagements. On the other hand, the Duke and Duchess of Cambridge aren't as affectionate, but they sometimes hold each other's hands too.
According to body language expert Judi James, there are different meanings in the way the fab four hold each other's hands. One pair is affectionate, while the other is more romantic.
"William and Kate's hand-hold is clearly affectionate although not overly intimate or too telling," James said about the future king and queen.
Prince William and Middleton place their palms together when they hold hands the way a parent and child do. This is reportedly an affirmation gesture to show that the linking movement is appreciated.
James also noted how the Duke and Duchess of Cambridge take turns in being in charge depending on who between them is more confident or assured at the time.
"Harry and Meghan use the far more intimate form of hand-holding with their fingers splayed and entwined or meshed," James said. "This is a more romantic form of hand-holding and suggests a desire to be as close to your partner as possible."
James said that this gesture is less practical when it comes to non-verbal communication because the fingers have less scope for movement and there's less fingertip touch. She believes that the way the Duke and Duchess of Sussex hold hands speaks more of their feeling of closeness and passionate love and less of transmitting subtle signals to one another.
James said earlier that Prince William and Middleton don't hold hands as often as Prince Harry and Markle because they don't need it. They know each other very well and don't have to touch each other to know what the other one was thinking.
Another body language expert Robin Kermode had the same observation. He agreed that the Duke and Duchess of Cambridge's are emotionally close and do not need to prove their love in PDAs especially when they are on official state business.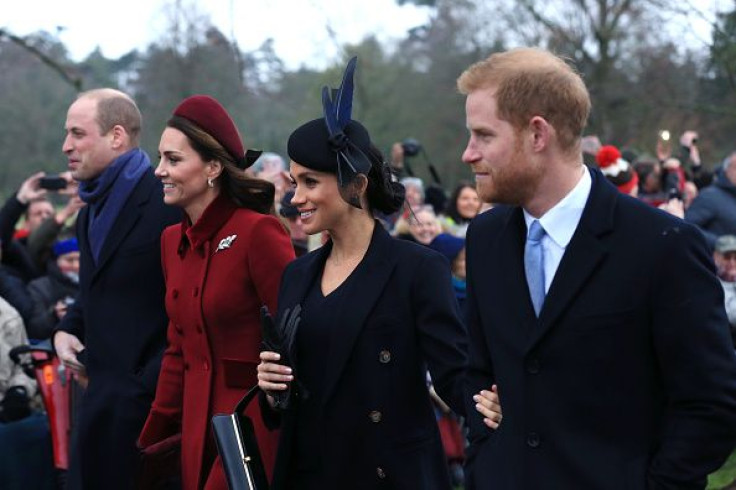 © Copyright IBTimes 2023. All rights reserved.