Prince Harry, Meghan Markle Communicating Secret Codes By Holding Hands, Expert Says
Meghan Markle and Prince Harry are very tactile, and touching hands may be a way of communication for them.
The Duke and Duchess of Sussex are currently on their Commonwealth tour. Just like before, Prince Harry and Markle are not shy when it comes to showing PDA and holding hands, which isn't usual among royals. According to body language expert Judi James, the couple is communicating secret codes to each other with their gestures.
"It helps them move well together and to read one another's thoughts and emotions," James said (as quoted by Express).
Prince Harry and Markle did the same gesture at Melbourne Beach. According to the expert, the duchess is showing signs that she's more vulnerable and the duke is reassuring his wife. In the same way, Markle is also making her husband feel her presence.
"Meghan responds in a congruent, complimentary way here, pulling his arm towards her body and nestling slightly behind it to suggest a more vulnerable moment," James continued. "The clasp and arm-rub will be Meghan's way of reminding her husband of her loving presence and offering him reassurance at the same time."
"This acceleration form of touch makes it look as though it is Meghan primarily wanting to keep the tactile nature of their appearances alive. Her reassurance rubbing like this is quasi-maternal, boosting his confidence and ego in public."
Although the pair is very comfortable showing their affection in public, they also knew when to let go. "Part-hold with pointed fingers announces that they a only a few paces from meeting their hosts and so should prepare to drop the clasp in time to perform their greeting rituals," Judi said.
In related news, James said earlier that Markle had shown signs of pregnancy on her first solo charity engagement that we all missed. The Duchess of Sussex put the best clue during the launching of her cookbook when she arrived and covered her tummy.
As for the couple's baby, the odds of them having twins have risen from 8-1 to 4-1. There has been a rush of bets that Prince Harry and Markle would not only welcome one baby but two since they announced to the public that they are expecting.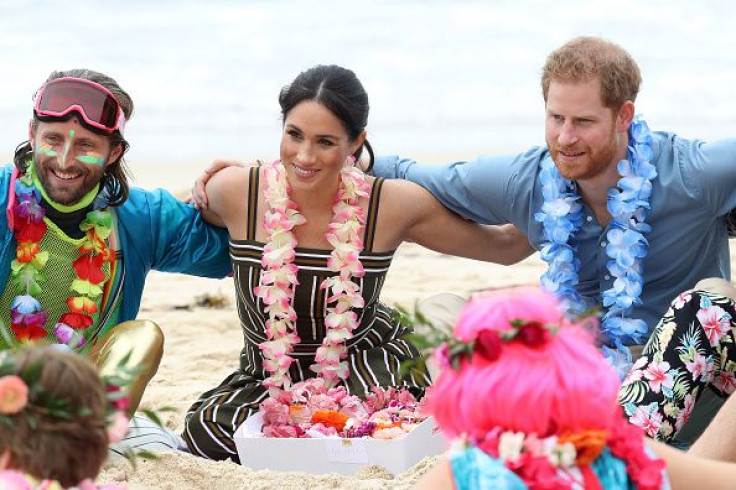 © Copyright IBTimes 2022. All rights reserved.
FOLLOW MORE IBT NEWS ON THE BELOW CHANNELS