Prince Harry, Meghan Markle Seen With Archie At Fourth Of July Parade: Report
KEY POINTS
Prince Harry and Meghan Markle attended the Jackson Hole Fourth of July parade in Wyoming with their son Archie Monday
Photos showed the couple sitting on the sidewalk and holding Archie's hand as they watched the parade
The couple's 1-year-old daughter, Lilibet, was not pictured at the event
Prince Harry and Meghan Markle celebrated Independence Day with their son, Archie, earlier this week.
The Duke and Duchess of Sussex, who live in Montecito, California, with their kids, were spotted at the Jackson Hole Fourth of July parade in Wyoming with their 3-year-old son Monday.
Photos obtained by Daily Mail four days later showed Archie watching the festivities from the sidewalk with a lollipop in his mouth and a mini flag in his hand. The toddler sported a blue striped shirt, jeans, blue shoes and a "California Republic" cap for the outing.
Prince Harry donned a tan baseball cap, gray polo shirt, shorts and sneakers, while Markle opted for a sun hat, white tank top, jeans and huaraches sandals.
In the snaps, Prince Harry and Markle could be seen sitting on the sidewalk and holding flags. At one point, they held their son's hand and pointed to vintage cars in the procession as Archie looked on.
The couple's 1-year-old daughter, Lilibet, was not pictured at the parade.
The Sussexes were joined by Markle's Pilates instructor pal Heather Dorak and her children.
Eagle-eyed sisters Susan Mills Echols and Deborah Mills Wall said the Sussexes went completely unnoticed until 15 minutes into the two-hour parade.
"We were standing nearby and this big guy told us he was saving the seats for a family. I said, Ok, that's fine. And a little bit later he said it again. I asked him if he wanted us to move but he said no, no. It was all a bit strange," Susan, a 58-year-old elementary school teacher from North Carolina, told Daily Mail.
"In my mind, I was thinking, what is this, is he expecting the Royal family or something? I turned around a minute later and I saw Meghan Markle and little Archie. And then behind her came Harry," she continued.
Deborah, 52, a professor of art education at the University of North Carolina at Charlotte, described the royal couple as "very down-to-earth and very normal."
"Harry and Meghan were just sitting down like everyone else, enjoying the show," she shared. "You could tell it was all about Archie for them. They were doting on him, playing with him. He was so cute and well-mannered. And he looked thrilled with his lollipop."
It is unclear why Prince Harry and Markle were in Wyoming or how long they stayed in Jackson Hole.
Last month, the duke and duchess flew to the U.K. with their children to join the royal family in celebrating Queen Elizabeth's Platinum Jubilee, which marked the monarch's 70 years on the throne.
Archie and Lilibet were not pictured at any Jubilee event, but reports said Prince Harry and Markle brought Archie and Lilibet to Windsor Castle to see Queen Elizabeth and Prince Charles before they returned home to California.
Prior to the Platinum Jubilee, the Queen and Prince Harry's father had yet to meet Lilibet in person, and the latter hadn't seen Archie since he was just 6 months old.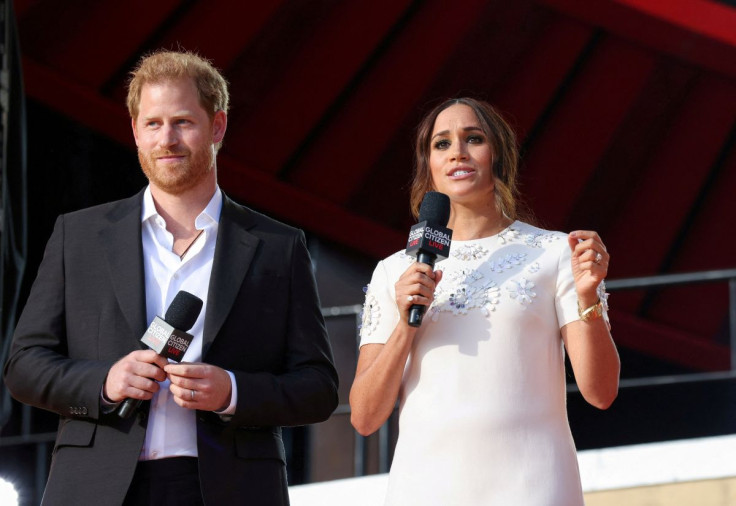 © Copyright IBTimes 2023. All rights reserved.