Prince Harry, Meghan Mocked On Twitter For Releasing UK Photos After Palace Unveiled New 'Fab Four' Pic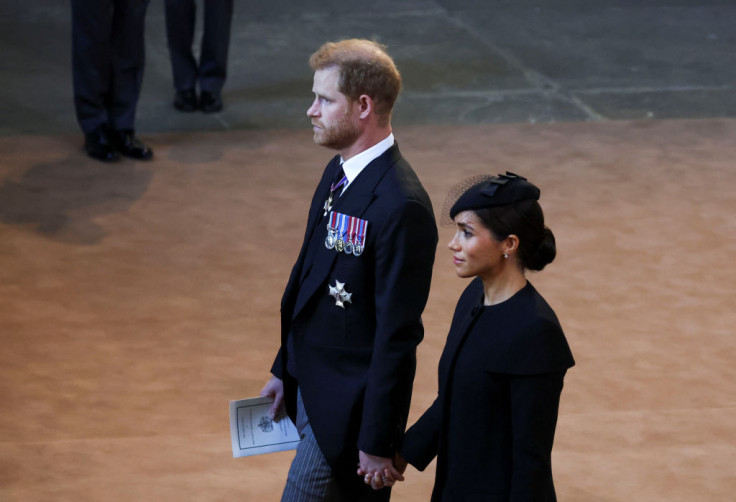 KEY POINTS
Photographer Misan Harriman released Monday photos of Prince Harry and Meghan Markle taken on Sept. 5
Some Twitter users mocked the Sussexes over the timing of the photos' release
Buckingham Palace shared a new portrait of the senior royals over the weekend
Royal fans on social media have questioned the timing of the release of Prince Harry and Meghan Markle's latest portraits.
Before Queen Elizabeth II's death on Sept. 8, the Duke and Duchess of Sussex were in Europe early last month for a series of charitable engagements, including the One Young World Summit in Manchester, England, where Markle delivered the keynote speech.
On Monday, photographer Misan Harriman released two new photos showing Prince Harry and Markle posing for the camera while holding hands, moments before they made an appearance at the One Young World Summit on Sept. 5.
However, the timing raised some eyebrows as the photos were released just two days after Buckingham Palace unveiled a new portrait of the senior members of the British royal family, King Charles III, Queen Consort Camilla, Prince William and Kate Middleton, who have been dubbed by some royal fans as the new "Fab Four."
"Haha, just a coincidence to release this less than 48 hours after the King, Queen, Prince and Princess posted theirs..." one commented.
"Pretty pathetic response to the Fab Four release. Her cosplay of Wallis is pretty jarring as well," another said, comparing Markle to Wallis Simpson, for whom Edward VIII voluntarily abdicated the British throne to marry.
"And that's the photograph taken by their buddy? We can see that they're really trying hard after King Charles released his portrait on Saturday," a third person wrote.
"The timing of this 'new' photo is hysterically transparent. The Sussex PR is in overdrive in their relentless thirst for relevancy," a fourth user said.
Some also questioned the need to post the photos of Prince Harry and Markle, who are no longer working royals.
"Why? What's the reason to publish this photo? They are so funny," one asked, adding tears of joy emojis.
"Why do private people keep releasing photos to the public? And why does her husband always look like he's less important?" another person opined.
Supporters of Prince Harry and Markle, on the other hand, praised the couple's new portraits and gushed over their relationship.
"They look amazing and actually do more than smile and wave," one fan wrote.
Another added, "The love between two empowered individuals is such bada-- energy. Prince Harry and Meghan Markle's love story is definitely one for the books."
"As normal loving couples do. A beautiful portrait," a third supporter said.
Harriman's shots were taken last month. However, they were only shared with the public two days after Buckingham Palace released a photo of the senior members of the royal family from a Sept. 18 palace reception for heads of state, from which Prince Harry and Markle were uninvited.
The Duke and Duchess of Sussex were reportedly initially set to join the other members of the royal family at the event, which was held on the eve of Queen Elizabeth's state funeral. However, the couple was later uninvited apparently because the reception was only for working royals.
Prince Harry and Markle stepped back from royal duties in 2020 and moved to California.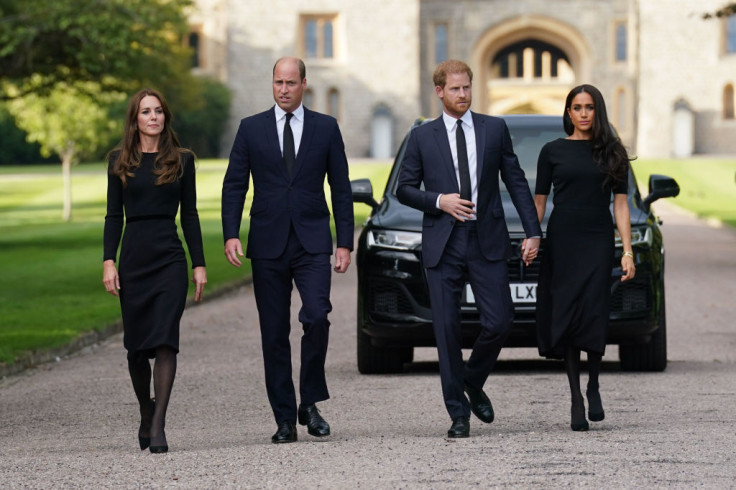 © Copyright IBTimes 2023. All rights reserved.