Prince Harry, Prince William 'So Relaxed' During Unveiling Of Mom Princess Diana's Statue, Expert Says
KEY POINTS
Princess Diana's friend and voice coach Stewart Pearce weighed in on Harry and William's reunion in London Thursday
Pearce noted that the brothers' interactions were "easy" and "humorous" during the unveiling of Diana's statue
The royal expert said he believes this would dispel rumors that there is a rift between them
Prince Harry and Prince William's interactions during the unveiling of their mom Princess Diana's statue may have proven that there is no rift between the brothers, according to a royal expert.
The Duke of Cambridge and Duke of Sussex reunited at Kensington Palace in London Thursday to honor their late mother on what would have been her 60th birthday. The late Princess of Wales' friend Stewart Pearce weighed in on the royal siblings' latest reunion, noting that Prince William and Prince Harry both appeared comfortable with each other despite rumors of a feud between the two.
"I feel that the vibration of it has detonated the essence of peace," he told Us Weekly.
"By the behaviors that were just so easy, so formal — or informal, rather — so humorous between the two of them, I felt that that behavior would actually completely change the way that the vilification has taken place, which is really based on the fear or [ideas of] so many people with so many opinions thinking that they've actually been talking to individuals within the royal court. Whereas actually they've only just simply been making the whole thing up," he continued.
Pearce, a voice coach who worked with Princess Diana until her death in 1997, went on to explain that he never believed the brothers had a full-on feud, and their most recent reunion only proved him right.
"It dispels any of the brouhaha over the fact that there's a rift," the royal author told the outlet. "I didn't believe that there was a rift. There was a slight disagreement, but I mean, who doesn't disagree with his brother? But [it's] been blown out of complete proportion, it's been overly dramatized. They both were so relaxed."
Meanwhile, professional lip reader expert Jeremy Freeman spoke to the Daily Star about the exchange Prince William and Prince Harry reportedly had when they were about to unveil the statue, which they commissioned in honor of their late mother in 2017.
Freeman claimed that a member of the staff who was instructing the brothers on how to unveil the statue told them, "As you pull it, it'll slide over and drop, OK." Prince Harry then turned to his older brother and reportedly said, "We will be OK," according to the lip reader.
Freeman further claimed he picked up the Duke of Cambridge's warning to his brother. "I didn't want anything to go wrong. It's important we unveil it right," Prince William reportedly said.
The pair then pulled the cloth off, and Prince William and Prince Harry looked up at the statue of their mom fondly.
Body language expert Judi James also noted that their "poignant moment" was a sign of a potential reconciliation.
"It suggests that, whatever happens between them now, some kind of emotional reconciliation might be possible in the future," James told the Daily Star.
Other members of the royal family — including Queen Elizabeth II, Prince Charles, Kate Middleton, Prince George, Princess Charlotte and Prince Louis— did not attend the memorial. Prince Harry's Meghan Markle remained in California with their two young children, Archie and Lilibet.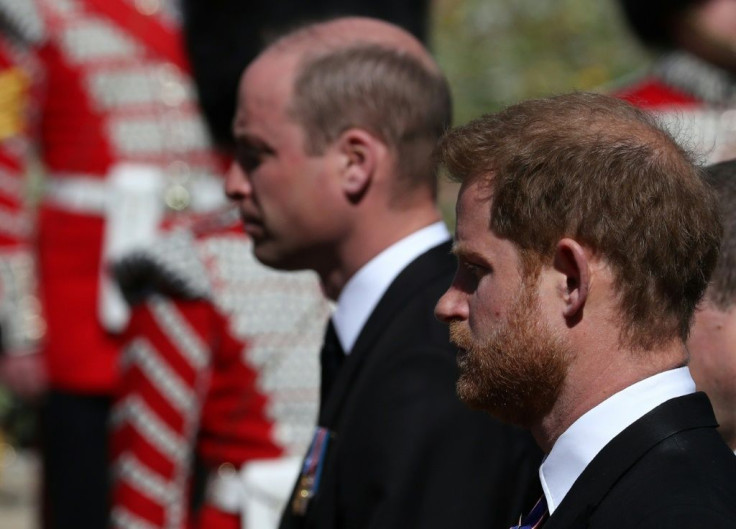 © Copyright IBTimes 2022. All rights reserved.
FOLLOW MORE IBT NEWS ON THE BELOW CHANNELS