Prince William, Kate Middleton, Prince Charles Have Different Titles In Scotland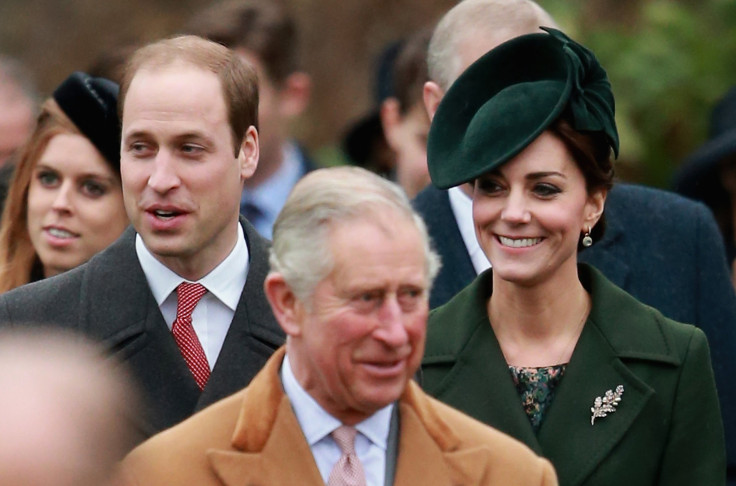 Prince William, Kate Middleton and Prince Charles are called by different titles whenever they visit Scotland.
The Duke and Duchess of Cambridge, as well as the Prince of Wales, are not addressed using their usual titles when they are in Scotland. According to Business Insider, the three royals have different titles in Scotland, which has a separate system of nobility from England.
Prince William received the title Earl of Strathearn in 2011 after he married Middleton. This also gives the Duchess of Cambridge the title Countess of Strathearn. The royal couple is addressed in this manner in Scotland.
Alex Salmond, the former first minister of Scotland, used these titles when he congratulated Prince William and Middleton when they were pregnant with Princess Charlotte in 2014. "Congratulations & best wishes to the Earl & Countess of Strathearn. Wonderful to hear they're expecting their second baby - very happy news!" he wrote on Twitter.
In addition, Prince William and Middleton have different Irish titles as well. Whenever the couple is in Ireland, Prince William is called Baron Carrickfergus. Meanwhile, Middleton is addressed as Lady Carrickfergus.
On the other hand, Prince Charles is called Duke of Rothesay in the country. The historic title was held by the heir to the Scottish throne before the two royal families merged in the early 1600s. This also gives his wife, Camilla Parker Bowles, the title Duchess of Rothesay. However, the Prince of Wales has no separate Irish title.
In related news, there are rumors that Prince Harry and Markle will earn the title Duke and Duchess of Sussex after their royal wedding. However, it is unclear if the groom and bride-to-be will have separate Irish and Scottish titles like Prince William and Middleton.
In related news, William Hanson, etiquette expert, suggested that the members of the royal family should stop hugging and touching their fans. Middleton has been seen giving high-fives in Scotland and hugging kids. Markle was also seen hugging schoolchildren.
According to Hanson, the public should not touch the royals due to the "ancient office and dynastic institution they represent." "For me, royalty should be royal. They are not supposed to be like 'one of us.' They must all be nice people, yes (and they are), but it seems that it's now all a bit too chummy and informal," Hanson wrote.
"We all know that royal funding is not the most secure fiscal fixture. The more that the royal family behaves like your average Joe, the weaker the argument is to give them that funding," he continued. "We don't fund them to be like us. If they are just like any other family, then what's the need to subsidise them? Why not give us the funding then, instead?"
© Copyright IBTimes 2023. All rights reserved.