Prince William Reportedly 'Grateful' After New Book Contradicts Meghan's 'Crying' Claim: Royal Commentator
KEY POINTS
Tom Bower claimed in his new book "Revenge" that it was Meghan Markle who allegedly made Kate Middleton cry
Markle claimed in her Oprah interview that Middleton made her cry and hurt her feelings during a disagreement over flower girl dresses
Royal commentator Neil Sean claimed Prince William is "grateful" that the alleged "true version of events" came to light
Prince William is reportedly "grateful" that a bombshell biography on the British royals has revealed the alleged truth about his wife Kate Middleton and sister-in-law Meghan Markle's bridesmaid dress feud, a royal commentator has claimed.
British author and former BBC journalist Tom Bower claimed in his newly released book, "Revenge," that the Duchess of Sussex was the one who made Middleton cry during their squabble in the days leading up to Markle's 2018 wedding to Prince Harry, contradicting the version of the story the former "Suits" star told Oprah Winfrey in March 2021.
Prince William, as well as other members of the British royal family, has not addressed the claims Bower made in his new book. But Neil Sean — a royal commentator and reporter who has been featured on Fox News, Sky News Australia, NBC News, MSNBC and Access Hollywood — claimed on his YouTube channel that the Duke of Cambridge was happy about the alleged "rectification" of Markle's version of the bridesmaid fight.
"Prince William is truly grateful, according to a very good source, that the rectification of this story has now come to light," Sean claimed in the video. "[The members of the royal family] always knew the true version of events, but the British monarchy [doesn't] come out and explain or complain."
International Business Times could not independently verify this information.
The royal commentator further claimed that he believes Prince William "will be very, very relieved that at least the true version of events has come out."
"It doesn't bode well because many people could say, 'Well, it's a case of he said, she said,' but there were too many people that backed up the original story, including TV personality Kirstie Allsopp, who also said to the media that she knew the true version of events," Sean added.
According to Bower's book, British host Allsopp, who is a friend of Prince Charles' wife Camilla, Duchess of Cornwall, confirmed that Middleton "was reduced to tears by Meghan bullying her staff."
Sean said in his video that he believes there is little chance of Prince Harry and Prince William repairing their rift anytime soon. He cited an unnamed source as saying that the claim that Middleton made Markle cry was just one of the many alleged "lies" spread about the British monarchy that Prince William reportedly "finds very hard to forgive and to forget."
In "Revenge," Bower claimed that Middleton "burst into tears" after Markle compared the Duchess of Cambridge's daughter Princess Charlotte "unfavorably to her best friend Jessica Mulroney's daughter," Isabel, during a dress fitting before the former actress' wedding to Prince Harry, Page Six reported.
The two duchesses also allegedly didn't see eye to eye regarding the length of Princess Charlotte's hemline or the fit of her dress and disagreed on whether Markle's bridesmaids "should wear tights" at the wedding, according to the book.
Mulroney, 42, and Mulroney's mom allegedly "supported" Markle's "insistence" in the feud with Middleton, Bower claimed.
Months after Prince Harry and Markle's royal wedding, The Daily Telegraph reported in November 2018 that Middleton was reduced to tears during a disagreement with Markle over flower girl dresses.
However, in her 2021 interview with Winfrey, Markle claimed that "the reverse happened" and that the tiff with Middleton "made me cry, and it really hurt my feelings."
"Everyone in the institution knew it wasn't true," she claimed.
Markle didn't go into detail but claimed that there was no confrontation and that she had forgiven Middleton, who reportedly apologized.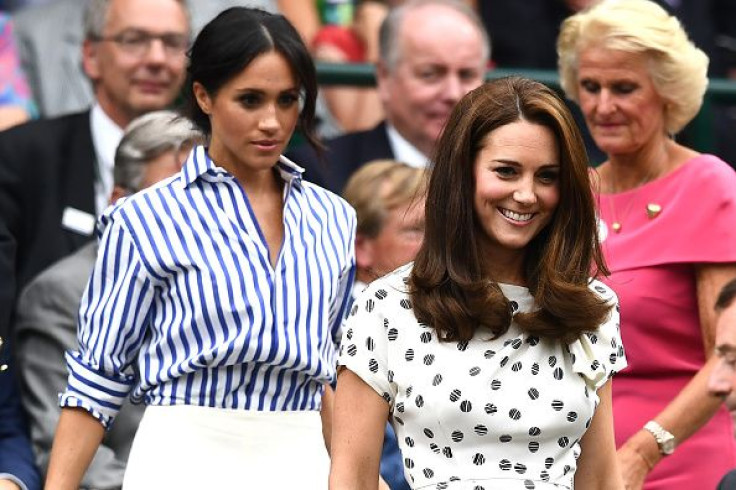 © Copyright IBTimes 2023. All rights reserved.