Prince William Reveals Children's Favorite Bedtime Story At Conservation Event He Hosted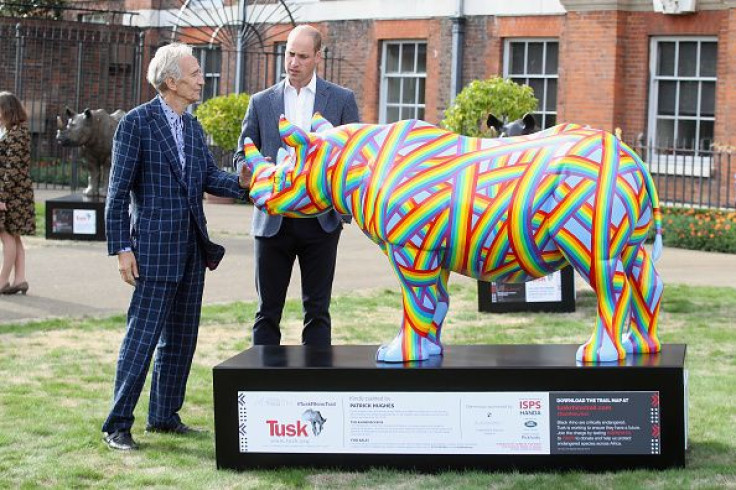 Prince William recently hosted a conservation event where he revealed his children's favorite books.
On Monday evening, the Duke of Cambridge hosted a star-studded event at Kensington Palace. Among his guests were Julia Donaldson and Axel Scheffler, the author and illustrator of "The Gruffalo" -- Prince George, Princess Charlotte and Prince Louis' favorite bedtime story.
In fact, when the 5-year-old prince and 3-year-old princess met the two, they didn't need any introduction. Prince George was also overjoyed and admitted that he could see the rhino from the windows.
"I know who you are. It's a big hit in our household, 'The Gruffalo,'" Prince George told Donaldson and Scheffler (via Hello!). "It's amazing, I love it. You can tell it's you guys. It's the eyes [of the animals] I think, you can always tell the eyes."
Prince William also joked that it was a good thing his son was not aware that the rhino was for sale, otherwise he would be "keeping an eye on it."
Kate Middleton's husband spent 20 minutes touring the Tusk Rhino Trail, which features 21 model rhinos decorated by different artists for charity. The models are on public displays at locations around London. It will be sold at Christie's auction on Oct. 9 to raise money for Tusk, which Prince William is a patron.
Tusk was published in 1990 at the height of the poaching crisis when thousands of elephants and rhinos were slaughtered to meet the demand of the illegal wildlife trade. The organization partners with Africa's conservationists to protect endangered species and combat this illegal activity so wildlife and people can thrive across the African continent together, Dail Mail added.
In related news, according to Christopher Andersen in his book "Game of Crowns: Elizabeth, Camilla, Kate and the Throne," the Duchess of Cornwall wanted Prince William and Middleton to split. Camilla was reportedly jealous of the Duchess of Cambridge because she was very well-liked.
In fact, Camilla asked Prince Charles to advise his son to break up with his girlfriend. Prince William and Middleton had a short split, but the two reconciled after a few months.
"I think I at the time wasn't very happy about it, but actually it made me a stronger person," Middleton said. "You find out things about yourself that maybe you hadn't realised. Or I think you can get quite consumed by a relationship when you are younger."
© Copyright IBTimes 2023. All rights reserved.