Prince William To Star On BBC Reality Show 'Helicopter Rescue' Amid Reports He Will Step Down From Royal Air Force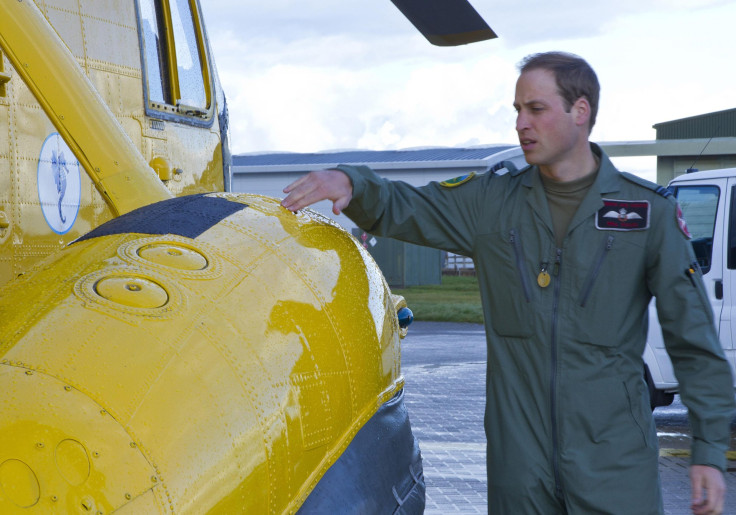 Prince William's future royal subjects will get a unique glimpse into his working life in a new BBC documentary series that chronicles Royal Air Force rescue pilots.
According to British tabloid the Sun, the future King of England is a major part of the storyline on the upcoming show, although his military service will reportedly end this year. The expectant father gave formal notice on Wednesday that he will be concluding his service with the RAF over the summer, around the same time that his wife, the Duchess of Cambridge, is expected to give birth, Us Weekly reported.
"William is ready to take on new challenges -- as a royal and within the armed forces," an insider told the publication, adding that the Prince "will be making an announcement within the next month and leave RAF Valley around the time of the birth."
Prince William's press officer didn't confirm or deny the news. "The decision as to what the Duke will do once his current tour with the Search and Rescue Force comes to an end in late summer is still with the Duke himself."
The Prince, who's known in the military as Flight Lt. Wales, has garnered a lot of publicity for his successful search and rescue efforts at the helm of his Sea King helicopter. In February, he helped rescue a middle-aged couple who had beome stranded while hiking in the mountains of Snowdonia in North Wales.
According to the Daily Mirror, the Prince was dispatched to search for the couple by helicopter after midnight and found them above a dangerous cleft called Devil's Kitchen.
"The helicopter came about 1 a.m. to search the mountain, which was quite difficult with patches of low cloud," a source told the newspaper. "Flying in the mountains at night with banks of low cloud requires great skill."
Prince William's younger brother, Harry, compared their piloting jobs in a recent BBC interview, admitting the two are both envious of each other.
"I think there is a bit of jealousy, not just the fact that I get to fly this, but obviously he'd love to be out here," Prince Harry said. "'And to be honest with you, I don't see why he couldn't. ... His job out here would be flying the IRT [Immediate Response Team], or whatever, doing Chinook missions. Just the same as us -- no one knows who's in the cockpit."
Prince Harry also acknowledged that William's job offered its own unique perks, which now also apparently include being a reality television star.
"It's operational flying back home. You get all the luxuries of operational flying -- the pride, as you call it -- and the reward of basically saving people's lives, which is exactly what we try and do as well," Prince Harry said. "And back home, he gets to go home to his wife and dog, whereas out here we don't. We're stuck playing PlayStation in a tent full of men."
© Copyright IBTimes 2023. All rights reserved.