Princess Charlotte's Blue Little Alice London Dress During Hospital Visit Sells Out
Princess Charlotte made headlines on Monday, April 23 after she was seen waving at the massive crowd outside St. Mary's Hospital's Lindo Wing.
The 2-year-old was photographed wearing a blue dress that really suited her. According to the Daily Mail, the dress is from Little Alice London, a brand that was created by Kate Middleton's friend from school Alice Avenel.
Avenel previously opened up about her brand and said that it all started in 2012 when she discovered a passion for smocking.
"My clever mother kept all of my beautiful smocked dresses from when I was a child but I found it very hard to find affordable dresses in the shops… my children wear smocked clothes all the time, not just for special occasions," she said.
According to Avenel, the dress that Princess Charlotte wore when she visited Prince Louis at the hospital has been sold out.
In related news, Princess Charlotte is reportedly spending more time with Prince Louis than their older brother Prince George. According to Elle, this is simply because Prince George goes to school on weekdays, and Princess Charlotte spends more time at home than her brother.
Princess Charlotte was also on a break from nursery school when her younger brother was born. And she only returned to school on April 26. On Monday, Prince George was even wearing his uniform when he visited Prince Louis at the hospital.
Upon entering the Lindo Wing entrance, Prince George wrapped his arm around Princess Charlotte's shoulder. The sweet moment was captured on camera.
But Prince George and Princess Charlotte's adorable gesture was criticized by Karl Stefanovic, an Australian TV host.
"I don't want to be disrespectful, but they could be aliens. I said earlier as well and a lot of people got very angry at me, but I do think they're fake kids because I don't think I've ever seen a kid who is this well behaved walk into any kind of establishment," he said (via Hello!).
Deborah Knight, Stefanovic's "Today" co-host, seconded his statement.
"They are very, very reserved, not like your average Aussie child," she said.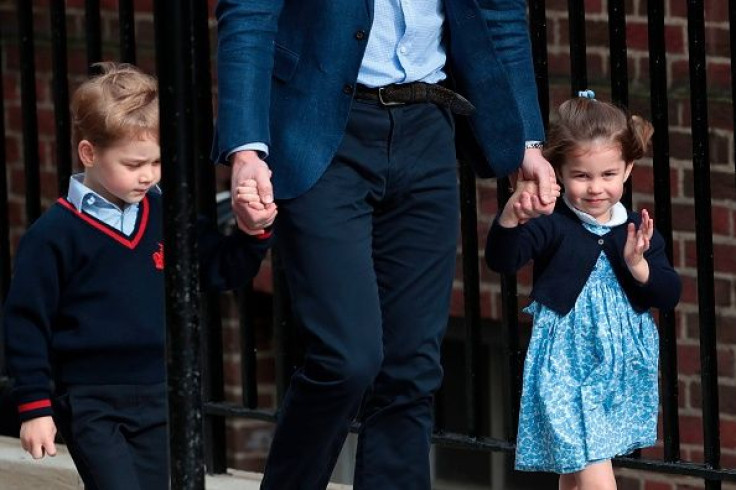 © Copyright IBTimes 2023. All rights reserved.