Princess Diana, Kate Middleton Have Twinning Moments Despite Never Meeting
Princess Diana and Kate Middleton never met, but the two female royals seem to share the same taste when it comes to clothes.
The Duchess of Cambridge has channeled her late mother-in-law during several public appearances. After all, Princess Diana's unique sartorial fashion sense remains relevant until today.
In 1985, Princess Diana was photographed in a red tartan skirt suit designed by Caroline Charles. Middleton wore a similar skirt designed by Emilia Wickstead when she attended a Christmas party for military families in London on Dec. 4.
One year before her death, the Princess of Wales stunned in a purple Versace dress at the Field Museum of Natural History in Chicago. Princess Diana accentuated her look with a white and silver choker. In 2011, Middleton wore the same shade of purple dress by Issa when she celebrated National Canada Day.
In 1983, the mom of two wore a sky-blue buttoned-down dress to an event. Princess Diana paired it with a fascinator of the same color. In October 2011, Middleton wore the same shade of dress designed by Catherine Walker while visiting the Netherlands. The Duchess of Cambridge's attire was also adorned with buttons and a belt around the waist.
Two years earlier, Princess Diana attended an event at London's Goldsmith Hall with Prince Charles. She was photographed in her black strapless gown with a ruffle at the bodice. Middleton wore a black strapless dress at the Sun Military Awards in 2011.
In 1983, Princess Diana wore a royal blue dress with pin-tucked sleeves during her trip to New Zealand. Middleton also wore the same shade of dress when she visited the Imperial War Museum on Oct. 31. Both Princess Diana and Middleton's dresses have long sleeves.
Twelve years later, Princess Diana wore a form-fitting classic short sleeve pink Versace suit and pillbox hat during an engagement. In 2012, Middleton wore a soft pink Emilia Wickstead coat dress during a garden party at Buckingham Palace.
In 1983, Princess Diana wore a Pepto-pink polka dot dress in Perth. Middleton wore a similar hue with polka dots by Alexander McQueen at the Trooping the Colour last year.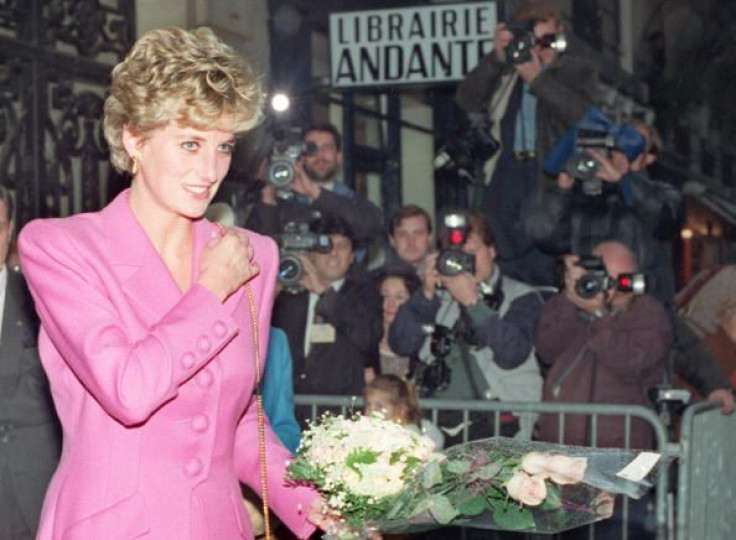 © Copyright IBTimes 2023. All rights reserved.