Princess Eugenie 'Snubs' Prince Harry, Meghan Markle's Wedding By Doing This
Princess Eugenie may have just snubbed Prince Harry and Meghan Markle's royal wedding on social media.
The 28-year-old uploaded her highlights from 2018 via Instagram to mark the New Year. Some of her best moments from last year included a photo from her wedding with Jack Brooksbank, a photo of Princess Beatrice when she turned 30, a back view of her wedding gown and more.
"As 2018 draws to a close I wanted to share some of my favorite moments… 1st January 2018 – Jack asked me to marry him," she wrote.
Princess Beatrice also uploaded a photo of herself with her older sister during one of their engagements from last year. She said that they learned to never give up and to always find that tiny flame inside that will encourage them to never give up.
But visibly absent from Princess Eugenie's best moments from 2018 was Prince Harry and Markle's royal wedding. Prince Andrew and Sarah Ferguson's youngest daughter may have not included the Duke and Duchess of Sussex's nuptials because she was merely focused on the things that she experienced herself.
Princess Eugenie didn't have a special part during Prince Harry and Markle's wedding, but she attended the event with her dad and sister.
Markle was accused of stealing Princess Eugenie's thunder last year after she announced her pregnancy just days after Princess Eugenie tied the knot. Kensington Palace confirmed that Markle and Prince Harry will welcome their first child in the Spring of 2019 on Oct. 14 while they were in Australia.
Princess Eugenie wed Brooksbank on Oct. 12, and photos and details from her royal wedding still made headlines a day later. But reports about the wedding quickly ended after Markle's pregnancy was announced.
However, it has also been revealed that Princess Eugenie didn't have negative feelings towards Markle. In fact, the members of the royal family were already informed of Markle's first pregnancy days before Princess Eugenie's special day.
Princess Eugenie, Brooksbank, Prince Harry and Markle wed in the same venue at St. George's Chapel in Windsor Castle.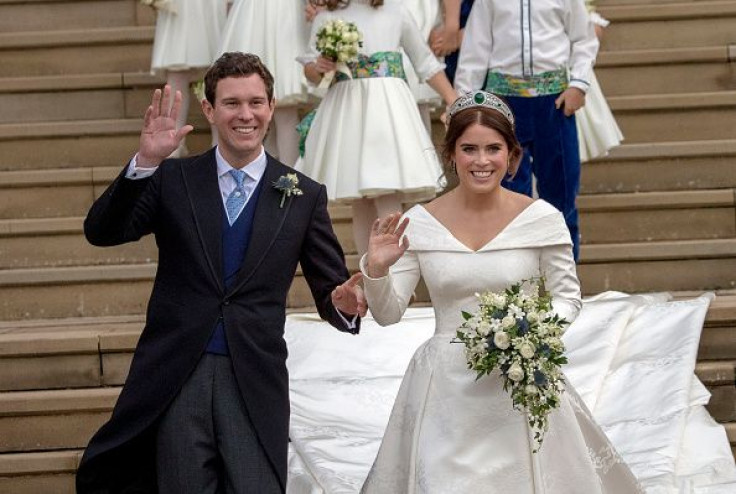 © Copyright IBTimes 2023. All rights reserved.