Dave Gilboa
Co-Founder and Co-Chief Executive Officer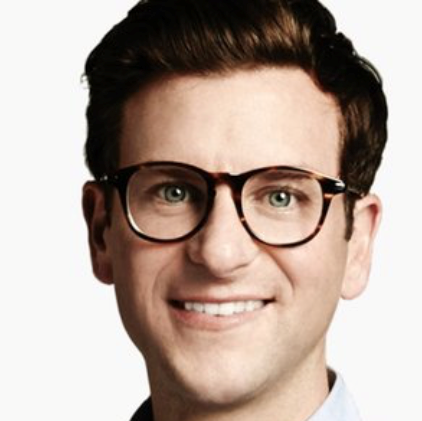 Dave Gilboa is the co-founder and co-CEO of Warby Parker, a New York City-based lifestyle retailer of prescription eyeglasses and sunglasses. While the idea of its affordable designer eyewear isn't all that new, it's the way that Gilboa and co-founder Neil Blumenthal approached it that made it remarkable.
It all started when one of the then-college friends spent a summer squinting because he lost his eyeglasses and couldn't afford new ones. They realized that about 2.5 billion people around the world suffer from the same problem — the result: high-quality eyewear starting at just $95. And to take it up a notch, the company also gives away one pair for each one it sells, resulting in over five million pairs of eyeglasses given away to this day.
Committed to changing the eyewear industry's profit-centric ways, the company also sends out pairs with pre-paid return labels to people's homes for them to try, helping expand much-needed eye care without burning a hole through pockets.
Under Gilboa and Blumenthal's leadership, the company was able to launch "Pupil Project," which has helped over 200,000 students in NYC who need eyeglasses, and employee-led initiatives that focus on supporting LGBTQ+ employees and other underrepresented people working in tech. And in 2015, the company was named the most innovative company in the world by Fast Company.
Before Warby Parker, Gilboa worked extensively with non-profit organizations. He is even a founding member of the Entrepreneur Board of Venture for America, which helps graduates in low-income areas become entrepreneurs. He also received the EY Entrepreneur of the Year award and was recognized as part of The Next Establishment by Vanity Fair.
He holds an MBA from The Wharton School of the University of Pennsylvania and graduated with honors from UC Berkeley.
Dave Gilboa, Warby Parker - Why We Recognized Him:
Started by college friends after one of them lost his glasses on a backpacking trip and had to spend a semester squinting because he couldn't afford new ones, they decided to change the way glasses were made in order to create affordable eyewear for everyone.
The result: high quality glasses starting at just $95 dollars. And even before the pandemic, they were sending out five pair of glasses to your house so you can try them on at home for free with a pre-paid return label and they continue to do so. Talk about trusting your customers and treating them with kindness.
Dave Gilboa and Neil Blumenthal, co-CEOs of Warby Parker, dismantled the old, traditional, and profit centric glasses industry by creating a system that was profitable for the company, good for the customers, and would expand much needed access to eye care across the world.
This was need-based business at its best. About 2.5 billion people around the world need glasses to see but cannot due to a lack of access to eye wear and care. Warby Parker is on a mission to solve this atrocity by giving away one pair of glasses for every one they sell. And so far they have given away a whopping five million pairs.
"We believe that buying glasses should be easy and fun," say the founders. "It should leave you happy and good-looking, with money in your pocket. We also believe that everyone has the right to see."
They don't just help vision care abroad either, they do it right here in the States through the Pupil Project. This project started in New York City and has expanded to Baltimore already. They have teamed up with celebrities such as Lena Dunham, Mary-Louise Parker, and Gloria Steinem to help over 200,000 students that need glasses in NYC alone. So far, they have screened over 220,000 kids, given out over 64,000 eye exams, and given out over 54,000 pairs of glasses through the program.
They invest an equally impressive amount of resources on their employees because they firmly believe, "You can't separate the well-being of the business from the well-being of our employees."
Similar to the internal groups at Discover that we lauded back in November, they have employee led programs such as Heritage for "Connecting, representing, and celebrating the many ethnic and racial identities within Warby Parker by educating employees about cultures other than their own." The powerful employee initiative also features groups like Inclusion in Tech and Product for those "Learning and improving how historically underrepresented people working in and with tech can thrive and make an impact."
Prism aims to "support Warby Parker's LGBTQ+ employees through experience sharing, volunteering, dialogue, and community building." There is even one called Warby Parents to "make "Warby Parker a space where parents can share their aspirations, experiences, and wisdom." Warby Women "supports the empowerment and growth of women by fostering an open dialogue, sharing experiences, and inspiring action for the benefit of women and the future of Warby Parker."
They take care of their employees' physical health as well to make sure they are "energized, nourished, and happy," by offering incredible health benefits for eye care, education reimbursement, life insurance, a health and fitness stipend, paid time off, disability coverage, paid parental leave, and paid holidays. All this taking care of their employees shows well with the company having 89% of the workforce being proud to work there.
"In 2010, we launched Warby Parker to transform the optical industry while demonstrating that businesses could do well while doing good," say the founders. "Nine years later, our commitment remains the same and is exemplified by Warby Parker's 2,500+ employees."
Warby Parker proves that the power of capitalism to do good in the world is alive and well, as long as CEOs have the vision to make it happen.
| Current Position | Tenure at Current Position | Previous Position |
| --- | --- | --- |
| Warby Parker | 2009 - Present | Crescendo Bioscience |
| Education | Industry | Sub Industry |
| The Wharton School | | |