Prominent House Republican Criticizes Donald Trump's Call To Suspend The Constitution
Rep. Dave Joyce, R-Ohio, called former President Donald Trump's comment to suspend the Constitution over the 2020 election fraud a "fantasy."
Joyce, who was unanimously elected chair of the Republican Governance Group in July, appeared Sunday on ABC News' "This Week with George Stephanopoulos." Joyce also sits on the House Appropriations Committee, responsible for funding the federal government.
He noted to Stephanopoulos that spending bills will be "lower than what's happened in the last four years."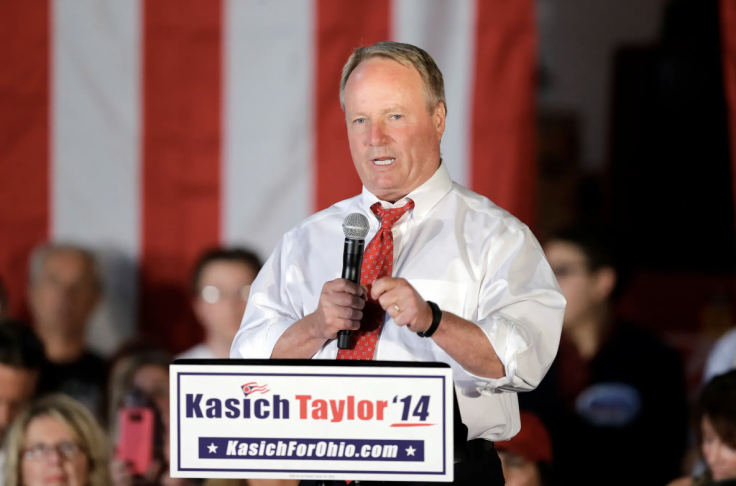 Stephanopoulos cited Trump's comments on his Truth social media platform that claimed that"massive fraud" allows for the termination of rules in the Constitution.
Trump's comments followed a week in which he met with Kanye West, who has repeated antisemitic comments, and white supremacist Nick Fuentes.
Joyce initially declined Stephanopoulos' probes to respond to Trump's comments.
"It's early. I think there's going to be a lot of people in the primary [but] I will support whoever the Republican nominee is," Joyce said he did not believe Trump could win the 2024 Republican presidential nomination because there are "a lot of other good quality candidates out there."
"That's a remarkable statement," Stephanopoulos replied. "You just said you'd support a candidate who's come out for suspending the Constitution."
"Well, you know, he says a lot of things," Joyce said, adding, "I can't be really chasing every one of these crazy statements that come from any of these candidates."
"You can't come out against someone who's for suspending the Constitution?" Stephanopoulos asked again.
"He says a lot of things, but that doesn't mean that it's ever going to happen. So you got to [separate] fact from fantasy -- and fantasy is that we're going to suspend the Constitution and go backwards. We're moving forward," Joyce said.
Other House Republicans responded to Trump's call to eliminate the Constitution. Rep. Mike Lawler, R-N.Y., told CNN's "State of the Union" on Sunday.
"Obviously, I don't support that," Lawler said. "The Constitution is set for a reason, to protect the rights of every American. So I certainly don't endorse that language or that sentiment."
Rep. Mike Turner, R-Ohio, said Sunday on CBS News' "Face the Nation" that Trump's comments were "certainly not consistent with the oath we all take."
"I vehemently disagree with the statement that Trump has made," Turner said.
© Copyright IBTimes 2023. All rights reserved.
FOLLOW MORE IBT NEWS ON THE BELOW CHANNELS