Prostitution Ring Busted, 75 Arrested, Including 2 Chinese Triad Members
A prostitution racket that brought sex workers from Europe, Asia and mainland China to Hong Kong was busted and 75 people were arrested in connection to the crackdown, the city's police said Thursday.
In one of the biggest anti-vice strikes in the city on triad-controlled prostitution rackets — an organized crime syndicate based in countries like Hong Kong, China, Taiwan and nations with burgeoning Chinese population — police arrested 14 men and 61 women, aged between 19 and 64, and seized HK$380,000 ($48,450) in cash.
Most of the sex workers, reportedly from Russia, Ukraine, Kazakhstan, mainland China and other southeast Asian countries, were picked up from two blocks of flats in Yuen Long. According to the Hong Kong police, the crime syndicate allegedly converted 72 subdivided flats in the district to one-woman brothels.
The police gained insight into the operations of the prostitution ring after they deployed undercover officers to infiltrate the racket's holdings in December. Three months of the covert mission amassed enough evidence to mount a series of raids, involving 100 police officers, in Yuen Long between Monday and Wednesday, the South China Morning Post reported.
Senior inspector Tai Po-yee of Yuen Long special duty squad said, "Investigations showed the syndicate had its own laundry centre in Pat Heung and supplied towels to sex workers."
The police suspect among the arrested there were two core members of the prostitution ring. The authorities will continue with the investigation to probe further into the illegal activities in the city.
Prostitution is a prevalent fixture in the streets of Hong Kong due to its legality under the rule of "one woman, one room," meaning as long as there are no brothels and pimps involved, there will be no repercussions in exchanging money for sex.
However, organised prostitution is punishable by ten years in prison. This has been severely criticized by Amnesty International as the nuanced law paves way for exploitation of women.
In a 2016 report, the organization said: "Laws in Hong Kong force sex workers to work in isolation, prohibiting them from working with others for their own safety. In addition, immigration laws prohibit migrants and people from mainland China engaging in sex work, making them vulnerable to arrest and deportation."
In January, the police in Hong Kong raided another establishment in Argyle Street in Mong Kok. The bust helped arrest nearly 100 suspected sex workers operating out of individual cubicles carved out of subdivided flats.
With the help of immigration officers, police detained 17 Russians, seven Thai transgender women, two women from Ukraine, one from Kazakhstan, 13 from Thailand and 59 female visitors from the mainland, Asian news website the Star Reported
An American, on the condition of anonymity, told the Star, "Must have been sledgehammers going through the doors, It was pretty intense. I didn't know what was happening until the police came in."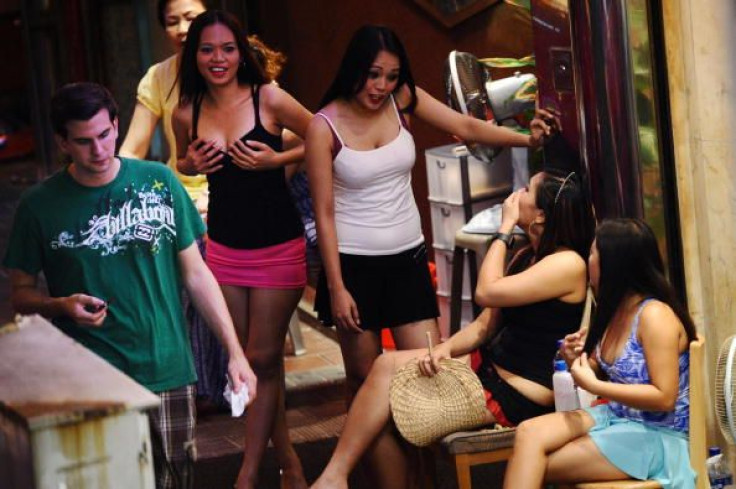 © Copyright IBTimes 2022. All rights reserved.
FOLLOW MORE IBT NEWS ON THE BELOW CHANNELS