Protesters 'Occupy' Barbie Dreamhouse In Berlin Over 'Pinkification' Of Young Girls
For some it's a pretty pink dream house. For others, it's a house of horrors. For at least two thousand Berliners, it's time to "Occupy Barbie Dreamhouse."
Europe's first walk-in replica of the Mattel doll's iconic Malibu mansion opened its doors in Berlin Thursday amid a rash of complaints from feminist groups who believe the Dreamhouse represents sexism and shallow materialism.
"[The attraction] presents an image of cooking, primping and singing as if it were in some way life-fulfilling," Michael Koschitzki, an editor at Socialist Alternative and the member of the far-left Left Party, told German newspaper Der Spiegel. "The Barbie Dreamhouse is the expression of a conventional role model that isn't OK."
Koschitzki said the attraction in Alexanderplatz, the main shopping district of east Berlin, presents the idea that there are only two career options for women: model or pop star.
Consequently, he and fellow members of the Left Party created the "Occupy Barbie Dreamhouse" Facebook page in March when plans first surfaced. It's a nod to the anticapitalist Occupy Wall Street movement that began in New York in 2011, and members have modified advertisements for the Dreamhouse, dubbing it "House of Horrors."
The page has nearly 2,000 likes and is updated regularly as the organizers plot their campaign against Barbie. The activists claim to be fighting against the "pinkification" of young girls with the help of the organization Pinkstinks, which raises awareness of what it sees as the damage caused by gender stereotyping of children.
"We're protesting the image of women that the Barbie Dreamhouse perpetuates," the campaigners explained on the Occupy Barbie Dreamhouse Facebook page. "Our protest isn't directed against parents who visit the Barbie House or against children who play with Barbie (although a real woman with Barbie's figure would be anorexic, wouldn't be able to walk and would never get her period)."
A 2009 study on Barbie's figure, carried out by doctors in Cologne, concluded that, "were the young woman a human being, she would be unable to lead a normal life based on her proportions. She would not only be unable to breath properly, she would suffer from the results of a foot misalignment, spinal disc herniation, and she would also be infertile."
California-based Mattel has modernized Barbie's dimensions and looks over the years to appease critics, and it argued this week that any protest over the Dreamhouse was just "a tool for some to advance their own agenda."
Barbie is no stranger to controversy, but her reception has varied considerably around the world. A Barbie-themed restaurant opened in Taipei earlier this year to wild fanfare. Moreover, the first Barbie Dreamhouse Experience opened last week in a Sunrise, Fla., shopping mall to hordes of ardent admirers and little debate.
Vienna-based EMS Entertainment owns and operates both Dreamhouses, where electronic armbands and LED touch screens guide visitors through an interactive realm of Barbie.
The Berlin house is 26,900 square feet (2,500 square meters) of pink-painted walls and kitsch furnishings. In addition to having 350 Barbie dolls on display, visitors can strut down a runway, try on Barbie makeup and clothes, "bake" virtual cupcakes or eat real ones in the café, among other "experiences."
The attraction costs 22 euros ($28) and is expected to welcome as many as 3,000 visitors each day before Barbie packs up her bags in late August to tour other European cities.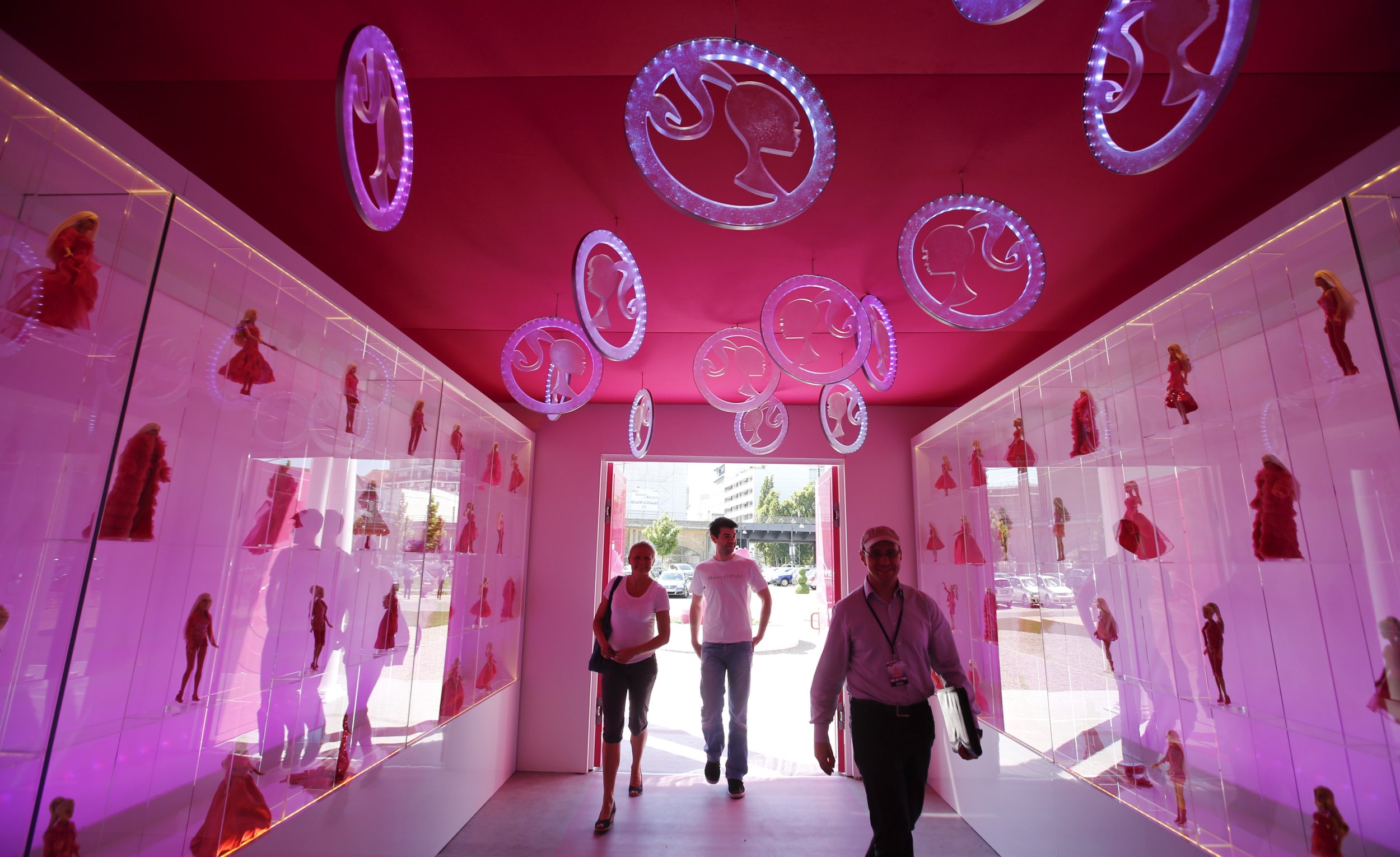 © Copyright IBTimes 2023. All rights reserved.