Valentine's Day 2015: The Most-Loved Love Songs Playlist Is Perfect For Romantics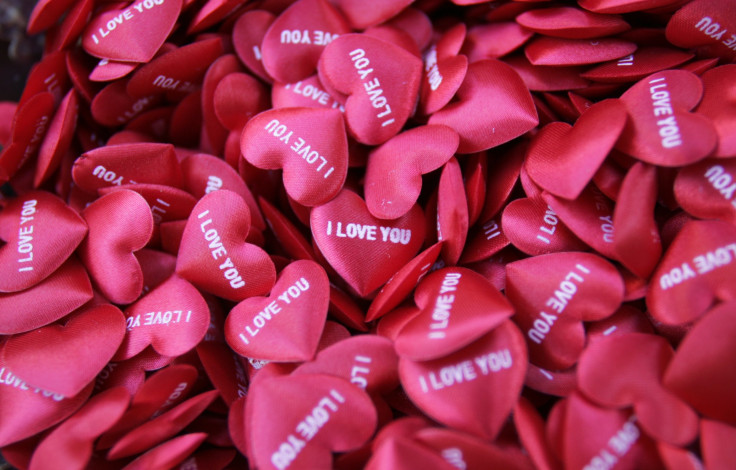 It's Valentine's Day, which means love is in the air. You have the card, roses, chocolates and reservations, but do you have a soundtrack for the special night? We have you covered, thanks to Accuradio, which broke down the most-loved love songs over the past 50 years.
To create the huge list, Accuradio looked at the top-rated love song on the site's Love Songs channel. Some of the songs, such as "Unchained Melody" by the Righteous Brothers or "How Deep Is Your Love" by the Bee Gees, make plenty of sense, but there are a few surprises on the list. Journey has two songs, "Open Arms" from 1981 and "Faithful" from 1983, on the list, but America's "Sister Golden Hair" from 1975" and Styx' "Babe" from 1979 also make appearances. Hoobastank may not be a band you associate with romantic ballads, but "The Reason" was the top-rated love song from 2004, according to Accuradio's data.
Billboard was also feeling romantic and ranked the top 50 love songs of all time. The rankings are based on weighted performance on the Billboard Hot 100 chart. so more weeks at No. 1 meant more points. "Endless Love" by Diana Ross and Lionel Richie topped the list. The song spent nine weeks at No. 1, but it's not the best-selling love song ever. That distinction likely belongs to Whitney Houston's "I Will Always Love You." While it's unclear just how many singles were sold, BuzzFeed lists the number at 20 million worldwide, and the Recording Industry Association of America has the song going multiplatinum -- four times platinum on physical media and two times platinum digitally, with a boost in digital downloads after her death in 2012. Other songs on Billboard's list include Boyz II Men's "I'll Make Love to You" (No. 2), which spent 14 weeks at No. 1, Rihanna featuring Calvin Harris' "We Found Love" (No. 3) and "Let Me Love You" (No. 7) by Mario.
Accuradio's full graphic of the most loved love songs can be viewed below.

© Copyright IBTimes 2023. All rights reserved.