Valentine's Day 2015 Visualized: What (And Where) Americans Spend On Love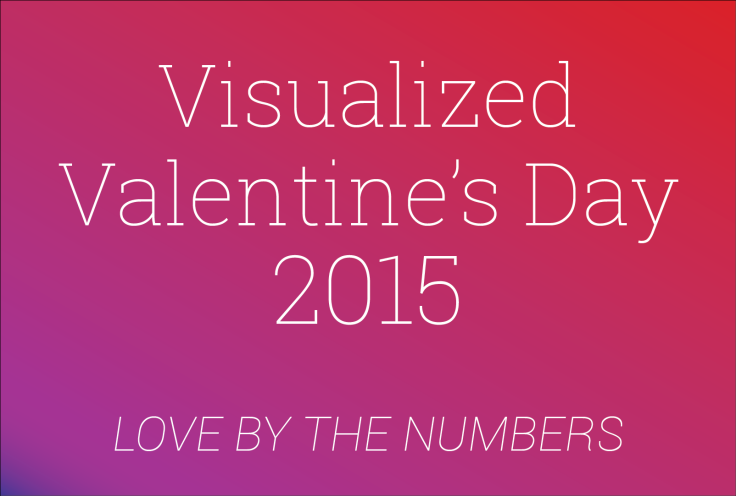 You might not be able to buy love, but every February millions of Americans certainly try. It is a holiday popularized by a greeting card company and yet Valentine's Day is estimated to inspire $18.9 billion in gifts, flowers, dining out and apparel. For all the media coverage of chocolate shortages, millennials not buying jewelry and how it's better to be single, Valentine's Day is still going strong. Below are a series of charts and graphics that show just how powerful the Valentine's Industrial Complex Cupid's arrow is in 2015.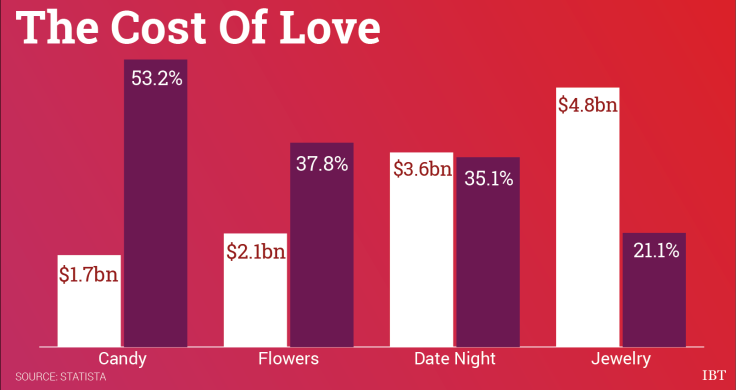 It's not Valentine's Day without a dozen long-stem red roses. In 2014, an estimated 257 million roses were produced for the day. A bouquet of roses on Feb. 14 costs nearly double what it would on any other day of the year and yet 37.8 percent of Americans will spend a total of $2.1 billion in order to celebrate love and cupid with fresh-cut flowers. According to AboutFlowers.com, 61 percent of people buying flowers buy red roses. But red isn't everyone's color. The graphic below shows what color roses consumers prefer: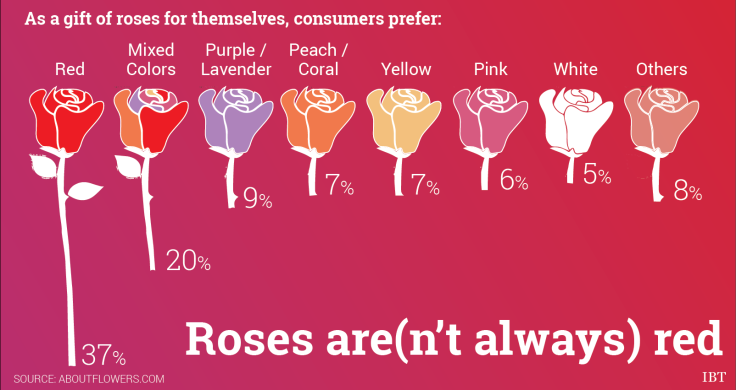 According to the Valentine's DayConsumer Intent Survey cited by Barbara Thau at Forbes, "women are much more likely to "show love" to a variety of the key people in their lives, including children, friends, co-workers, even pets." People buying gifts for their pets has become a $700 million industry with 21.2 percent of Americans surveyed saying they would give gifts to their most loyal of companions. Combine that with the social pressure of providing a Valentine for every classmate in your child's school and every coworker in your office, and it is suddenly apparent Valentine's Day isn't just for significant others anymore.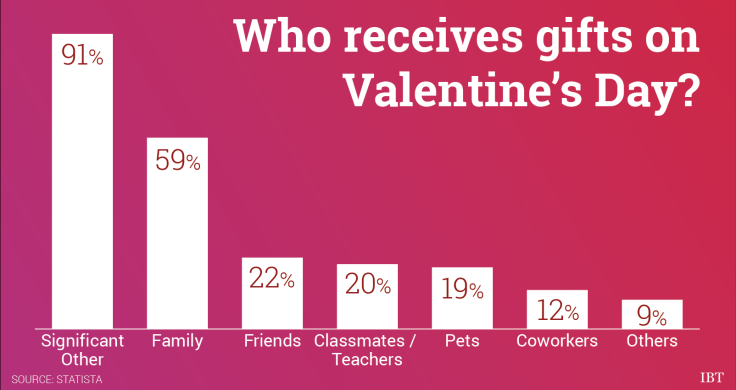 Despite the struggling economy, average spending for the holiday has increased significantly in the past six years. The increase is even more significant among younger age groups. Thau notes, "The largest spending age group is predicted to be 25 to 34 year olds, who will shell out approximately $213.04 on the holiday. By contrast, 35 to 44 year olds will spend about $176.21."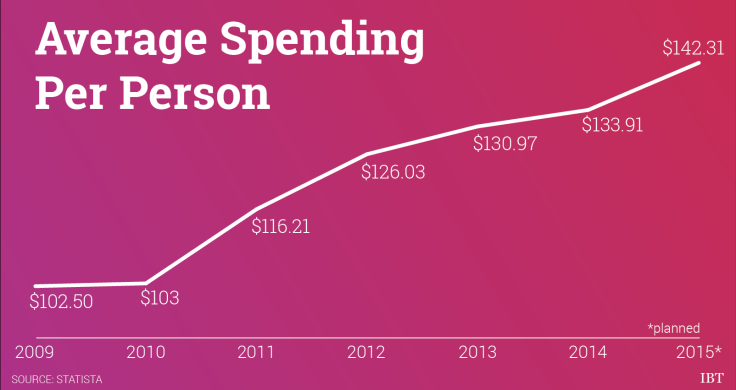 The survey asked men and women how they would feel if they knew their partner had outspent them. They found, "men reported that they would feel much happier, prouder, and more satisfied if they found out that their significant other had spent less than them on Valentine's Day." Luckily for the men involved in the survey, men grossly outspend women.
With 35 percent of couples planning to spend an estimated $3.6 billion on dates this Saturday night, it is no wonder diners are getting more demanding. The restaurant reservation website and app OpenTable took a look at the specific requests people have when making their Valentine's date reservations. What they found in all of their data crunching is that diners have strayed from "abstract concepts like 'intimate,' 'cozy,' and 'quiet,"' OpenTable data scientist Sudeep Das explained in a blog posted Tuesday, "[switching instead] to the more prescriptive requests, such as 'candlelight,' 'flowers,' and the word 'valentine's' [sic] itself." The chart below shows the percent change in how often a particular request was made between 2004 and 2015.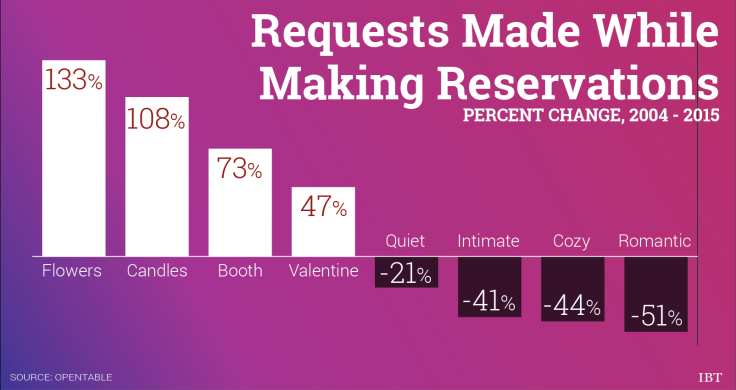 This Valentine's Day OpenTable took things one step further and named the Top 25 Most Romantic Dining Cities in America. The list is contentious: Atlantic City, New Jersey, San Antonio, Texas and Providence, Rhode Island fill the top three spots while New York City, Los Angeles and Chicago are nowhere to be found. The good people at the U.S. Census Bureau took a different tactic when naming the most romantic cities in the country. In their Valentine's Day fact sheet, the sappy government bureau suggested looking for love in "romantic-sounding" places such as Loveland, Colorado, (population: 71,334), Valentine, Texas, (population: 129) or Romeo, Michigan, (population: 3,582). Take a look at the map below to find the sweetest sounding places in the country.
The romantics at the U.S. Census Bureau have also provided a cute crossword puzzle. Print it out and play with your loved ones to test your Valentine's Day fact knowledge.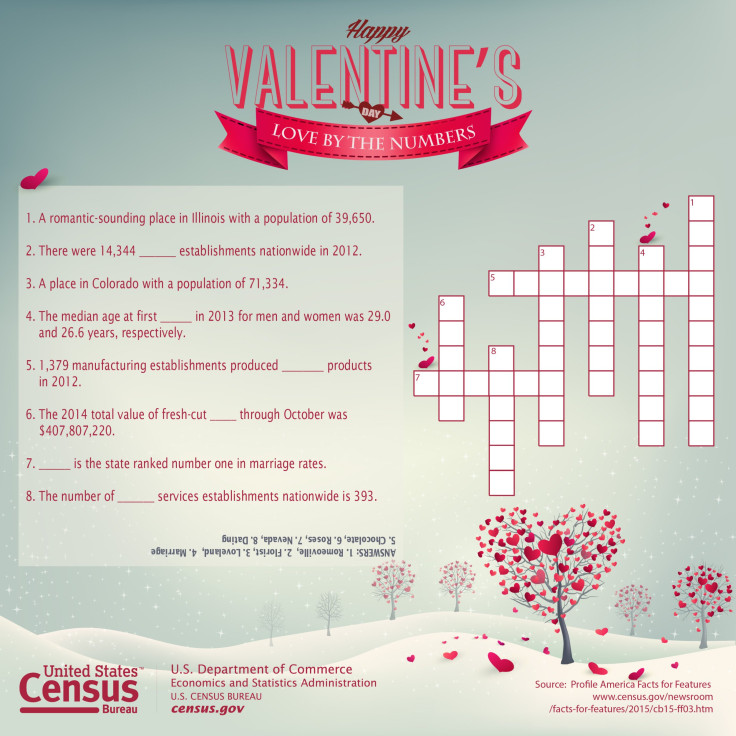 © Copyright IBTimes 2022. All rights reserved.
FOLLOW MORE IBT NEWS ON THE BELOW CHANNELS