Valentine's Day Podcast Playlist: 17 Recommendations For Every Type Of Romance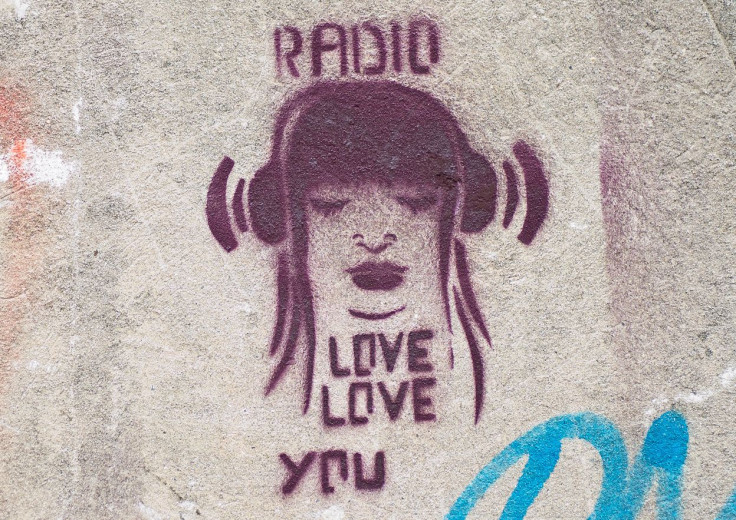 In case you haven't noticed the drugstore aisles plastered with hearts, the cheesy love songs playing on the radio or the deafening groans of everyone on Tinder, Valentine's Day is coming.
Depending on your opinion of love/Hallmark, the idea of a day dedicated to love either fills you with dread and resentment or sets your heart aflutter. Fortunately for everyone, love, heartbreak and the comedies of dating are great storytelling fodder. And now that podcasts are going through a golden age and being celebrated as the best new storytelling medium, it seemed appropriate to provide a playlist for Valentine's Day.
So, no matter how you plan to spend the Hallmark holiday, there is a podcast to fit your mood. Take a listen while you're getting ready for your big date this Saturday. Or just stay in and binge all 17 of them.
A podcast for...
Romance
"Re:Sound" - 'The Love and Persistence Show'
If you're in the mood for a classic story of love overcoming hardships, this hour long special put together by the Third Coast Audio Festival will be sure to tug on your heart strings. The first segment follows the 40-year courtship of Peter and Jaqueline Headan who found each other again after a lifetime of experiences. The second story recounts Dina and Zak's love story -- which was interrupted when Serb militants attacked their homes in Sarajevo. The last segment was written for the fictional podcast, "The Truth," and tracks what happens when a woman saves the life of a stranger who has fallen in front of an oncoming subway train.
If you'd like even more romantic stories of love lasting a lifetime you can take a listen to the story of "Buddy and Rose" and "Til Death Do Us Part" from PRX.
Surprise Plans
"Snap Judgement" - 'Signed, Sealed, Delivered'
Still in the hopeless romantic realm, "Snap" tells the story of two cynics who decide to take a chance on love. On their first anniversary they write four letters: each writing one letter to themselves and one to each other, and then setting them aside for one year. You can hear what happens when they open the letters in this short piece, produced by Mark Ristich.
Browsing Tinder
"TL;DR" - 'Tinder Bros'
If your Valentine's Day plans involve swiping through Tinder, be sure to listen to this episode of "TL;DR" first. Messaging someone based solely on their photo and mutual facebook likes can be daunting -- which is why the Internet has stepped up and provided helpful tips and tricks for turning that match into an actual date. And by date, we mean hook up.
Keeping It Casual
"Why Oh Why" - 'He's Not Into Any of Us'
It's something people looking for love hear on a regular basis -- "It's not you, he's just not that into dating," "I just want to keep things casual," "let's hang out." In this episode of "Why Oh Why" host Andrea Silenzi and her guest Holly Wood -- yes that's her real name -- tackle why so many people are okay with keeping things casual.
Make Believe
"Thrilling Adventure Hour" - 'A Beyond Belief Valentines'
Had enough of your own love life and looking for some sweet escapism? "Thrilling Adventure Hour," a stage show and podcast -- and graphic novel and web series, and comic and possibly a tv show -- in the style of old-time radio will whisk you away to another era for an hour. Starring Paul F. Tompkins and Paget Brewster as "those married mediums, Frank and Sadie Doyle," this special "Beyond Belief" episode is funny, romantic and spooky -- all served up with a twist.
Forever Alone
"Strangers" - 'Love Hurts'
In a typical episode of "Strangers" host Lea Thau crafts personal portraits of the people she meets. But in this four part series, Thau turned the microphone on herself. Perhaps the most intimate and brave audio story from last year, she asks herself -- and her ex-boyfriends -- why she is still single. What she learns over the four episodes, and how doing the project affect her love life, is packaged as a reassuring reminder for everyone who fears they are forever alone.
Breaking Up
"Love+Radio" - 'How I Found Out My Relationship Had No Future, pt 1 & 2'
It's hard to admit around Valentine's Day, but sometimes a relationship isn't meant to last forever. Breakups are hard, but if that's where your heart is this Feb. 14, find solace in this two-part piece from the producers at "Love + Radio." These episodes also serve as a friendly reminder that drunk dialing your ex probably isn't a good idea.
Romance Dramas
"Snap Judgement"- 'Heart Failure' and 'Falling Slowly'
From "Snap Judgement," here are two stories more cathartic than sobbing your way through 'The Notebook" like you did last Valentine's Day. The first, 'Heart Failure,' reaffirms that the power of love is stronger than the heart muscle. Whereas 'Falling Slowly' is a reminder that sometimes you have to fall completely before someone can catch you.
A First Date
"The Heart" - 'First'
"The Heart," formerly known as "Audiosmut," recently went through a transformation of sorts. And to reintroduce themselves to the podcasting world, Kaitlin Prest presented a story about firsts. And though she has some questions -- "Will I do this right? Will this live up to my expectations?" -- "The Heart" manages to capture that moment right before a first kiss.
Being Happily Single
An anti-slut shaming podcast that is very much NSFW, 'Guys We F---ed' is a podcast version of what women talk about with their best friends after a few cocktails. Corinne and Krystyna celebrate being single and the joys of casual sex in a hilarious and informational way.
Considering even the titles of this show are NSFW, you can find episodes worth listening to here.
Understanding The Science of Love
"Radiolab" - 'This Is Your Brain on Love'
We all know what happens when we fall in love. But what hormones in your brain are controlling those butterflies in your stomach? Back in 2007, Jad Abumrad and Robert Kulrich hosted a Singles Night for "Radiolab" fans. The chemicals dopamine, norepinephrine and oxytocin all get their own theme songs in this "Radiolab" classic.
"It's Complicated"
Love is hard. And love is complicated. Luckily for everyone who has ever had a question about love, sex, polyamory, coming out, kink, or being monagamish, Dan Savage has hosted a weekly advice podcast for the past nine years. If you don't need advice but just want to lament the cruelty of love, you can also check out Erin McGathy's comedy podcast, "This Feels Terrible" in which she has honest conversations with comedians, actors and the vaguely famous about their relationships.
Innocent Crushes
'"I Like You" - 'Return of the Childhood Crush'
A couple sits down to recount how their relationship grew out of a childhood crush from the first grade. Like most "I Like You" episodes, this story is filled with "awws" and will really hit home for anyone who had a crush in elementary school.
Another episode to listen to if you're feeling nostalgic for those elementary school crush days is "My Funny Valentine" from the newest addition to the Radiotopia network, "Mortified."
A Sexy Valentine's Night
"Risk!" - 'Live Sex Show Pt 1'
If you don't want to spend your Saturday watching "Fifty Shades of Grey" with everyone else, but still want a little sexy kink for your evening, "Risk!" -- the show of stories you "never thought you'd dare to share" -- has you covered. Taped in part at the "Pornotopia" in Alburqueque, New Mexico, and Bodies Storytelling in San Francisco, the show features stories from Kate Smith, Kevin Allison and Waverly Jane and have story titles that are NSFW.
FOR FREE to continue reading
✔️ Unlock the full content of International Business Times UK for free
offer available for a limited time only
✔️ Easily manage your Newsletters subscriptions and save your favourite articles
✔️ No payment method required
Already have an account?
Log in
© Copyright IBTimes 2023. All rights reserved.