Putin Waives $32B Of Cuba's Debt, Seeks Stronger Trade Ties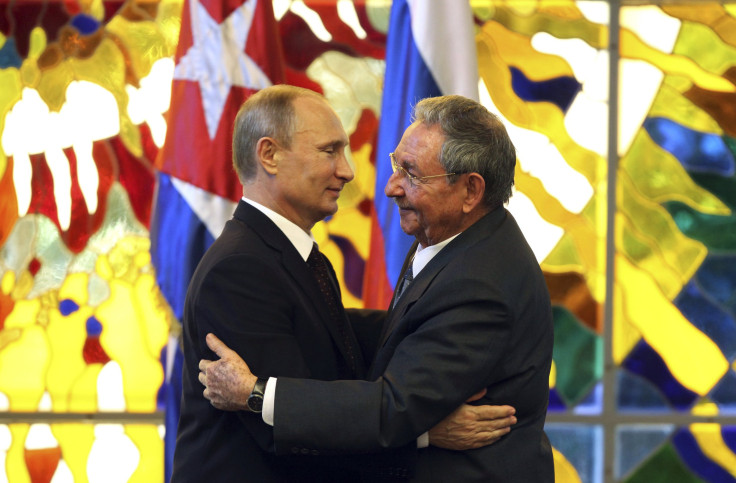 Calling Cuba "one of Russia's leading partners in the region," Russian President Vladimir Putin confirmed the cancellation of 90 percent, or about $32 billion, of Cuba's Soviet-era debt, Bloomberg reported Saturday.
Putin kicked off his six-day Latin American tour aimed at boosting trade and ties with a visit to Cuba on Friday. He met with Cuban President Raul Castro and said that even though bilateral trade between the two countries had slowed down since the 1990s, Russia was "ready to make up this lost ground."
Under a new agreement, already OK'd by the upper house of the Federal Assembly of Russia, Cuba will pay back the remainder of its debt, about $3.5 billion, during the next 10 years. This would come as a reprieve to the Caribbean nation, whose economy has been saddled with a U.S. embargo since 1962.
The two countries also signed about a dozen accords in areas such as energy, industry, health and disaster prevention, including a $1.6 billion deal on four energy-generation units between Inter RAO EES OAO (MCX:IRAO), a Russian state-controlled energy company, and Union Electrica, the Cuban state power company.
"Inter RAO is planning to join the construction of power units for the Maximo Gomez and East Havana thermal power plants," Putin said in an interview with representatives of local news agencies.
Putin also promised to help Cuba overcome the "illegal blockade" imposed on it by U.S. He added that Russia was interested in placing global navigation satellite system, or Glonass, ground stations in Cuba. The country could then access satellite communication services in the area of the stations.
Havana was a key Soviet ally during the cold war. More recently, it has consistently backed Moscow on the issue of Ukraine: Cuban official newspapers have frequently characterized the current conflict as a struggle between ethnic Russians and right-wing extremists.
Putin also plans to visit Argentina and Brazil during his six-day tour, attending the World Cup final match in Brazil on Sunday as the leader of the host nation of the 2018 World Cup competition.
© Copyright IBTimes 2022. All rights reserved.
FOLLOW MORE IBT NEWS ON THE BELOW CHANNELS