Queen Elizabeth Asked Meghan Markle To Go To Cheshire For This Reason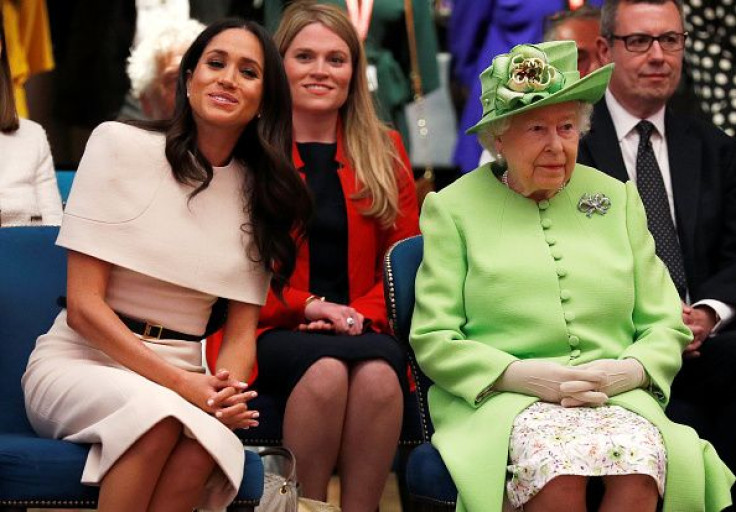 The real reason why Queen Elizabeth II asked Meghan Markle to join her on her trip to Cheshire has been revealed.
Richard Kay, a royal expert for the Daily Mail, said that the Queen knew Markle needed more time to adjust to her new royal life. Unlike Kate Middleton, who was already knowledgeable about the royal family when she wed Prince William, Markle still needs to learn the tricks of the trade.
The expert spoke with one of the palace staff that said, "Remember, unlike Kate, she doesn't have a family to fall back on. The Queen's thinking is simple, she wants to put her at her ease."
After it was announced that Markle will join the Queen on her trip to Cheshire, some royal fans thought that Prince Harry will be there to show his wife support. However, Markle was left alone with Her Majesty.
"Intriguingly, the program was not specially designed for Meghan – as it was when the Queen took Kate to Leicester where the two sat through a fashion show. In fact, it was deliberately planned as a day of typical royal events that would give Meghan a better grounding in the royal routine," Kay noted.
Meanwhile, the royal expert also noted that so much has happened to Markle ever since she tied the knot with Prince Harry last month. She attended her first garden party to commemorate Prince Charles' 70th birthday, and she also debuted at the Trooping the Colour to commemorate the Queen's special day.
And on Thursday, she rode the Royal Train with the Queen to Cheshire. This perk was something that the other adult royals experienced much later in their lives.
Markle's recent engagements, according to Kay, may have well prepared her for her future tours. "Next week's carriage drive at Royal Ascot should be a breeze. And next month sees an event where it's just possible that the Queen will be turning to the newest member of the family for help – the arrival in London of Meghan's fellow American, US President Donald Trump," he concluded.
© Copyright IBTimes 2023. All rights reserved.